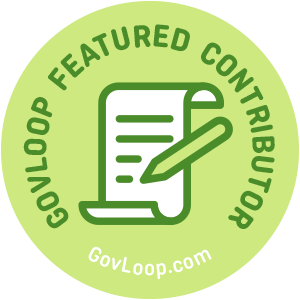 Millennials and Gen Z currently account for over a third of the workforce (38%). In the next decade, these cohorts will make up 58% of the workforce, making the youthful generations the most dominant in the workplace.
It is in government's best interest to consider the collective next generation workforce – including Gen Z, as the older of the cohort enters internships and entry-level positions.
But are government agencies ready to invest in the recruitment and retention of new talent?
Nearly every private-sector industry has had to change how they operate to keep pace as technological advances challenge the norm. Government agencies have not been forced to as much, thus they've lagged in attracting new talent.
In the US, only 7% of federal government employees are under the age of 30. Millennials and Gen Z groups want to serve their communities and do meaningful work. However, these groups are becoming disgruntled over systems that prioritize routine and process over ingenuity and results. If government agencies don't adjust quickly, they could face a shortage of talent, as boomers retire.
Federal, state and local government agencies should focus on the following as they develop their next gen recruitment and retention strategies:
1. Cultivate culture. It can often sound lofty, but promoting culture simply means reminding people that their work is bigger than them. It's more than free lunches and ping-pong tables. Culture is purpose and vision. It is a promise that an organization or brand makes to the public or its customer. Culture or purpose is defined by the difference the agency makes in people's everyday lives. Younger people are generally altruistic and want to help. Meaningful work is the biggest thing government can offer younger recruits. This has to be part of public agencies' narratives and promoting what they do to attract new, younger recruits. Try organizing brainstorming sessions to craft your organization's culture statement. Then work with your graphic department to create collateral and a campaign to promote the statement to employees.
2. Promote wholeness. Young professionals are now more aware about the importance of balancing their physical, emotional, social, and spiritual health. To attract younger recruits, government agencies must value wholeness and prove it. It's well known that flexible schedules and remote work options are increasingly more important to younger recruits in particular. Implement telecommute options as it makes sense for your organization. Whether for family obligations or a desire to experience new places, flexibility is a core value for many next gen recruits. Additionally, paid family leave, new-mom pumping rooms, discounted gym memberships, healthier cafeteria food options and even siesta rooms and increased natural light in workspaces are all meaningful initiatives government agencies can offer to reinforce their commitment to supporting whole, healthy and more productive employees.
3. Revamp hiring and succession planning. Let's dismantle the adversarial narrative; each generation needs the other in every area of life — including in the workplace. Government agencies must empower senior leadership to mentor before retirement. Mentorship will promote diversity in government. Secondly, revamping and modernizing job titles/descriptions can aid in public sector recruitment efforts. For refreshed job descriptions, focus on skills and potential over experience alone. Young people want to contribute to their organizations, but they also seek positions that offer the opportunity to learn and grow at work. Finally, government agencies must understand that young people won't pursue a 30-year career in government. It will be important to identify new leaders early. Cultivate a pipeline of eligible candidates to pull from to speed up the hiring process. Allow younger workers to move around in government roles that are the right fit for them.
As public service professionals, we understand the benefits of a career in government. It will be up to us to push for the changes that will attract new talent to public service at the sunrise, rather than just the sunset of their careers.
Kelda Senior is a GovLoop Featured Contributor. She is a business development and accredited public relations professional from Florida. For the past 10 years, Kelda has served as a communications and community outreach specialist in local, state and federal government, with an emphasis on the transportation sector since 2012. Kelda is the owner of Senior Communications LLC, a boutique public relations firm focused on helping emerging brands cultivate their message and move their audiences to action. Kelda holds a B.A. in journalism and a master of public administration – both from the University of Central Florida in Orlando. You can read her posts here.