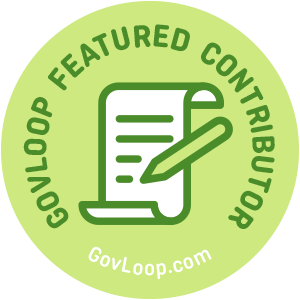 The government employs a myriad of smart people. There is something intangible that attracts some of the brightest minds to public service. Perhaps it's having a mission bigger than our imagination can fathom.
Whatever the motivation is, attracting highly intelligent people to public service is great for our communities because the government is tasked with solving colossal problems with limited resources. To do so successfully, we need bright people at all levels of the public sector.
If you are one of those smart people, ask yourself: "Am I as easy to get along with as I think I am?" and "How do others perceive me at work?"
Take time to do some soul-searching. An honest self-assessment and candid introspection are some of the most valuable exercises you can ever do. Especially if your career does not seem to be moving in the direction you would like.
I am challenging you, the brightest of the brightest, to take a hard look at yourself because we, the public and your fellow government employees, need you more than ever to be at the top of your game.
To help you through this exercise, I will describe behaviors I have observed over the years at work. As you read the examples, consider whether you can see yourself sometimes acting like the individuals mentioned in this article? (Note: I used fictitious names to protect their identities.)
One of my supersmart friends, Gary, regularly finishes his employees', colleagues' and bosses' sentences. Gary thinks he is helping the other person but no one appreciates an impatient listener. Gary would be wise to let others finish their own sentences.
Another bright friend, Gloria, says "yeah, yeah, yeah" before the other person gets a chance to express all their thoughts during a conversation. Gloria thinks she knows the other person's thoughts before the words have come out of their mouths. Gloria may be too smart for her own good. In fact, some describe her as rude because of this behavior.
George is a highly intelligent leader who tries to implement brilliant initiatives at work but often fails because the processes he creates are too complicated for the average employee to grasp. George gets frustrated, and even condescending, with others when they have trouble understanding his ideas.
Ginger is a brilliant researcher. Her pitfall was that she acted like she was too smart to be wrong. Ginger had a tendency to "dig in their heels" and argue for her position so strongly that she exasperated her colleagues and superiors.
Years ago when Ginger was my direct report she argued that the software that generated an error report with her name on it must have been defective because she did not make any mistakes. Frustrated, I retorted back to her: "I hate to break it to you, but you're not perfect."
If you can identify with anyone in the examples above, don't despair. There is hope for anyone willing to make some changes in how they relate to others.
For example, at the time I confronted Ginger with her errors, she was clearly conceited but she was also a rising star with tremendous potential. She eventually developed self-awareness and learned to work well with others. In fact, she reached bona fide "rockstar" status at work and garnered many accolades over the years including a national award.
One of the challenges smart people, like those mentioned above, face at work is developing more self-awareness, the type that allows you to see yourself from other people's perspectives. A lack of self-awareness hurts your relationships with coworkers and superiors and, ultimately hurts your careers. Once you understand how others perceive you, you can take the necessary steps to improve your relationships with them.
Everyone wants to be recognized as a smart individual but, to have a successful career, we must develop healthy relationships with those who work with us. The most successful employees are typically those who don't let their intellect get in the way of building good relationships with others at work.
Michael Folkray is a GovLoop Featured Contributor. He is developing the next generation of world-changing leaders. After a decade in private industry, he chose to dedicate the rest of his career to public service. Michael's major areas of responsibility in the Federal Government have included adjudications, quality assurance and customer service. Since 2003, he has served in various leadership positions in Dallas, TX, and Washington, DC. He is the founder and leader of a leadership book club for his office's management team. Michael earned a Bachelor of Business Administration from the University of Texas at Arlington and is a graduate of the Federal Executive Institute. Follow him on LinkedIn, Twitter or Instagram.