Did you ever wish, even for a moment, that you could take a peek into the future and see what exciting new opportunities might be in store? Wouldn't it be great if, in the words of Marty McFly, we could say, "I'm back from the future?" We'd likely have a whole new outlook on what we needed to do in the present to ensure a prosperous future, or in some cases, we'd have better insight as to what changes might need to be made.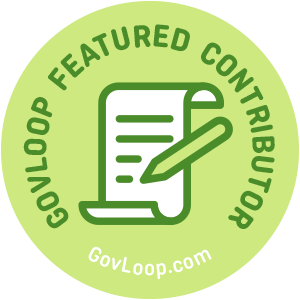 For the most part, we are confined to the spheres of past and present. While the future is a mystery to us all, there are steps you can take now to better prepare for those opportunities and challenges that will come your way. In my last article, I focused on the "Benefits of Moving Around in Government." This week I'd like to continue that theme by focusing on how you can draw interest in your brand by choosing to stay in one place for a while. It's always wise to bring to light the viewpoints from all sides of a given issue.
As the saying goes, "a rolling stone gathers no moss." Before you decide to make a move, you have to make sure you have acquired the right knowledge and experience to take that next career leap. I know what I'm suggesting here may seem contradictory to my previous post; however, you can't put a price tag on knowledge acquired through experience. This post examines the long-term benefits of staying in your government post for an extended period.
Growing Dividends on Your Brand
We all have different investment strategies and ideas for how we can save for our golden years. That same principle has very real application to our everyday jobs and how we can make our talents pay lucrative dividends for years to come. I'd like to call this your "brand fund." But, just how do you go about building your brand fund? As with any financial investment, building your brand fund requires a long-term commitment in order to obtain those desired results. This is an opportunity to bank your talent.
1. Diversifying Experience
The longer you choose to stay with an agency or department, the more experience you stand to gain along the way. When we first see that USAJOBS vacancy announcement for the position we now occupy, it includes a very brief 1-2 paragraph summary of the anticipated duties and responsibilities. The key word here is anticipated. We all know that through time, this description can continue to grow roots in all kinds of directions. That's a very good thing for your career. I would definitely consider myself a jack-of-all-trades, meaning that I have a very broad skillset.
Looking back on the original vacancy of which I applied to and where I am now in my career, I can say I've added to my own personal development by taking advantage of additional tasks or assignments – some comfortable and some not. These are great shaping opportunities that will only present themselves in time. If you continue to deliver results consistently, you're more likely to be chosen for a variety of assignments. But, keep in mind that the higher profile assignments will only float your way after you've 'proven your chops' with the small takers here and there. Getting that 'big break' assignment or responsibility will only come after your supervisor has consistently seen outstanding performance with your deliverables provided on time or ahead of schedule.
2. Increasing Your Sphere Of Influence
When you accept a new position, it's literally a bold step into the unknown. Not only that, but you too are largely unknown among your new peers and colleagues. So, how do you increase your sphere of influence in an agency of thousands? That's definitely not something that can be accomplished in your first year, likely not even in your second. Perhaps you'll begin to see some hinting in this direction during years 3 or 4.
It's simply unrealistic to think that you'll become the next overnight sensation at your agency or department. Government just doesn't work that way. Instead, start by setting some long-term goals, develop a plan and work your plan to achieve them. Give it some time and gradually those senior-level managers and executives will take notice of your growing success track record. After all, "results driven" is one of the executive core qualifications for the Senior Executive Service (SES). Through time, your results will speak for themselves and you may soon be called upon to help solve those higher, agency or department level challenges.
3. Recognizing A Great Thing When You Find It
If we're lucky, we've found a position we enjoy. But, if we're really lucky, we've landed with a highly supportive, knowledgeable and resourceful team. A positive workplace environment can also benefit you in the long haul. Through time, your supervisor will entrust you with more responsibility and may even delegate you as their 'acting' when s/he is otherwise unavailable. Be open to challenges like these that will help build character, improve decision making and maximize your potential. After moving around in my career, I can say that the planets aren't always aligned in your favor, so to speak. However, if you find an ideal fit where you can grow, hop aboard and enjoy the ride!
4. Preparing For A Career In The Senior Executive Service (SES)
While it can seem like a good idea to get experience post hopping from one job to another, the fact is that this won't help you get that desirable SES position any time soon. Agencies invest thousands of dollars in top candidates they're grooming for SES potential. In fact, the foundational training course most aspiring SES candidates enroll in is called "Leadership for a Democratic Society" at a cost of over $20K.
You can just about bet that agencies won't shell out that kind of cash unless they know they can count on you accepting the SES position they have you in mind for. Not only that, but they want someone that has a broad top-down, bottom-up knowledge of their department or agency. That kind of knowledge can only be obtained through several years of experience and moving up the ranks from within.
The Bottom Line On Sticking Around
You should consider the wealth of knowledge you stand to gain in every step of your career. Sticking around in one position or agency for a bit longer can sometimes help you advance more quickly in your career that you could by moving around. "If the shoe fits, wear it" is an expression that aptly applies here. If you find your ideal fit, wear those career sneakers for a while.
Banking the talent you grow and develop at each post is your responsibility. The harder you work, the harder you can make your brand fund work for you. And, the harder your brand fund works, the more dividends it stands to pay out as you move up in your career.
Blake Scates  is part of the GovLoop Featured Contributor program, where we feature articles by government voices from all across the country (and world!). To see more Featured Contributor posts, click here.