Government employees are known for their hard work, dedication, ethical standards, commitment to public service, non-partisanship and many other positive qualities and traits. What they aren't known for is their style and general fashion sense. In fact, over the years, government employees have been widely panned for their lack of style and the continued reliance on the standard "uniform" of blue and black, often out-of-date and ill-fitting suits. Government fashion is not much talked about.
So how do we project the image of who we really are beyond the blue and the black suits? Here are six tips that can help government employees "look the part" and be a bit more fashion forward – not always an easy balance in a workplace that can be more restrictive and less casual than other more permissive workplace environments.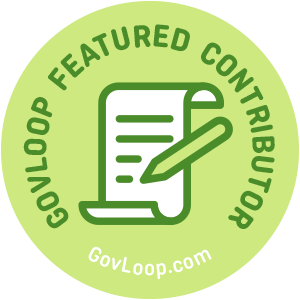 1.) Be comfortable. This is a number one rule for me when it comes to clothes of any kind and is applicable to workplace attire. The concept of comfort can be applied to your clothes and footwear and should always be prioritized over fashion. If you don't feel good in it, you generally don't look good in it.
2.) Don't fall into the standard: express yourself. Your work clothes should reflect who you are. Although government workplaces tend to be a bit more formal than other work environments there is still enough latitude to express yourself through fashion, beyond black and blue, while maintaining an air of professionalism and letting people know who you are. You want to dress in a way that demonstrates who you are and let's your colleagues and supervisors know you should be taken seriously.
3.) Splurge on quality. A tip my grandmother, a true fashionista, told me when I was about to graduate college and enter the working world was, "Wear clothes that are well made, fit correctly, and make you look your best." She was absolutely right. I have found that as a professional, I've invested in training opportunities, professional development, and other things that have helped me excel. Your professional wardrobe should be considered worthy of investment as well. I would rather spend a little more to have a suit or dress made from better quality fabrics, tailored to fit my measurements and that will stand the test of time, rather than to buy something off-the-rack that may not necessarily fit properly or will be of lesser quality after only a few washes. When you look put together, you feel put together and you perform the same way.
4.) Add pops of color. Because government workplaces tend to be more conservative you may not feel entirely comfortable walking into the office in a neon orange suit, though I am sure there are some that could pull it off. However, for most of us, this is a bit much. If you have a "colorful" personality and want to let it show, find ways to add pops of color. Unfortunately, men are at a slight disadvantage here because they have less options. A man, however, could wear a colorful tie or pocket square (the handkerchief placed in the breast pocket) or a bright set of suspenders and socks, or a colorful dress shirt. Women have many more options when it comes to adding color. For example, you could wear bright shoes and match your lipstick, wear a bright accent piece such as a colorful necklace and earring set, carry an interesting handbag, or wear a multi-hued scarf to add some life to your ensemble. The result of adding pops of color will be transforming your look without going too far.
5.) Wear a dress. Ladies, this one is for you. You don't have to be a girly-girl to appreciate a good dress – trust me when I say this as a die-hard tomboy. Dresses are the easiest way to look classy and ready for a meeting at the same time. Find a few styles that work for you and your body type, asymmetrical patterns and wrap-dresses look good on everyone, so start there and throw a dress into your work clothes rotation at least once a week.
6.) Buy clothes you can mix and match. Buy a suit that can be worn as a complete set, then for a fresh look, pair the jacket with a separate skirt, or wear the pants with a sweater or a different top and Eureka – several outfits in one! Without having invested much money, and this is especially useful for new employees who may have a more limited budget, you can turn one outfit into several with some creative thought.
Bottom line: You are in the driver's seat when it comes to your career, how hard you work, how professional you comport yourself, and how well you dress. All of these factors contribute to your success and how others perceive you. Obviously, your work ethic and professionalism are the qualities that will set you apart and propel your career forward, but what you wear also impacts your success, so "dress for success" and remember just because you are a government employee doesn't mean you have to look like one. ?
Lia Miller is part of the GovLoop Featured Contributor program, where we feature articles by government voices from all across the country (and world!). To see more Featured Contributor posts, click here.