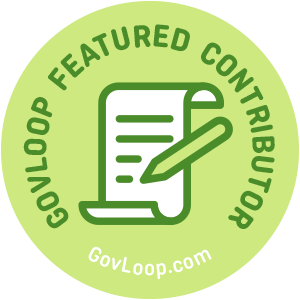 For government work, only the best will do!
Occasionally I hear people speak disparagingly about government employees. From listening to those voices you would think that the government had cornered the market on lazy workers. But you would be wrong.
Prior to the government, I spent a decade in private industry. I saw as many, if not more, lazy workers in those companies. However, government employees are more heavily scrutinized by the public. For good reason. The public pays the taxes that ultimately pay the government employees' salaries.
Lazy employees stand out more prominently in government because they are in the public's eye but they are a small minority among the millions of public servants who work selflessly to protect and improve our communities.
The first time I heard someone say, "Good enough for government work," I was incensed. My colleagues and I work so hard to excel in our jobs so that the American public can be proud to call us public servants.
In this context, I use the term public servant to refer to employees in every government branch and jurisdiction: Federal, state, local, and the military.
When it comes to government services, the public has only one choice. They cannot shop the Internet for a better police force to protect their neighborhoods or for better administrators to manage and monitor their town's water supply.
Citizens depend on government workers everywhere for their safety, to maintain critical infrastructure and to provide essential services.
Government employees in every branch and in every jurisdiction are the defenders of the American dream.
When I worked in the private sector I viewed training as something my boss planned and chose for me. My supervisor directed me to attend training when, and only if, it was necessary.
One of the big differences I noticed between private industry and public service is that, in government, attending non-mandatory training is not only widely available and encouraged but even expected.
For example, my agency includes a generous amount of funds for discretionary training in their annual budget for every employee. The individual employee identifies the appropriate training opportunity, fills out an application, the supervisor approves it if it furthers the agency's mission, and the vendor gets paid. It is that simple.
If you are a government employee, take advantage of the countless training and developmental opportunities available to you. Many are totally free of charge including some offered right here by GovLoop.
Every government worker must make it their business to be or become the best at every job they perform for their communities. America's future depends on it.
Also, if you make hiring or acquisition decisions or recommendations in the public sector, use the highest industry standards to gauge the candidates' abilities. In addition to that, consider their motivation. Are they in it for the money alone? Do they want to benefit their community too?
Of course, the most skilled candidate or vendor must be selected but, when comparing between equals, give the nudge to the one with the clearest public service motivation.
Finally, if you ever hear someone say "Good enough for government work," be sure to retort "No! Only the best will do!"
Michael Folkray is developing the next generation of world-changing leaders. After a decade in private industry, he chose to dedicate the rest of his career to public service, spending the first 7 years of his government career with the United States Department of Justice. Since 2003, Michael has served in various leadership positions within the United States Department of Homeland Security. He is the founder and leader of a leadership book club for his office's management team. Michael earned a Bachelor of Business Administration from the University of Texas at Arlington and is a graduate of the Federal Executive Institute. You can read his posts here and follow him on the following platforms: LinkedIn; Twitter; Instagram.