By Mark Fedeli
In my first post on decision inclusion, I called on federal leaders to see why they need to embrace a multi-generational, multi-functional vision for decision-making for today's challenges.
Now let me propose how they can do this, even as they perform the high-wire act of leadership before an agitated world growing in COVID-19 pandemic rage.
The agitation is deep. The anniversary of the January 6, 2021 insurrection reminds us that many Americans feel future success requires our return to some past greatness. I do not see that past as a 100% true guide given the dominance of its decisions by white men. I do understand why white men (like me) feel threatened or misunderstood.
No one wants to be displaced – especially before their potential is reached. I don't think human potential in any group has been reached. The reality is that future success is found in diversity. As a rule, cognitive diversity drives down biases and drives up wisdom.
Data backs this up: the majority of our youngest generation is now an ethnic minority, women in science, technology, education and math (STEM) have quadrupled in 50 years, white men dominate the executive ranks of Fortune 500 companies and organizations with more diverse workforces are better performers.
I know this is sensitive stuff, and that there is too much in-group diversity to lump white men – let alone women, minorities or any other group – together as if they are uniform. These identities are not the most complete and accurate way to assess the state of the workforce. But it is the data we have today, and small group dominance still holds us back.
So how does diversity drive future success? The leaders who courageously harness diversity through the common ground of problem-solving will be most rewarded. As a rule, those who look too much to the past and continue to favor one demographic will not.
What's great about "the Great Resignation" is not the thinned-out workforce but how it forces us to deal with top-heavy decision biases like male dominance. Younger workers demand a different approach.
Male dominance hinders not just other demographic groups but entire organizations. Small group bias narrows our strategic vision and increases our potential for disruption. It is unwise and unjust. It denies those impacted by a decision's outcomes with a voice in the process.
Despite our polarized agitation, the federal analytical community has a special responsibility to help agency leaders lean on disciplined decision processes that bring a full spectrum of data, stakeholder perspectives and age groups together to solve strategic challenges.
The colors in this graphic show how inclusive decisions counter small group dominance: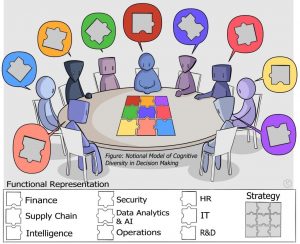 This picture guides leaders into these practical principles ("the how") of decision inclusion:
Treat people as more than their roles. Humans have inherent dignity. This value is bedrock in our culture, but organizations often forget it. People who feel connected to the organizational mission and their colleagues tend to work harder and stay put longer . A diverse workforce represents many cultural orientations. People add more than job expertise to their work. Our backgrounds color our functional insights. Leaders who understand this will find it easier to motivate people. Respect is the first principle of decision inclusion, vital in every step to unite stakeholders in making good decisions.
Represent diversity in decisions with transparency. Diversity, equity and inclusion (DEI) initiatives empower people to let their cultural identities color their work. Each group impacted by a decision expects to have a voice in decision-making. This breaks the chokehold of group dominance, letting every group be represented in strategic decisions. To tap diversity in a disciplined way, each leader should be transparent and consistent in the criteria used to select representatives for inclusion in decisions. Functional groups should not be the only ones included. Groups represented in DEI initiatives materially impacted by a decision should be included or told honestly why they were not.
See (your) identity as a coat of many colors. No person is a mere persona. Our successes are entwined with others. We bring our values to work, and our work alters our values. Digital platforms and fluid work environments expand how we connect, make sense of our world and publicly identify ourselves. We are all learning to deal with uncertainty, and decisions are powerful intersections to evolve our points of view.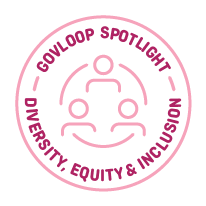 Leaders who apply these principles and see themselves in others of all ages can build multi-generational resiliency into their organizations. Chief information officers (CIOs) and chief data officers (CDOs) can make data available for analytics everywhere to accelerate decision inclusion. The Great Resignation can (and likely will) drive this transformation.
For more on this, listen here to Monica Breidenbach, Workforce Policy Advisor at the White House Office of Science and Technology Policy (OSTP).
Interested in becoming a Featured Contributor? Email topics you're interested in covering for GovLoop to [email protected] . And to read more from our summer/fall 2021 Cohort, here is a full list of every Featured Contributor during this cohort and a link to their stories.
Mark Fedeli is a serial innovator and native of the Washington area with two decades of experience in software, national security and digital modernization. Currently, Mark serves as Federal Alliance Director for Qlik. He leads partner efforts to support Qlik's 90+ federal customers. Mark is also completing a book about digital, generational and cognitive change called Horizon Zero, published by Blooming Twig Books. You can connect with him on Twitter.