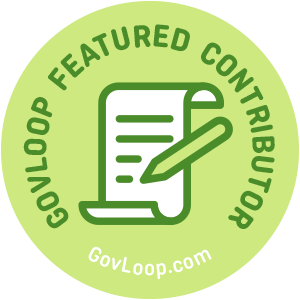 Is it possible to be innovative while also working from home?
Undoubtedly, health and family are currently taking priority during this time of quarantine. After you and your home are cared for, a second priority is to fulfill your required duties and tasks as a federal employee. But, what happens after both priorities have been tended to and cared for? It's understandable that most of us are just trying to complete our basic tasks and responsibilities in a timely manner, where adding on extra work doesn't seem feasible. But for those of us who have that extra time, why not go the extra mile, or even extra inch, in creating a new product?
It's hard to adjust your mindset to focusing on work and getting creative when you have so many distractions at home. If you're like me, you need to be in an optimal setting in order to truly brainstorm and create. Your living room or guest room is not an optimal space to brainstorm, I get it. This just means we need to train our brain to adapt to the situation (and room) we are in.
A key component in innovation is brainstorming. Oh, I miss the days of gathering around a table and shouting out ideas for tactics and messaging. Since we are no longer able to sit around a table with our teams, due to social distancing, we can still innovate and brainstorm. Having a weekly chat with a coworker, team lead or mentor is beneficial. Whether it's a phone call or a Zoom meeting, just communicating with others on a specific topic or project lead will get those brain juices flowing.
In addition to communicating with your peers, maybe you feng shui your working space. Back to the not-so-optimal living room/dining room work set up; how can you create a space that encourages creativity? Maybe you need to create a similar environment to that of your pre-COVID-19 office. For me, buying a few desk organizers and finally getting off my sofa worked wonders. I don't think it's ideal to be comfortable when trying to work or innovate. Comfort relaxes you and soothes you. When you're working, and more importantly when trying to innovate, you need to be in a mindset of concentration and clarity. Innovation is best achieved when there are no other distractions, which leads me to my final point.
How are you supposed to create a space of innovation when you're working from home with so many distractions? There's no easy answer to this. I don't think anyone knew what "working from home indefinitely" really meant. It's hard to be in the same mindset of regular work, let alone innovative work. My best piece of advice would be to try. Any effort is more than no effort at all. Creating a spreadsheet, drafting an SOP, or creating a contact list is a small way that leads to innovative thoughts.
It's not easy, but it's doable. Make a small effort each day to do better and be better. Do it for yourself. Create a space that you can effectively work in and actually enjoy working in. Not to be dramatic, but no one knows how much longer we will be working in these conditions. Creating an innovative space will no only benefit you and your career, but will be better for your mental health as well.
Alura Romero is a GovLoop Featured Contributor. She is a recent University of Florida undergrad who's currently studying towards a Master's Degree in Communication at West Virginia University. She works in the Public Affairs Office at the Naval History and Heritage Command (NHHC) in Washington, D.C. where she leads outreach events for ship commissionings and Navy Weeks. In the past she's interned for PR companies in the private sector in both Florida and Virginia. Before starting her government career she was an Ombudsman for Naval Air Station Oceana where she represented the command and the spouses at the command. She lives with her husband, cat and two dogs in Alexandria, VA.