There's a reason why most New Year's resolutions fail and the same principle applies to setting your digital marketing goals. It's easy to start off the year with the wind at your sails. It's harder to follow through and hold yourself accountable.
As federal digital communicators, we can do better.
Here are seven simple steps you can take to hit your digital marketing goals and stay on course throughout the year:
Break the year down into 4 quarters (ex. Jan 1 – Apr 1).
Break each quarter down into 13 week increments.
Take consistent action every day and every week to hit your 90-day digital marketing goals.
Make sure that your personal 90-day marketing goals align with your organization's long-term goals for the year and beyond.
Hold yourself accountable at the end of every day, every week and every quarter.
By working in incremental steps you will be able to make small adjustments as needed to stay on course.
And remember – when it comes to setting goals – you've got to be smart about it.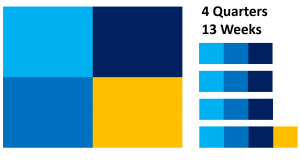 SMART Goals Lead to Better Marketing Outcomes
For my first 90 days in a new digital marketing position, I set five SMART marketing goals that met the following criteria:
Specific: Pick one thing and don't be vague.
Measurable: You don't get credit if you can't measure it.
Attainable: Your goal should be realistic but reach for more.
Relevant: Tie it back to your organization's long-term goals.
Time-Bound: You have to deliver by the end of the quarter.
Here are some examples of SMART goals in action:
Increase email traffic back to website by 50% or more by April 1, 2018.
Double the number of new subscribers by April 1, 2018.
What's Working for You?
Do broad goals like "delight our customers" or "raise awareness" motivate you?
Have you ever tried using SMART goals and measuring outcomes?
Do you use performance dashboards or analytics tools to measure the success of your digital marketing campaigns?
Anthony Calabrese is part of the GovLoop Featured Contributor program, where we feature articles by government voices from all across the country (and world!). To see more Featured Contributor posts, click here.