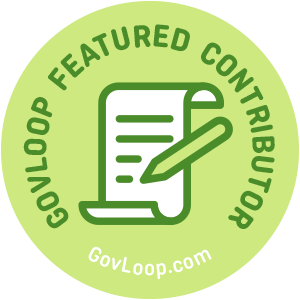 As leaders, we are programmed to be all about accomplishing the mission. Every strategy we develop is intended to help us achieve certain goals and objectives designed to move our organization forward. Those goals are typically stated as financial, productivity or quality targets.
In the public sector, those targets may look like "distributing $10M in grants" or "reducing benefit processing time by five calendar days." In business, it may be something like "increasing market share by 10%" or "reducing manufacturing defects by 3%."
These are all worthy goals but, in the midst of a national crisis, they become secondary.
Instead, our primary concern should be for the people we lead. We must be intentional about placing our employees' welfare front and center in our minds.
The challenge for us leaders is to temporarily shut off the auto-pilot inside our brains that only knows one destination: reaching our organization's stated goals. That "goal myopia" sometimes makes us act like robots. If you are a leader, consider examining your words and actions from your employees' perspective. You may not like what you see.
I have been in leadership for a long time but I've been closely observing leaders for much longer. Through no fault of our own, we have been conditioned to put our organization's goals front and center in our minds. We are ever-striving to reach the goals set before us by our own leaders. After all, that is what leaders are paid to do.
However, from our employees' perspective, that obsession to meet our organization's goals, places them in a secondary position in our order of priorities. Unintentionally we come across as being uncaring toward them. This is especially true during a time of crisis like we are experiencing right now.
When absenteeism is skyrocketing, and the economy is on a downward spiral, leaders may be tempted to clamp down on employees' scheduling flexibility and other family-friendly perks. That is the exact opposite of what is needed. Employees need to know that their leaders care about them, especially during a crisis. We can show them we care in both our words and actions.
Over the last few weeks, I've had to remind myself to be less like a robot and more like a human. I must admit that is easier said than done. Emphasizing the human side no longer comes naturally to me. For more than 15 years, I've programmed myself to be all about accomplishing the mission. My default mindset is to focus on process instead of people.
However, I am making a conscious effort to change. For example, last week I told my direct reports that I expect them to telework every day for the duration of the COVID-19 pandemic. Also, I encourage them to unplug from work at the end of the day, and to take care of themselves and their families. Last Friday, I met with each direct report individually over the phone. I inquired about their families' welfare and I encouraged them to get plenty of rest during the weekend.
Those were simple gestures in my part but I could sense that my actions and heartfelt words meant a lot to my direct reports. Like other essential personnel during this national emergency, they are deeply concerned about their families, stressed out and overworked. Now more than ever, the people I lead need me to be more human.
If you are a leader, I invite you to join me in this journey. The people you lead need you to be more human too.
Michael Folkray is a GovLoop Featured Contributor. He is developing the next generation of world-changing leaders. After a decade in private industry, he chose to dedicate the rest of his career to public service. Michael's major areas of responsibility in the Federal Government have included adjudications, quality assurance and customer service. Since 2003, he has served in various leadership positions in Dallas, TX, and Washington, DC. He is the founder and leader of a leadership book club for his office's management team. Michael earned a Bachelor of Business Administration from the University of Texas at Arlington and is a graduate of the Federal Executive Institute. Follow him on LinkedIn, Twitter or Instagram.