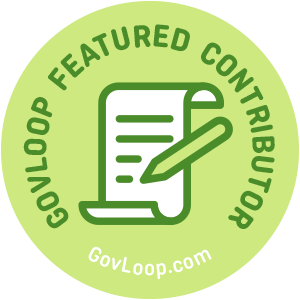 In his highly acclaimed book Who Says Elephants Can't Dance? Leading a Great Enterprise through Dramatic Change, former IBM Board Chair and CEO Louis V. Gerstner, Jr. states, "The best leaders create high-performance cultures. They set demanding goals, measure results, and hold people accountable. They are change agents, constantly driving their institutions to adapt and advance faster than their competitors do."
Leaders of government agencies need to pick up the reins and lead. One task of a leader in a government agency mission is to guide the organization through unfortunate times. Another is to create an improved environment for success during "steady state." In the past, most leaders have made it by with maintaining the status quo. Currently, in the ever-changing social, economic and political environments we face today, maintaining the status quo is not enough. Due to the need to survive, organizations have to welcome change. How a leader creates an environment that can respond successfully to change rests on the leader's understanding of the organization's conditions. Above all, the leader's willingness to know, inspire and enable one's team is one area that displays leadership behavior.
Being skilled in various management principles helps a leader understand the urgency to identify solid leadership from all actors involved. A leader's experience in government service allows one the foundation to showcase evidence of the necessary critical skills. These skills include headship, communication, and management skills that aid in engineering an environment for success. A great leader demonstrates an ability and responsibility to work with various levels within the organization. They must also provide key oversight and partner organizations, both public and private, that are vital to its success.
Most noteworthy, a great leader knows his organization well and is open to learning more from all ranks. This includes interacting with team members from the lowest through the highest positions. The leader must be adept at establishing and meeting deadlines, establishing agency and program budgets, and assisting with budgetary review. A leader must also be able to provide strong analysis and have the capability to apply practical judgment.
In order for government agency managers to personify the role of a leader, they must possess the following:
Management skills
Organizational skills
Performance measurement skills
Management Skills
First of all, a governmental leader should have a wealth of experience with coordinating multiple tasks through the development of effective partnerships. This relationship is formed among the various levels of federal, state and local agencies, as well as their private sector cohorts. This includes the ability to manage time where several simultaneous initiatives and projects with time-sensitive limitations are at hand.
Organizational Skills
Second, leaders should have the organizational skills to examine each part of the organization's structure. This includes the capability to pull together a range of talented, diverse team members. Likewise, this skillset is needed to organize, direct and drive the agency's life through the following methods:
Leaders Value Diversity
A diverse organization may pose challenges, especially where diversity is new to the organization. In successful organizations, diversity has driven success, therefore, a great leader should value diversity.
Leaders Use Common Courtesy
Each member of the team should be treated with respect and all of the common courtesies. A great leader typically displays a cordial demeanor and extends a positive working relationship to all. Furthermore, common courtesies also help leaders recognize and strengthen the relationship with those whom they must depend on and serve.
Leaders Communicate Effectively
An attentive ear, an instructive tongue, and an inviting open-door communication policy will help the agency's leaders rise above any issue. A leader needs to establish effective communication strategies. This can help to improve the strength of the agency, as well as eradicate any bureaucratic inertia caused by miscommunication. The methods leaders use to learn and to circulate operational knowledge must change as fast or faster than changes that threaten success. The full usage of key communication technology tools that work both onsite and offsite are essential to this end. Therefore, communicating effectively from top to bottom is a vital action for one to act like a leader.
Evaluating Your Organization's Performance
Being a leader means having the ability to evaluate how well your organization is performing. A leader of a full team should establish an organizational change plan in preparation for any change in the agency's program design. Plan implementation is an opportunity to clear any challenges that a leader may have faced in the recent past. To achieve these changes, the leader must engage those who would be impacted by the change process. This process gives the organization an opportunity to identify internal and external Intel from among end users.
Hence, as a leader, you must recognize yourself as a leader and act accordingly. Align your environment for success.
Timothy D. Etson is part of the GovLoop Featured Contributor program, where we feature articles by government voices from all across the country (and world!). To see more Featured Contributor posts, click here