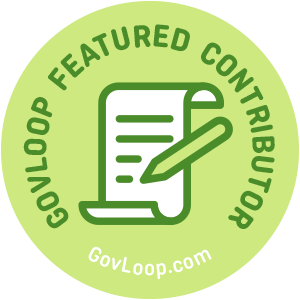 Innovation, organizational growth, even "disruption" are all functions of strong managers who are also great leaders. Leaders have both the ability and the commitment to allow others with the experience to help shape the organization. This process of leadership development also produces the by-product of capacity building and resiliency to create well-rounded solutions. Today's results-oriented and tech-driven government agencies demand leveraging leadership skills to help others succeed. Organizations value smart leaders with the character-building skills to diligently enhance the workforce by doing three things:
Showing decisiveness in the face of complexity
Developing individualized management
Leading by example
Demonstrate Decisiveness
Difficult Situations
First, as a leader, demonstrate decisiveness in difficult situations. More than merely managing, leaders must achieve the capacity for their teams to experience a range of decisionmaking processes. This includes monitoring environmental constraints and market conditions, which ensures readiness at every level of an organization's strategic plan. Assigning key tasks under a range of business stressors and tapping specific skill sets are crucial. Also, increasing levels of responsibility and inviting "out-of-the-box thinking" can address complex conditions while cultivating your team.
Complex Issues
Decisiveness in the face of complex issues can also help to create an esprit de corps of trustworthy staff members. This creates a cooperative effort with a segment of co-workers who you can depend on and in turn they can depend on you. This develops a heightened level of decisiveness because of your awareness of how problem-solving will be addressed during various conditions.
Demonstration – Hurricane Matthew
I have used this strategy during hurricane recovery operations when, for example, a Debris Removal task force has been developed. Recruiting members who have never participated in the task before joining is beneficial. Ask key questions to gain a situational awareness of their level of understanding of the subject matter. Also, look for intensity and eagerness to research and gain a better understanding of how they can be impactful. With these decision triggers, you can deduce that the candidate can make the proposed objectives of the taskforce productive. You have to be decisive in developing measures of how to determine what conditions are right for team members. Professionally, I have been provided with resources through this process which I can reach back and use as a sounding board.
Identify Potential
Second, when you identify a team member's potential, develop a strategy to help enhance it. This type of leadership converts into being a good teammate who is willing to develop others to provide solid contributions. Smart leaders are always developing the next generation of leaders, whether they are fresh out of college or military veterans.
Provide information on training and development and have them participate in team building activities.
Provide words of encouragement and share your experiences with millennials, who may one day be at the helm. Remember, you have a shared responsibility to see them succeed in your organization.
Being a great leader also requires coaching and mentoring your co-workers with varying levels of capability and resources.
Lead by Example
Third, lead by example. With your position of leadership comes a great level of responsibility. You can make a difference by creating a team environment that equips and elevates your staff and customers. To help others succeed, you should implement a disciplined style of leadership which goes beyond personal ambition. Leading by example can be demonstrated by serving the best interests of your organization and supporting goals larger than oneself. In your seat of leadership, you have the opportunity to pass down what you have learned to others.
Display support of and a commitment to the mission of your organization.
Leading by example gives you the opportunity to be an advocate with a commitment of helping others to succeed. This can be illustrated through your in-depth contributions to the understanding of the challenges members of your team face.
Identify the process you use to address the complex issues of a public servant.
Finally, according to John C. Bogle, Enough. True Measures of Money, Business, and Life, "Success, in short, can be measured not by what we attain for ourselves, but in what we contribute to our society." In other words, you must give more of yourself so you can see someone else succeed. Decide what kind of leader you are going to be.
Timothy D. Etson is part of the GovLoop Featured Contributor program, where we feature articles by government voices from all across the country (and world!). To see more Featured Contributor posts, click here