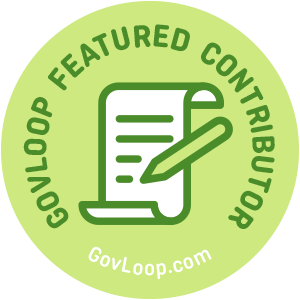 Last week I was lucky enough to attend the Fortune Brainstorm Tech Summit, which is an annual by-invitation-only event where tech leaders from industry and government meet to engage each other and discuss relevant topics.
All of the sessions I attended where incredible and enlightening, but there were a couple that really piqued my interest and inspired me to write this blog. The first was a session called "Navigating Tech's Moment of Clarity" and the other was a private roundtable titled "Are Algorithms Inherently Biased." These sessions covered topics about privacy, diversity and inclusion, ethical use of technology and algorithmic bias. These are very relevant, consequential and vexing challenges that impact every one of us, globally. I was excited to engage in these discussions as well as listen to tech leader's thoughts.
I have been thinking about these discussions since, and am still wrestling with the question –  how do government and private sector partner to deal with these issues? Whenever we talk about these issues that have wide-ranging impacts on citizens across the country, it is natural to ask how government can be helpful. But, as we all know, there are many people, some of which were at this session, who don't believe government is capable of taking on these issues.
Over my career, I have worked for nine years in the private sector, six years in the government, and six years in academia, and I have come to one very obvious conclusion: all three have an important role to play in taking on issues of algorithmic bias, the ethical use of data and diversity in tech. But, not separately, as we have been doing; we must partner and work together to ensure a successful and sustainable solution to these challenges. Every sector has its own specific mission: scholarly research, revenue, and protecting and providing services to citizens. To be precise, these missions definitely overlap, and there have certainly been partnerships across the sectors to reach specific goals – think space travel, innovations in medicine, the internet, etc. We need to bring together these three sectors to solve these challenges.
Now, more than ever, there is a need to engage another partner – the community.  And we should not only engage with them, they must be a part of the process. No longer can we just let the elites of government, private sector, and academia, take on a problem in their bubbles and ivory towers and then deploy it to the masses. It must be understood and resolved with all of us pitching in.
To be clear, the resolution I am proposing to the issues of diversity, ethical use of data and privacy, and algorithmic bias, must be solved by the private sector, academia, and government, and let's include as a catch-all NGOs, all coming together to figure out the best way to engage the public to build a solution. I am suggesting that we build the biggest and most impactful crowdsourcing solution ever. This conversation was jump-started at the Fortune Brainstorm Tech event, is gaining momentum, and I hope to be able to share more details with you on meaningful actions soon. I acknowledge that it is a simple, yet infinitely complex idea. But, the best part about all of this – and this applies to even the most complex issues facing us – is that if we all work together, anything is surmountable.
Amen Ra Mashariki is part of the GovLoop Featured Contributor program, where we feature articles by government voices from all across the country (and world!). To see more Featured Contributor posts, click here.