Reno is the largest city in Northern Nevada with a population of more than 250,000. While less well-known than Las Vegas, Reno has cultivated a unique identity within the state. When tourism decreased during the pandemic, the city implemented policies to expand its economy beyond the hospitality and entertainment industries it traditionally had relied on. This included proposed "innovation zones" for startups, as well as manufacturing facilities for goods such as electric vehicle parts.
With these economic development initiatives and a population growth exceeding two percent, the City of Reno needed to leverage technology — starting with an expansion of geographic information systems (GIS) across departments.
On a macro level, a modern enterprise GIS gave city leaders comprehensive situational awareness and now guides a geographic approach to crucial missions such as equity, community outreach, crime reduction and, of course, economic development.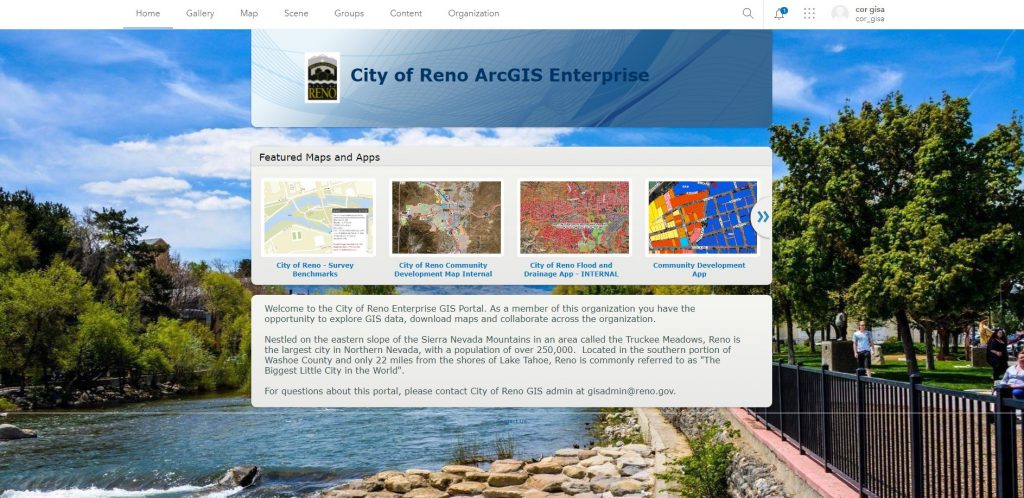 "As we plan long term, our strategic plans have a geographic lens, and we've been able to synchronize the vision of the entire organization to have that mindset," said Kannaiah Vadlakunta, city of Reno Director of Information Technology.
On a more granular level, GIS enables important advances for the Reno GIS team, such as the ability to visually report data to city officials via smart maps and interactive dashboards. The technology's mapping and location analytics capabilities also support efforts to redraw Federal Emergency Management Agency (FEMA) boundaries; address homelessness and other service needs in the community; visualize and analyze crime; support changes to the zoning code; and strengthen clean and safe park programs.
Expanding to an Enterprise System
Reno's GIS division is a small team that uses geospatial technology to improve workflows for Public Works, Development Services, and Election Operations. The team consists of two GIS analysts, Eric Friedlander and Jacob Fausett, and a GIS technician, Robert Johnson.
Already having experienced the business value of GIS, each member of the division was eager to explore the significant role the technology could play in achieving new departmental goals. But they first had to help city department heads understand that GIS is essential to data sharing and collaboration. To achieve this, the team hosted a "GIS Day" featuring informal conversations with cross-functional department directors at City Hall.
Although COVID-19 posed challenges to Reno as it did to all cities, the Coronavirus Aid Relief and Economic Security (CARES) Act funding also presented Reno with an opportunity and final push to modernize its GIS. After implementing the technology at an enterprise level, the GIS division was able to strengthen the city's existing GIS foundation.
The investment allowed Reno to realize its vision of creating a smart community that can reduce costs, reduce time to action, and support policy decisions that improve the overall quality of life, neighborhood by neighborhood.
"For me, being a part of the city of Reno's modernization has been amazing. We went from being just a map shop to being an information hub," said Friedlander. "That barrier of traditional GIS has been broken, and with the organization's adoption of a geospatial mindset, it has allowed us to empower stakeholders with knowledge and new capabilities."
New Technology Enables New Services
Reno's enterprise GIS changed operations and the decision-making process for city leaders, equipping them with data-driven visualization and analysis capabilities. For instance, the city's Development Services team previously stored data in unstructured, overwhelming formats, but the modern GIS allowed easy sharing of datasets with layers and search functions.
In another example, city leaders were able to provide more services to residents experiencing homelessness. The GIS team deployed a mobile app to help outreach teams answer specific questions about a person's disability status, proximity to services, or services rendered in the past. This information gave city officials a complete picture to locate and distribute services based on where residents with the highest needs are located.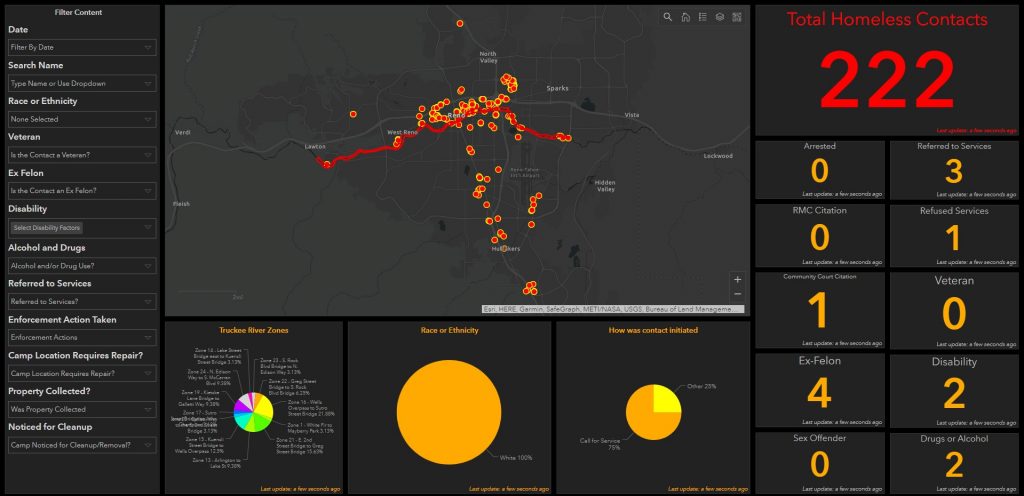 Reno's Government Affairs team also used a GIS web application to help residents locate electoral districts, giving them more information about electoral boundaries and who represented them in various political positions.
Individual departments now use GIS to address everything from data equity and affordability to service availability in their organizations, as well as issues such as land use, zoning, broadband access, and more.
"We look forward to using GIS [in] developing data governance, elevating training opportunities, and finding new ways to engage the public," Vadlakunta said. "Our tools provided us the ability to help city decision-makers and elected officials make data-driven decisions, and that is a mission I am proud to be a part of."
---
Christopher Thomas is the director of government markets at Esri and a founding team member of the Industry Marketing Department. Prior to joining Esri in 1997, he was the first GIS coordinator for the city of Ontario, California. Thomas frequently writes articles on the use of GIS by government. Follow him on Twitter @GIS_Advocate.
To learn more about how governments can modernize their services using GIS, visit esri.com/en-us/industries/state-local-government/overview.