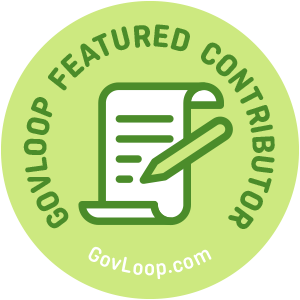 Recent GovLoop posts "Gen Z and Government: New Insight" and "Expanding Data's Reach Through Social Media" highlighted Gen Z's experiences and expectations with respect to government. They also included ways to harness Gen Z's energy and diversity to best reach and engage all major generations.
Reaching multiple generations, effectively serving all constituents, and enhancing engagement will drive key outcomes for governments at all levels. All generations have unique attributes and ideas, and, according to new generational research, all desire to be more included in government processes. The action item for governments is to understand what that inclusion – or engagement – really means to would-be participants.
Interesting new data shows that younger generations see a distinct difference between "serving" and "engaging." Gen Z, for example, believes local government serves them but does not engage them.
Service
How constituents are and want to be served matters in creating the strongest community fabric. Regarding service delivery, the four major generations, (Baby Boomers, Gen X, Millennials, and Gen Z), showed more similarities than differences, with trash and recycling, parks and recreation, and libraries the most identified local government services across America.
Life stage, however, does play a part. Baby Boomers, for example, had significantly higher usage of services associated with home ownership, such as trash and utilities, than other generations.
And, in answer to the question, "What are the most important services local government provides?" Gen X overwhelmingly chose economic and community development as the most important, while Gen Z singled out continuing education.
The preferred service channel to get questions answered or resolve issues is email, across three generations, excluding the Boomers' unique desire to pick up the phone and talk with someone. Even Gen Z members, who rely mainly on social media for information, prefer email over social channels 31% to 7% to get an issue resolved. This is good news for situations requiring remote staff work and underscores the need for technology solutions that likewise provide remote support and service.
Alignment among the generations is also present in how governments can improve service delivery, especially with respect to in-person and online interactions. For every generation surveyed, in-person interactions with government would be made better simply by knowing who or what department to contact for help. Second after this desire for clarity for Millennials, Gen X, and Boomers is shorter wait times or no lines. Gen Z was the outlier, opting for easier-to-find information instead. Shorter lines or no, Gen Z is simply not inclined to do business in person. Every generation, by a very large margin, wants to see online interactions improved through clear, easy-to-use technology.
Engagement
It seems from the above that services are easy to recognize and assess. But what about engagement?
Government's ability to partner with community members to innovate, create and carry out solutions hangs on the practice of engagement. It's this meaningful partnership that Gen Z seeks.
Overall engagement with local government follows key generational trends: the older the cohort, the more likely to engage, though engagement here is centered around very specific activities. Baby Boomers are more likely to pay taxes and vote in local elections than the other generations, doubling Gen Z on voting. In the past year, 56% of Baby Boomers reported voting in a local election, compared with only 26% of Gen Z and less than half of Millennials. The study also showed that more than 20% of Gen Z do not vote in elections of any kind.
It's easy to look at voting and tax payments and say that Baby Boomers are the most engaged generation. The numbers show a different, more complex, story. Remember that the younger generations have the opportunity to engage more with government content because of their use of real-time, digital channels. While Baby Boomers are the most likely to frequently vote, they are the least likely to engage with the community in almost every other category.
Other generations are more likely to engage in every single other non-voting behavior compared to Baby Boomers. They donate, volunteer, attend protests or rallies, and contact officials with their opinions. Simply put, Baby Boomers define engagement as going to vote; the other generations define engagement as everything but voting.
Removing Barriers
That Gen Z feels served but not engaged could emanate from this distinction. Another facet could be that government institutions largely remain made for and shaped by Baby Boomers, the largest voting bloc. The consequence is that barriers to engagement are much higher for Gen X, Millennials and Gen Z.
Overall, the government process simply feels too frustrating for these cohorts. Fees and expenses, lack of communication or transparency, long waits, and difficulty finding information are other identified barriers to engagement. While Baby Boomers may not feel these frustrations as strongly (their engagement activities are narrower and local government feels ready-made for them), the other generations want to engage with government in the same way that they engage with everyone else – through easy, intuitive technology.
Technology is the through-line to remove barriers and engage the generations in ways that are comfortable, easy and effective for each. Improving communication, transparency and access to information is a natural byproduct of integrated, modern technology.
With generations ready and willing to be engaged, the adaptation for governments is really a move towards simplicity and enhancing online interactions.
Meredith Trimble is a former municipal official and Town Council Acting Chair, who focused on strategic planning, annual budgeting and bonded infrastructure projects. Her government experience also includes posts in both federal and state-level executive branch agencies: Associate Editor of the U.S. Federal Election Commission's FEC Record; and Director of Education for the Connecticut Office of State Ethics. In her current role as a Senior Content Specialist with Tyler Technologies, Inc., she writes content to help empower those who serve the public. Her current focus is to help facilitate data-enabled organizations as well as to create connections between governments and those they serve.