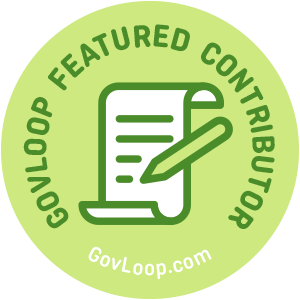 We are bombarded with strategic messaging every day. From advertisers tempting us to whip out our credit cards, to groups wanting us to hashtag their cause, to our workplaces wanting us to be engaged.
What does it mean to be "engaged" at work? Your agency's leaders hope it means you come to work each day, committed to do your very best to help the organization advance its mission.
Once upon a time
To boost engagement, organizations can use storytelling principles to produce messages that simultaneously promote their mission and values; tell employees how they contribute to the mission, and most importantly, why they should want to.
A disconnected worker does his or her tasks with little or no sense of the purpose it serves in the organization's broader mission.
According to a 2017 Harvard Business Review article, "The first responsibility of leaders [is] to compensate for the inevitable alienation that complex organizations create, and provide employees with a visceral connection to the human purpose they serve."
I write for Link, the Postal Service's employee news site. We publish new stories and accompanying visuals five days a week. Our "Heroes' Corner" feature highlights postal employees who have gone beyond the call of duty, and in doing so, have strengthened their customer's perception of USPS.
Some of our most popular articles promote the organization's core values and mission from the voice of our employees.
Think about your organization, which possibly has thousands of employees, who each contribute to the organization in a different way. What is likely to stand out: A document that simply lists goals and objectives in a bullet format, or an employee's first-person narrative on how they fulfill the agency's mission?
I receive feedback from employees who enjoy seeing their colleagues recognized, and because of that, are then compelled to share their stories. This lets us know what type of message is resonating with employees, and drives future content.
Here are a few other ways I've learned to increase employee engagement through storytelling:
Use an emotional appeal. Social media is where viral stories are made. Some of these viral stories involve people requesting letters and postcards. We share these stories with employees to emphasize the mission, but to also instill a sense of pride in the important job employees have: Delivering important news to millions of people.
Emphasize your objectives through employees. We routinely feature employees who share their best practices for completing certain tasks that align with agency objectives. A "this is what works for me" strategy resonates more than a flier or brochure of bullets and statistics alone.
Visuals are important. From showing employees in proper uniforms, to showing them performing their jobs, photos and videos resonate with the employees who are also performing those jobs. Pairing an employee-centered story with a photo of an employee strengthens the message.
And they lived happily ever after
Stories that are strategically aligned with your agency's objectives show employees what's expected and what they can achieve themselves. This employee-centered writing also encourages your workforce to share their own stories and best practices, which you can build on as you continue to promote business objectives.
A few more things to consider when weaving storytelling into your communications:
Keep it simple. Your content shouldn't be too text heavy and cover too much information (e.g., statistics, report findings, policy guidance, etc.).
Represent your workforce. Use voices (and photos) of people from across your organization. Everyone's role is important and your messaging should reflect that.
Encourage employees to share. Do you include an email where employees can share their feedback on content? Is it easy for employees to share the information with others in the organization? Requesting feedback and inviting employees to contribute the message and share it with others can boost engagement.
Ensure it's timely. Was an employee recently recognized for their hard work? Don't wait to share the story. Your audience is more likely to care about something that's tied to a recent event or news item.
The stories are there, you just have to find them. Now go get started on that engaging organizational story that's waiting to be told.
Jennifer Singleton is part of the GovLoop Featured Contributor program, where we feature articles by government voices from all across the country (and world!). To see more Featured Contributor posts, click here.