The White House Office of Management and Budget (OMB) collaborates with federal agencies to "provide a modern, streamlined and responsive customer experience across government, comparable to leading private-sector organizations," per A-11 Section 280. In this initiative, OMB highlights services — labeled as High Impact Service Providers (HISPs) — that are highly visible to the American population. HISPs can be applauded for these efforts to improve citizen experiences, but there is an opportunity to go even further than current goals.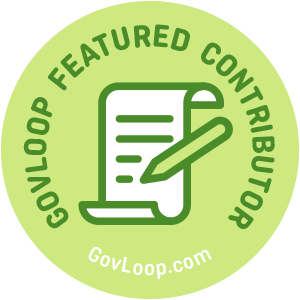 Federal agencies are infamously siloed and too often view their own agencies independently, but Americans do not see these bureaucratic divides. In fact, citizens often rely on multiple agencies to solve one problem. As Americans struggle to resolve issues across multiple agencies, they see one, holistic government that may not be coordinating or communicating effectively.
Examples of cross-agency dependency became even more pronounced during the pandemic. For example, many veterans do not file tax returns due to reliance on non-taxable disability pensions. As a result, earlier this year, many veterans experienced difficulties receiving their $1200 stimulus payments. Calls for help flooded Twitter, such as the message below.
(Please note, I'll reference this example several times. For privacy purposes, the Twitter handle has been removed from this image.)

There are two strategies that HISPs can employ to unify siloed agencies and enable a seamless citizen experience across the federal government. First, agencies should leverage social listening and sentiment analysis to understand the full continuum of citizen experiences across government and then work to ensure there are no gaps in the overall citizen journey. Second, agencies should cross-promote content to generate awareness about initiatives that may impact services at another agency.
This improved transparency across agencies can help set clear expectations about possible service disruptions and, in turn, improve overall citizen experience.
Using Social Listening to Understand Across Agencies
Social listening leverages conversations on modern channels, such as Twitter, Facebook, Instagram and Reddit, to determine the broad themes of conversation among citizens. As more Americans gravitate toward finding information on social media, they also begin to more freely share their personal experiences.
These habits have become particularly common concerning the private sector, with customers sharing about a great or poor experience they have had with a major brand. In fact, American Express has provided evidence that 95% of customers will tell others about a poor experience they have had, and, indeed, many of these conversations are happening on social media.  Further compounding this, a study from McKinsey noted that 75% of customers who share about a poor experience online expect a response from brands within 5 minutes.
Many organizations in the private sector use social listening to surface and resolve customer issues that may be occurring in the customer journey. These same principles should be applied to the public sector.
However, there are many scenarios in which citizens may need help from multiple government departments to resolve one issue. As a result, agencies must be more intentional about working together to understand how they can provide a seamless experience.
Social listening can help highlight where challenges are starting to appear across multiple agencies. Furthermore, since social media is publicly available data, social listening is a unique solution that can help illuminate the connections across government departments.
Multiple HISPs can leverage the exact same social listening data — the same tweets, the same customers — to understand opportunities where agencies can work together. Returning to the example shared above, social listening could help highlight to both the IRS and the VA where they could work together to ensure that veterans are able to successfully and easily receive their stimulus payments.
Accelerating the Cross-Collaboration of Agencies Through Modern Channels
Because government organizations, including HISPs, often don't communicate jointly, there is a missed opportunity to cross-promote and amplify content that relates to multiple organizations. Recently, the Government Accountability Office produced recommendations for public sector organizations to accelerate collaboration. In its work, GAO stated that "achieving important national outcomes, such as food safety, local economic development, environmental restoration, and homeland security, requires coordinated and collaborative efforts of a number of programs spread across the federal government…and other levels of government."
One simple approach to collectively achieve positive outcomes is having agencies cross-promote messaging relevant to their own mission. This strategy generates increased awareness of the different agencies that may be involved in resolving a service request or issue. Increasing awareness helps ensure that citizens don't become frustrated by a perceived breakdown in one agency that may be a result of a service change at an entirely different organization.
The simplest way to quickly deploy messaging is to share content on social media through approaches like retweeting on Twitter or sharing on Facebook. This ensures there are no inconsistencies in messaging between agencies.
In the case of the tweet shared above, the VA can recognize that some veterans may encounter issues with receiving stimulus payments due to non-taxable pensions, so the VA should proactively coordinate with the IRS to deploy messaging. When the IRS initially shares content on modern channels about requirements for receiving the stimulus payments, the VA can easily reshare this content and add commentary tailored to their veterans.
As more agencies leverage social media as their primary tool to deploy messaging, there is an opportunity to clearly demonstrate and communicate where one agency's initiatives may impact other agencies.
Conclusion
Federal agencies are notoriously siloed, but citizens do not see these bureaucratic divides. However, this fragmentation of agencies can lead to a disjointed experience for citizens. Agencies should be aware of how the experiences from one to another may be impacting the overall outcome for Americans. Through social listening and more integrated communications, government agencies have an opportunity to understand the full continuum of citizen experiences across bureaucratic boundaries and work to ensure there are no gaps in the overall citizen journey.
Doug started as a middle school algebra teacher in Oakland, California with Teach For America. He then joined an educational technology company to help drive digital transformation in urban districts. His focus became improving implementations that were struggling to adopt adaptive learning technology. Next, he began focusing on customer experience software for federal agencies and Fortune 50 companies. He saw the power of synthesizing unsolicited feedback on modern channels, such as Twitter, to drive positive change for citizens. Doug then transitioned into a Solutions Consulting role to help build Sprinklr's Public Sector practice.