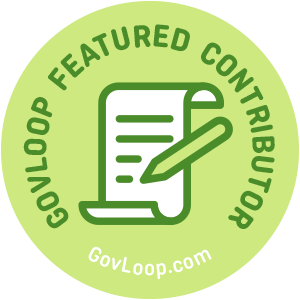 The future belongs to millennials. And that is a good thing. Our former ways of doing government are not sustainable.
For example, I know of a government agency that maintains tens of millions of paper files. Each of those files contains tens, and even hundreds, of pages. Destroying those files is not an option because of their historical and cultural value to future generations. My hope is that the technologically-savvy millennials being hired by the government today will find economically-feasible ways to digitize those files and others like it in the future.
To truly modernize the government we must invest in recruiting and retaining a cadre of individuals who come in every day with an entrepreneurial mindset, emphasizing creativity, and looking for opportunities to innovate. As a general rule, most millennials fit that job description.
You may say "millennials are not the only ones who can innovate." True. But they are less resistant to change. Trust me when I say that resistance to change is the main reason some government agencies still operate with 20th-century technology in this, the third decade of the 21st century. As an agent of change in government for more than 23 years, I have experienced that resistance first-hand.
Another reason to invest in millennials is to boost your agency's productivity. The U.S. Department of Labor estimates that employee productivity will continue to grow at an annual rate of 1.6 percent through 2028, slightly faster than the 2008–2018 rate of 1.3 percent. The projected growth is due to a combination of factors including technological advancement and workforce education.
Millennials are the "booster rockets" driving up employee productivity. One example is their predisposition toward using digital technology. Computers and other digital technology were ubiquitous in their homes and schools while growing up. As such, they are far more comfortable operating in a digital work environment.
To improve their own chances of success in today's complex world, more millennial-age college students are majoring in science, technology, engineering, and mathematics (STEM). Also, millennials are more likely to attend graduate school. The U.S. Department of Education reported that post-baccalaureate enrollment rose 15 percent, from 2.6 million to 3.0 million, between 2006 and 2016.
More advanced technological skills and education are not the only reasons to invest in millennials. They are enthusiastic about teamwork, eager to learn new things and voracious consumers of information. They also seek to be more closely connected to their supervisors, along with receiving more frequent feedback, increasing responsibility, and involvement in decision-making.
Therefore, managers of millennials must invest their time and organization's resources to keep millennials connected and informed. Keep in mind, though, that the method of communication you choose is important. Audio and visual forms of communication are more effective with millennials than traditional written forms.
Also, millennials' expectations for quality training are high. Instructors must not only be subject matter experts but must also be able to keep listeners engaged. Millennials have become accustomed to learning new skills directly from top-tier professionals who post training videos on YouTube and other social media outlets.
We must also invest in training managers on how to lead millennials. Millennials are not conditioned to blindly follow leaders. They want to know the reasoning behind their leaders' decisions. Their parents usually explained their decisions and sometimes involved them in decision-making. So it's only natural for millennials to expect the same from their leaders. Like Simon Sinek says, "start with why."
So what can you expect as a return on your investment? A generous portion of creative problem-solving, versatility and adaptability in the workplace. Additionally, millennials tend to be team-oriented high achievers, have a strong sense of community, and are civic-minded. All these things are critical to achieving your agency's mission.
Finally, millennials dream of living on a planet that is better for everyone, and they have confidence in their leaders to bring about positive change to make that happen. More importantly, beyond experiencing the positive change first-hand, millennials want to actively participate in making that change happen.
It's up to us, the generations that preceded them, to invest in millennials today to help them achieve that dream tomorrow. For the sake of everyone's future, let's do it!
Michael Folkray is a GovLoop Featured Contributor. He is developing the next generation of world-changing leaders. After a decade in private industry, he chose to dedicate the rest of his career to public service. Michael's major areas of responsibility in the Federal Government have included adjudications, quality assurance and customer service. Since 2003, he has served in various leadership positions in Dallas, TX, and Washington, DC. He is the founder and leader of a leadership book club for his office's management team. Michael earned a Bachelor of Business Administration from the University of Texas at Arlington and is a graduate of the Federal Executive Institute. Follow him on LinkedIn, Twitter or Instagram.