Since the 1964 Civil Rights Act, government has continued to crack down on discrimination through laws and regulations such as the Lilly Ledbetter Fair Pay Act, which restricts compensation discrimination. Recently, however, more and more women are speaking out about issues of sexual harassment and other forms of discrimination across workplaces, including federal government. While there are protections in place, discrimination continues to be a major issue. How do government employees know that their agencies are complying with equal opportunity regulations? And who can government personnel turn to if their agency does not comply?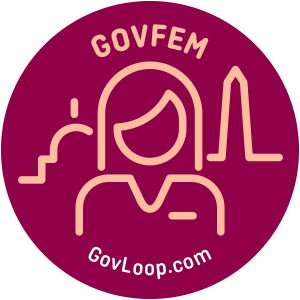 Thankfully, people like Connie Coleman-Lacadie work to prevent non-compliance and help women and minorities attain equal opportunities in the federal workforce. In an interview with GovLoop, Coleman-Lacadie discussed her work as Vice President of Compliance for Federally Employed Women (FEW).
FEW's Efforts for Equality
In 1968, the government issued Executive Order 11375 which added sex discrimination to the list of prohibited discrimination within federal government. FEW was founded as a member-driven, non-profit organization shortly after the EO, when many women feared that agencies would not comply with the order.
Coleman-Lacadie explained how FEW serves as an advocacy organization for female feds and minorities by supporting members that report their agencies for non-compliance. "Compliance is really conformance on the part of the federal department or agency with the EEO laws and the federal personnel system," Coleman-Lacadie said. "FEW has a memorandum of understanding with two law firms in the D.C. area that provide consultations, counseling or intercession on behalf of members in place of formal discrimination complaints."
As VP of Compliance, Coleman-Lacadie provides regular trainings on anti-discrimination laws at the local level through numerous online mediums to increase accessibility. FEW also requires that members participate in annual compliance training to ensure agencies adhere to laws and regulations.
Working Toward Federal Compliance
Before joining FEW, Coleman-Lacadie was involved in other advocacy organizations. "I was blessed to have a boss that allowed me to get involved with the Federal Women's Program (FWP) and activities with the Civil Rights Office," she said.
When Coleman-Lacadie was a part of FWP in the 90s, it was a standalone program among federal agencies. "FWP was very strong, and it helped provide some insight into sexual harassment in a different format, so that the employees could come and learn a little about it," Coleman-Lacadie said. "They felt safe there. We would talk about sexual harassment and what it looked like as well as what it didn't look like."
Coleman-Lacadie's involvement with these groups helped her recognize the areas in which her agency and fellow employees could improve on compliance. But with only seven states participating, Coleman-Lacadie felt that FWP could increase their membership. "When I became a chair for FWP, I looked around and thought 'We could do more with this.' I enlisted members from each of the offices throughout those seven states to be a part of the conversation," she said. "We grew to about 50 people." With the growing membership, FWP was able to implement numerous new projects across agencies in different states.
As a chair of FWP, Coleman-Lacadie worked with other leaders to make creative vignettes about harassment and other compliance issues to personalize the learning process for employees. The trainings also included legal representatives, human resource professionals and EEO employees to answer questions from the group.
"I think it really made a difference in our employees' understanding, because it was not just mandatory training, it was interactive," Coleman-Lacadie explained. With the original vignettes, the audience could participate and see examples of harassment play out in real time, giving participants a better idea of the negative impacts of harassment as well as how to prevent it.
FEW Today
After attending FWP conferences that overlapped with FEW events, Coleman-Lacadie transitioned to working for FEW. This year she looks forward to FEW's upcoming National Training Program, which will celebrate the organization's 50th year with additional training sessions and dynamic keynotes related to diversity and inclusion.
FEW's existence and advocacy today ensures that there will always be a source of support for female federal workers. Above all, Coleman-Lacadie hopes that her efforts can make an impact by reducing instances of sexual harassment and other compliance issues. "I value the FEW organization and I think that if more women and men did trainings they would be better informed."
For more articles about Federally Employed Women and the 49th National Training Program, click here.