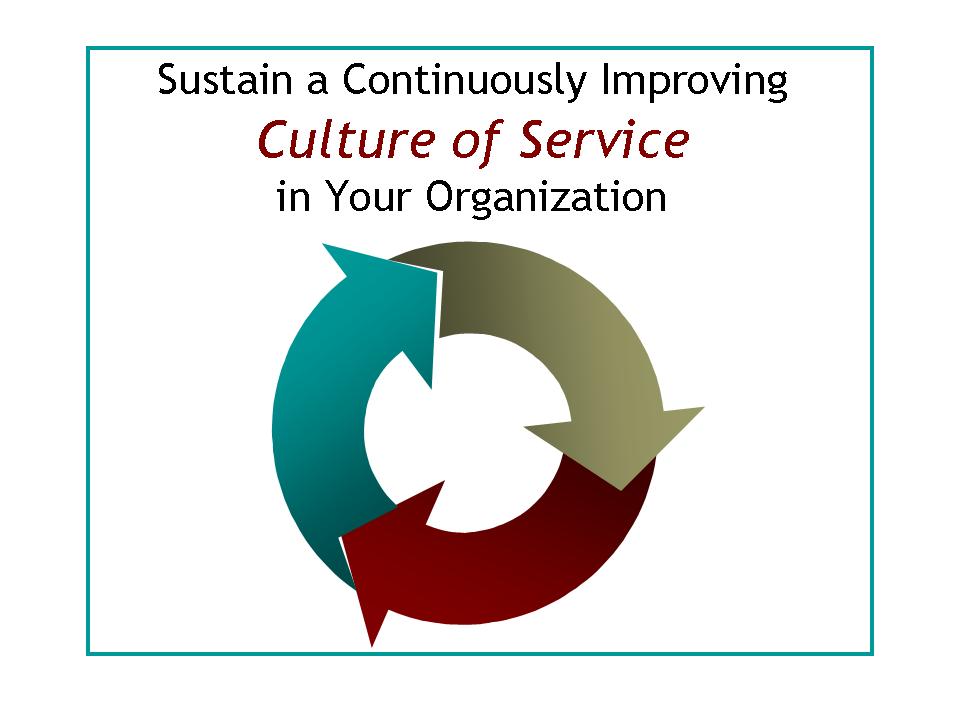 Public Group
active 6 months ago
Anyone interested in enhancing their organization's culture of service. training, best practices, surveying, process improvements and related topics.
What do THEY want?
This topic contains 2 replies, has 2 voices, and was last updated by
Spencer Stern 7 years, 10 months ago.
Author

Posts

February 13, 2011 at 9:26 pm

#123020

Wendi Pomerance Brick

Participant

You and I have both had experiences where we see an employee role their eyes when their phone rings or when a customer is at the counter for assistance. "What do they want?" is what they are thinking, and sometimes even what they say aloud.

It's easy, and perfectly natural, to get frustrated when you are answering the same questions over and over, or when your customers are generally in a bad mood. Many of us operate under very challenging conditions.

The challenge is keeping in mind that "they" are you when you visit them in their place of business, and we all want the same things.

I recently had to call a government office. The situation I found myself in was upsetting, emotional, and caused financial hardship. First, I had to call EIGHT times. I finally got through and listened to a phone tree that was almost three minutes long. After the message, I heard "Due to a large volume of callers, no one is available to take your call. Goodbye." Click. Trying to get through to this office was making matters much worse than they were already.

I finally did get to speak with someone. Poor guy. I was my nicest, but I was really upset. He helped, and without even realizing, showed me all four of the universal customer desires I encourage people to keep in mind when working with someone in need. We actually all want the same things.

To be treated with dignity and respect, like we actually matter
To have some control over the situation when we feel helpless
To be understood and heard, and
To have the issue resolved quickly and accurately.

Being more aware of these four universal customer desires will help you shift the paradigm of feeling "interrupted" by customers during the day, and help you achieve the goal of providing outstanding service to every person, every day.

February 14, 2011 at 3:21 am

#123024

Spencer Stern

Participant

Hi Wendy,

Thanks for your post. Excellent information, especially the 4-step process. It can be very challenging to motivate personnel for whom there are limited to no incentives. Many personnel I work with have incredibly strong job security. What I have seen to be successful in these situations is to focus on one member of the peer group that may have the greatest proclivity to change. That may be a '2″ on a "10 point scale", but it's a start. If you can get one person to model the desired behavior and others see the positive feedback and job enjoyment they are receiving, others may adopt. Of course, if that one person is nowhere to be found, the challenge remains. However, in my experience, I am typically able to find one person. When they have a cascading affect on others it is beautiful thing to watch.

February 14, 2011 at 3:29 pm

#123022

Yun-Mei Lin

Participant

Hello, Wendi,

Thank you for this reminder. I love the four universal customer desires. It's nice to spell it out for us, as customer service specialists, but it really boils back down to the Golden Rule, doesn't it? "Treat others the way you would want to be treated."

Years ago, I made a killing as a waitress. I used to make the equivalent of a Friday or Saturday night's take home on slow Monday evenings – regularly. I made so much, that as a poor college student, I was living off-campus and bought myself a swimming pool. My secret? If I were going out to dinner, spending my hard-earned money for a night out, taking out my friends or family or sweetheart, how would I want my experience to go? That's it. That was my entire secret and why I loved my job, and my customers loved me. Now, I'm not saying this to brag, or claim to be super waitress, but just as an illustration that the Golden Rule still applies, even in today's hustle-bustle world.

Author

Posts
You must be logged in to reply to this topic.