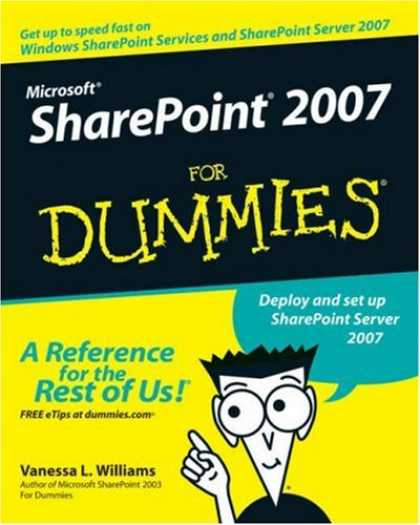 Public Group
active 3 months, 1 week ago
Love or hate it, many of our government enterprises have installed either Windows Sharepoint Services (WSS) or Microsoft Office Sharepoint Services (MOSS). Talk about Sharepoint best practices here.
BestPractices for Community Building in SP
This topic contains 15 replies, has 6 voices, and was last updated by

Jon Juane 8 years, 6 months ago.
Author

Posts

I'm currently working on a project that involves identifying some best practices for community building in SharePoint.

Specifically how do you engage users/members to utilize some of the additional SharePoint features (beyond document libraries) such as discussion boards, surveys, wikis, or create informal groups/teams that cross-cut areas of expertise and organizations?

Does anyone have experience within organizations where the members were very active/engaged that they would be willing to share? What are your thoughts on how to get there?

I'm also open to non-SharePoint bestpractices for community building as well.

perfect timing Heather!

We just kicked off an internal social media pilot with Service Canada Centres for Youth (SCCY)… i'd love to hear what other people have done to generate buzz within their Sharepoint groups as well!

For our project, we kicked off the pilot with a video contest where a few of us from Service Canada Marketing made a youtube-esque video challenging Youth Service Officers (YSOs) to make their own video to tell us how Service Canada can better serve Canadian Youth… Deadline is early June so i'll keep you posted on how effective the video contest was for encouraging engagement and building a community.

We will also have weekly challenges that encourage the YSOs to contribute their thoughts and ideas to the mix, all with the overall goal of using their feedback to feed into the Social Media Marketing Strategy for SCCYs we are writing on GCpedia. I probably made no sense just now, but if you want to check out what's going on with our project so far you can see the gcpedia page: http://www.gcpedia.gc.ca/wiki/Service_Canada_Centres_for_Youth_Soci…

(You need to work for the Canadian Federal Government to access this link)

We don't start the challenges until late June so there won't be much activity just yet…

We have also discussed the possibility of using twitter to cross promote the Sharepoint site, as well as an e-mail blitz with videos!

Our Twitter accounts are @SCCY_GC (english) and @CSCJ_GC if you want to follow… we won't start tweeting for another week though!

Kim Humpherson

Participant

Hello

I have looked after a New Zealand cross government implementation of SharePoint (WSS version 3) and we found that alerts are a good tool as they bring information about changes to the site to the members. They work especially well for the discussion list , as the content of the discussion comes to the member in an email. They can then choose to login and participate in the discussion or not.

You also need to have someone who champions the site and adds content on a regular basis. If you don't change the content often enough to keep people interested they stop going to the site.

Create links to content on the home page too. Make sure that you set the 'view' to show the most recent 'date created' at the top of a list.

Hope this helps.

Kim

Steve Ressler

Keymaster

I've seen an agency-wide idea session where they asked employees for ideas basically via a souped-up discussion thread on Sharepoint. Executive leadership helped.

Kim – I like the idea of using alerts a lot, but are they only sent if the person self-selects to receive them or is there a way to automate alerts for everyone that has access to the site?

This is a good option also. My only concern is they are just getting familiar with SP and document libraries, I'm not sure if they are quite ready to use the other features just yet.

just to give an update on our project… the video contest was a huge hit… we weren't sure how many videos the students would submit (i was thinking maybe 5)… well we ended up getting 17 submissions in total. this week we also launched a survey on sharepoint to get participants to vote for their favourite videos… we've had over 440 people log in and vote! we're really pleased with the participation so far! i don't have exact numbers of how many people can participate yet, but once its all wrapped up i'll see what i can share!

in short: the internal video contest was a hit! generated tons of conversation in our discussion forums as well!

That's great to hear Jon! Good to know as I will become more involved with this client project and will need to find new ways to generate interest in the community on SharePoint.

Kim Humpherson

Participant

Sorry Heather I have not been here for a while.

It depends I guess on how you have set things up. You should be able to add the alerts for your members if you have full control or Design access. If not, select it as an option from the Permission Levels page (you should find this in the Settings drop down list).

Members should still have the ability to edit their alerts even though you have set them.

Hope this helps.

Michael Steadman

Participant

Yes- check out http://www.thesug.org – this is a public SharePoint Users Group community built entirely ON SharePoint – using a product called Member to Member (http://www.membertomember.com). There are many other community sites built on this product, but most are 'closed' to the public. The challenge of using SharePoint out of the box for a true community is the way colleagues are handled- in most social networks – colleague functionality is a 2-way event, one person "invites" another, and the other person "accepts" or "rejects" – but as we all know – SharePoint doesn't behave that way. When you add a colleague, they don't get to accept or reject – they are just "added". The other big issue that Member to Member solves is the idea of groups- the product uses SharePoint sites as the framework for groups – so that membership into a particular group is really just site membership. Discussions are out of the box, but styled – and the inclusion of a standard 5-star rating system makes the discussion much more intuitive and familiar.

February 10, 2011 at 6:20 pm

#100871

Sandra Scarbrough

Participant

Hi Everyone, My office at NIH is now in the process of building a web 2.0 system for best practice sharing. Any advice on engagement or tips on marketing?

February 10, 2011 at 6:36 pm

#100869

Hey Sandra-

I was involved with a crowd-sourcing project last summer using SharePoint to feed into a marketing to youth strategy and one of our "best practices" I would encourage is having someone/a small group of people to encourage discussion and work at breaking down the barriers employees experience that inhibit engagement.

Basically that means diving into the discussions people bring up in forums, replying to comments with things like "that's a great idea- what do other people think?" … "that's a great point- what do you think about what Jim said? could that work?" etc…

If people feel like their comments are wanted/important/valued, they will be more likely to keep talking, and other people will find it easier to jump in, especially when they see how everyone's ideas are so strongly welcomed…

February 10, 2011 at 6:38 pm

#100867

Just to follow up on the project- we saw a 72% participation rate which was a huge pleasant surprise. we're in the process of pulling together phase two of the project. If anyone has any questions or want to know more about the project, feel free to contact me!

February 10, 2011 at 6:41 pm

#100865

Steve Ressler

Keymaster

Is there a specific type of best practice sharing? HR? IT?

I think the key comes down to community outreach, engagement, and management

From what we've seen on GovLoop and elsewhere, some keys that most people miss are:

-Staffing – how are you staffing community outreach/engagement/management? Most people radically underestimate how much work this takes and how important it is. It's not Field of Dreams – where you build it and they come

-Community Engagement plan – how are you going to keep it alive? Weeky live chats? Blogs? Interview with experts? Podcasts? A featured chat of week?

-Marketing – promote it everywhere from swag (GL has been successful with lanyards/tshirts/buttons to flyers in office) to getting senior leaders to use to putting it in email footer signature

February 10, 2011 at 9:12 pm

#100863

Sandra Scarbrough

Participant

Thanks for all the great feedback! This will be of great help!

Author

Posts
You must be logged in to reply to this topic.