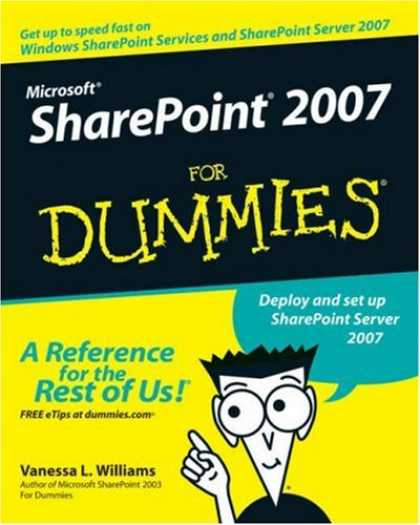 Public Group
active 4 months ago
Love or hate it, many of our government enterprises have installed either Windows Sharepoint Services (WSS) or Microsoft Office Sharepoint Services (MOSS). Talk about Sharepoint best practices here.
SharePoint Technical Questions
This topic contains 7 replies, has 2 voices, and was last updated by
Sam Allgood 8 years, 9 months ago.
Author

Posts

March 4, 2010 at 3:40 pm

#94041

I'm fairly new to SharePoint and have discovered some apparent weaknesses in features this week and I'm wondering if I am missing something or if this is just the way it is. We are using SP 2007. The things I have found are:

1) Once a site column is added to a list using 'Add from existing site columns', I can't find a way to remove that column from the list.

2) It would appear from what I have seen that:

Adding a column through the web provides no way to validate the column as valid email format
There is no way using Designer to add a validator to the automatically generated forms provided for a list
In order to use email validation, you have to build your own edit form from scratch

Is this correct?

March 4, 2010 at 3:48 pm

#94055

Correction to item 1):

Some site columns (E-mail) do provide a delete button to remove and some (Contact E-mail Address) do not. When I look at the SharePoint Development Home definition of these, I see nothing that would explain why.

March 4, 2010 at 4:05 pm

#94053

Sam,
Welcome to our world of fun and excitement! SharePoint can be rewarding and frustrating at the same time. To answer your questions:
1) Hmm… I have never had an issue deleting a site column added to an existing built in or custom list. After adding the column, you should be able to go the Lsit Settings and click on the column name then on the next screen, use the delete button. If that doesn't make sense, let me know and I can explain further.

2) There is no built in validator in SharePoint for email addresses or many other common things. Due that and other shortcomings, many people, myself included, use InfoPath forms integrated into SharePoint. InfoPath forms support a huge increase in data validation and other data entry functions. It has its shortcomings as well, but I recommend it for capturing accurate data from your users.

As far as SharePoint Designer (SPD), it is one of the largest debates in the SharePoint community. Many developers will not use the tool due to the Customized vs. Uncustomized issue. It is like the forbidden fruit in the Garden of Eden, so tempting yet with a price to pay. Now I really don't mean to touch off a whole debate on the SPD topic but will gladly clarify my comments if needed.

March 4, 2010 at 4:31 pm

#94051

1) That's exactly where I expected to find the delete button, but did not, except for the E-mail column.

March 4, 2010 at 5:02 pm

#94049

I will assume you are using the built in link within List Settings – Add from existing site columns ?

When I look at the Site Column choices I have in my dev environment, I do not see any titled Contact E-mail Address, I wonder if this a custom column added into your environment? That might explain the different behaviors.

March 4, 2010 at 5:52 pm

#94047

It is listed under Publishing Columns, so possibly added when a Publishing Site template is added??? Here's the complete list:

Publishing Columns
Article Date / Date and Time
Contact / Person or Group
Contact E-Mail Address / Single line of text
Contact Name / Single line of text
Contact Picture / Hyperlink or Picture
Scheduling End Date / Publishing Schedule End Date
Scheduling Start Date / Publishing Schedule Start Date
Target Audiences / Audience Targeting

March 4, 2010 at 6:19 pm

#94045

Oh yes, that would explain why it is not in my list. My demo site is not a publishing site. Over the years, I have tried to avoid the Publishing site template for a variety of reasons.

I setup a test site collection as a Publishing site to get the site columns you referenced and I was able to duplicate your issue. So while it does not solve your problem, at least you know it is not your system.

I googled the issue and could not find any references to the problem so at this point I am afraid the answer is "don't use those columns". You may be better off creating your own site column with a different name for the same purpose if feasible. Or InfoPath may be a viable alternative as well.
Good Luck!

March 4, 2010 at 6:21 pm

#94043

OK, thanks for the feedback, Gary. It has at least helped me to know I'm not going crazy! 🙂

Author

Posts
You must be logged in to reply to this topic.