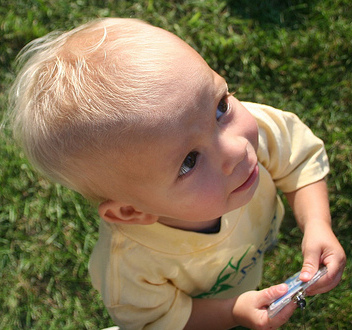 Public Group
active 5 years, 2 months ago
A place where working parents can discuss issues relating to the two full-time jobs we juggle day-to-day.
Parents of ADD/ADHD
This topic contains 2 replies, has 2 voices, and was last updated by
Amy R. Ferris 8 years, 7 months ago.
Author

Posts

October 23, 2009 at 12:03 pm

#83719

Erica A Morin

Participant

Hi all,
Question for anyone with a child with ADHD. My son (7) is in second grade. He was officially diagnosed last year and I've been tinkering with his medications since then as I'm not a big believer in using meds but understand they help. So, my question is at what point can I totally believe him when he talks about how the medications make him feel? I think is very articulate right now – he describes himself as "watching tv in his head" when he knows he should be concentrating but isn't/can't. He says his teacher (very understanding man), will call his name or make a comment to bring him back on track but my son would prefer the teacher tap on his desk or his shoulder to "break the spell". This usually happens after lunch. I recently switched him to Aderall at the lowest possible dosage. On his last drug and it would seem this one, he has a very limited appetite and has lost 2 lbs since last year. He is 100% healthy but no appetite. He doesn't eat lunch many times because he is distracted by the noise/friends in the cafeteria. As I work full time I cannot "go to lunch" with him every day to make him eat – any suggestions that won't ostrisize him? I have started giving him a snack for the afternoon that the teacher said was ok for him to have. But, my son tells the teacher he doesn't need it (he does as he is hungry and sleepy) because he doesn't want the other kids in the class to laugh at him (it is an all-boy class). Any ideas here?

I'm told I'm lucky because I had my son diagnosed early because his type of ADD is the kind that makes him appear lazy and sleepy rather then the kind that is in constant motion. Being on his meds has been extremely helpful for him. He would like to have his medication dosage increased because of the issues in the afternoon and hence, back to my original question – can I believe him or is he using his medication as a crutch for actually being "tired" in the real sense of the word? Any insights would be helpful.

April 22, 2010 at 1:37 pm

#83723

Amy R. Ferris

Participant

Hello. My son, too, has ADHD, however it is the one that does keep him in motion. It was difficult to diagnose and we are still trying to get clarity because at the early onset his father and I were getting separated and going through a divorce. It was hard to understand whether the behavior was due to emotions or ADHD. We did begin to try different medication to rule things out. We tried Adderall, which for my son, was awful! He became very aggressive and his impulsivity increased. We stopped it and saw this inapprpriate behavior go away. He said he felt better. He was 7/8 at the time and was able to express that he didn't feel like himself. We then tried Ritalin, he stated that this made him feel jittery and on edge. We saw some improvement with his behavior, but because he is in motion and now feeling on edge, it was still difficult to assess. He is now, 11, and has been on Concerta for almost a year. This has been working. I have been in touch with his teachers to assess his behavior and attention. We are still not where we want to be and are still not sure if there are some emotional issues, but we have least identified that the medication for the ADHD is working. We have slowly increased his medication and he has been forthright with the way they make him feel. I would definitley listen to your son. At such an early age, they don't have the tenacity to manipulate their intentions because of medication. They are not going to tell you something so they can have an increase in medication just for fun. Listen to you son, our children know more and are very aware of themselves than we give them credit.

April 22, 2010 at 2:27 pm

#83721

Erica A Morin

Participant

Thanks for the insight. Are you having (or did you have) any of the appetite issues?

Author

Posts
You must be logged in to reply to this topic.