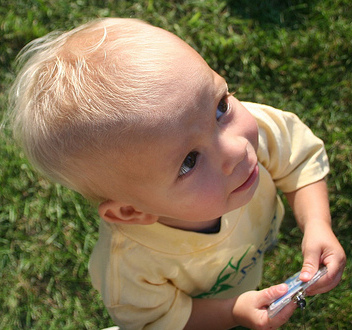 Public Group
active 5 years, 3 months ago
A place where working parents can discuss issues relating to the two full-time jobs we juggle day-to-day.
Working Parents and the PTA
This topic contains 12 replies, has 4 voices, and was last updated by

Lori Zipes 8 years, 7 months ago.
Author

Posts

April 26, 2010 at 6:37 pm

#99005

I joined my kid's PTA when he started kindergarden as I believe that it is my duty to my kid and his teachers to be involved. The first year or two I volunteered for some events. This last year I was the shadow right hand of the PTA president (a stay at-home Mom who has worked but isn't now). She did a fantastic job of getting our PTA in shape regarding by-laws and more. However, she has burned out big time due to the high stress of our particular school politics.

I have now accepted the challenge of taking the PTA to the next level – while working full time. The rest of the board are a great mix of working/non-working parents (all female still but at least with diversity more equal to our student base). We have a "forceful" principal who thinks we all work for her, an OK size membership (80), lousy turnout at meetings (same <10 people), and the need to change our "purpose" to support the kids first and then the teachers/parents and finally the principal.

I will be reaching out to the VA PTA and the National level as needed for the legal stuff but know that reaching out to this community will help me gathering ideas, support, and a place to vent when necessary. I am also hoping to connect with working parents who 1) are currently involved with their PTA or were while their kids were in school, 2) who might have quit their PTA, and 3) never joined even though had kids. I figure with all these perspectives, I will be able to put together a banner year of ideas, events, corporate sponsorships, that will make my school the envy of the neighborhood.

So, my first question out to anyone is, "Are you a member of a PTA? Why or why not?"

April 26, 2010 at 7:18 pm

#99029

Lori Zipes

Participant

Erica,
Great idea to reach out! Here are my responses to your inquiry, and a few other thoughts.

We've always joined our PTO (kids are now 3rd and 5th grade) which typically entails about $10 and trying to make it to a meeting or two. My husband (a former school teacher) was once a co-President with another lady, which worked out well; but the politics was still too high for him to serve on the board a second term. We both work full time, so ability to do "real" work is very limited. We support when we can.
One of my pet peeves is the current fundraising trend of brochures of jewelry, wrapping paper etc. I'll grant that the buying options are better than candy, but the profit margin for the school given the quality of the product and cost, is too small. I look at the $10 stuffed bear and see that it probably cost the distributor $1, the school gets $4, so the distributor gets $5 off the work of my child; or in some cases the work of the parent! The gimmicks to get a prize for each item sold and the big prize for the highest seller are very insidious. The distributor always gains the most in the end. I typically just hand the PTO $20 & buy my kids some small toy they've wanted. They get what they want, the school gets the same amount of money (or more) I don't have junk in my house I didn't really need, and the distributing company makes nothing off my kids. This is just my opinion; I am aware that for many schools these fundraisers are hugely successful.

We just had a huge Spring Fling, which is entirely coordinated by PTO and Room Moms. People either donate or solicit donations for themed gift baskets (silent auction), parents supervise inflatable rides and carnival style activities kids use tickets for (40 cents to $2 a game). It is the old fashioned everyone-contribute-a-little & the-school-gets-a-lot model. One big event like that, consistently per year is very successful in our area.

Definitely change your "purpose" as needed. The bottom line is you are all volunteers. Anyone who thinks they own you needs to be re-educated.

Good luck!

April 26, 2010 at 7:49 pm

#99027

Thanks for the response. I totally agree about the fundraising. Our school did make money on the paper one but I know that I spent way to much of my own money to get my son the "Hummer limo ride for lunch with the Principal". Never doing that again. I too believe that writing a check to the PTA is much better as all the money goes there instead and it is a direct tax write-off. That is one of the items I will be bringing up at our first board meeting. I do have to find out if direct money follows the same rules as "fundraising" as PTAs must have 3 free events for every event that brings in money.

We had our Spring Fling also. Per the Principal, it had to be a "free" event but taking donations to defray the costs. Huh? Need to get a ruling from the VA PTA as to whether that makes the event a fundraiser or not. I missed it because of a baseball game but I hear it was nice. We did sack races, have a DJ, snowcones, hotdogs, et al. Parents are asked to bring in a side dish (optional) and a cake/cupcakes/sweets for our Cake Walk give away. There is face painting and crafts too. We had a moon bounce in the past but the cost was prohibitive and the line way too long so they axed it for the future.

We always have the same volunteers for all our events which I hope to change this coming year. If our kids are required to do community service, then I think I should be able to guilt parents into "walking the walk" too. I think that one of our problems is that when we ask for volunteers, people think it is going to last "all year". Need to break it into manageable chunks and see if we get better turn out.

April 26, 2010 at 7:49 pm

#99025

Just another note. Has anyone been a member of a PTA that converted to a PTO? Or, vice versa? Pros? Cons? Thanks.

April 27, 2010 at 11:08 am

#99023

Georgette Cochran

Participant

I was on my daughters grade school PTA for about four years serving in the capacity of Secretary. I enjoyed helping the school with their activities and fundraising. We had the same frustrations, very little turnout at meetings and it was the same individuals who volunteered for every school activity. Burnout came slow for me, most people didn't last more than two years. I eventually quit, as our school went from a PTA to a PTO and I had many differing opinions than the new school principal.

I'm still heavily involved in school activities and have been serving on the Music Parent Association for the past two years and have one more year to go before I run out of grade schoolers. Good luck! It is so important for parents to be involved and it really can be tough when you work full time and are constantly on the go with children!!!

April 27, 2010 at 12:24 pm

#99021

Thanks for the encouragement. Follow-up question. Was it the principal who wanted the PTO rather than the PTA? I ask because our principal used a person – not a PTA member – to bring up the topic of switching to a PTO. She then jumped on the idea during the PTA meeting to say that if we switched then anyone could join because we set the fee or waive it so everyone gets a vote. We have a large Title 1 base so it is possible that the $7 PTA fee is prohibitive to them for joining. I'd rather offer them the opportunity to join on a sliding scale with the PTA picking up the cost. I'm trying to keep the principal from turning our PTA into her personal treasury organization (PTO). She wants the PTA to write her a blank check every year "for whatever" she wants. As this is illegal per PTA guidelines, the switch to a PTO would negate that problem. As the PTA President, I want to make sure that any and all money raised by the PTA is equally distributed throughout the school, classrooms and teachers. Ok, sorry for the blast, guess my juices are running this morning. Don't get me wrong, our principal is very dedicated to the kids. I just need to redraw the line in the sand so she goes back to her side.

April 27, 2010 at 12:27 pm

#99019

And another note. I have heard about and ,Georgette just mentioned she belongs to, "parent associations" that seem to be subject specific. Is this commong? Are these separate from the PTA or sub-groups? If separate, are there official guidelines for their creation/purpose/maintenance? I like the idea that within a PTA there are smaller circles that concentrate on a subject. This is a great compliment to the social agenda – which I guess could also be a subgroup. Any comments on these subject specific associations would be appreciated too.

April 27, 2010 at 12:32 pm

#99017

Morning – I've been many things including president of my sons' PTA 2 years, vp for 2 years, and will be secretary for the youngest as he graduates. I started actively participating late. I've been a working mom since they were born and divorced since before they started school. In elementary there were so many people involved in PTA I didn't have any incentive to participate (and frequently was discouraged by the "real" mom's clique). When we hit middle school it all changed. The parents leaked away. PTA was now a desperate and tiny bastion of effort. I started as newsletter editor — primarily so I got one and could figure out what was going on. I quickly was grabbed up and put on the board (so few members they put newsletter editor on – how's that for desperate!). My 2 years as president were exhausting, but fairly rewarding.

A really powerful tool you can now use in your efforts is guilt. "Good evening everyone and thanks for coming, as a single parent I can assure you that working with PTA is not only possible it is imperative. If I can make the time so can you!"

I've been through puppy-dog principals and eeediots who thought they owned us and it is important to reach out to your higher levels of PTA if you run into trouble. First, they are a great resource of local and non-local support, ideas, encouragement, etc. In my current incarnation, the principal knows my name and my kid and pays more attention to my emails, my concerns, and what I have to say (right or wrong, it is a form of power).

With all that said, our current PTSA is close to disbanding due to lack of interest. We currently have 87 members in a school of over 600…which is up from 2 years ago from a low of 26 members. It is hard to fight the label of "white women group" (and we have a dad on the board!) in a school with 47% Hispanic/Latino and 32% African American (although a misnomer as about 1/2 are French speaking recent immigrants). We are not the majority, we readily acknowledge this and plead for board members, members, attendees, volunteers, etc. Our big effort is the Post-Prom – the big after party that keeps the kids of the roads… and we're struggling to pull in the funds, support, or worse yet, the volunteers to make any of it happen.

Ideas for meetings – alternative times and days (if "traditional is 2nd tuesday evening" try the 3rd Saturday morning or afternoon for one meeting). Guest speakers are important and keeping reports and business quick, to the point, and only as necessary. (this tends to bring out the dad's more). Always have an agenda and let everyone know how long people are expected to speak so if they drift you can bring them to point.

BIGGEST IDEA – delegate. There are few tasks required of the president other than running the meetings (and if you really hate this it too can be delegated to a VP or other). Your real job is to work with the school and bring them into the fold. You don't work for them, they work for you. Request the principal speak at each meeting and inform her of the information parents want to hear each month – "I understand we've had a drop in enrolment this year, can you please address PTA on what this means to us (fewer teachers, fewer classes, larger class sizes) and then ask what PTA can do for the school – "we know you've been looking for funds for XYZ, would it help if we organized a fund raiser for this specific thing…?" "Can we start a letter writing campaign", etc. — if you get them under control you can invite them to be a member and board member (if you want – we've had them at board meetings but not as voting member… )

Oh, and I'm in MD – in likely a similar size area to you. This next year will be tough to get corporate sponsorships – they've almost entirely evaporated for us to the point where even the school is desperate for enough support for a few internships for the summer to support their Academies.

In any case, you're headed in the right directions – the hardest thing is avoiding burn out long enough. You can do it!

April 27, 2010 at 12:50 pm

#99015

Georgette – something in your post caught my eye… "one more year to go before I run out of grade schoolers" — I can't stress enough how important it is to CONTINUE through high school. They may tell you they don't want you in school, that they don't need or want you, but you will find that PTA/PTSA is your best inroad to getting other parental support, information, and a small peep into their world which will continue to become further and further distant (which is healthy!). Middle-school/Jr High they will NEVER bring home a flier, a piece of paper, any information. You will never hear of anything until it is too late if you assume, as many parents do, that PTA is for elementary school. The needs and focus changes, but is is still very, very important. In High School, you get more students actually participating (the "S" in PTSA) and is the one thing my youngest and I do together is attend the meetings and have dinner together. He has learned to speak up for himself and other students in a way I would never have managed. He participates and volunteers which is great. All I did was pay for his membership and offered him a ride each month. He is a full voting member and we don't always agree on things. Our meetings this year have included a county council person who talked about our budget woes and how to send effective messages to the council (show up to meetings, write letters and emails, etc.), the cell tower company who was adding things to the tower on our school property (we nailed him for 30 minutes about safety concerns and he did a decent job of allaying fears — the principal also had to explain where the money was going), a gang specialist in the county police talking about gang prevention (not a big concern but a misnomer in our area due to our demographics and location), college and testing preperation speakers (SAT, ACT, and resources available at the school). One very popular speaker in middle-school was a psychologist who talked about how to get the kids to do their homework. That is a great, early in the year, meeting speaker!

Anyway, the upshot is PLEASE, don't take on too much so that you burn out quickly (don't asume no one will do whatever it is, ask first, then plead, then, maybe don't do it!), and don't assume someone else is going to be there for PTA if you are not. Middle school and High school need you too!

April 27, 2010 at 1:05 pm

#99013

Wow, thanks! I'm hoping taking the PTA to a more professional level will make our principal back down. She is a member of the PTA but tends to think she runs the meetings if we "veer off her course". Right now, I believe that it will be my personality vs. her's and may the fur fly. Past PTA presidents have bowed to her to avoid the personality issues and the suspected (not ever proven) idea that if she dislikes you, you would suddenly see your child in the "bad classroom" with the "bad teachers". I don't think she is that petty but if she turns out to be, then I think she will find a nice adversary in me. Strange that I am prepared for a fight that may never manifest but that is the current mood in my neck of the woods.

I'm definitely looking to have a speaker every meeting and to change up the days we meet. Our current pres got the Fairfax County liasion on Cyber Bullying to speak. Very informative. The kicker was that the speaker told us that some of the stuff wasn't appropriate for the children to hear and our principal still wanted the kids there. We won, the kids went to the library. I know she wants the kids to know about the topic but I'd rather it be age appropriate and done during an assembly or such. I like the homework speaker idea.

I am approaching the teachers indirectly to get their Priority Lists for next year (and beyond) such that I know what they want/need. I will also be asking our principal for her list. Once I have them all, the PTA will be better prepared to support the initiatives. I know one teacher told me she just wants the daily supplies (paper, pencils, etc). Ouch. Here I was thinking a new library fund or language software for the computer lab. Baby steps first.

May 11, 2010 at 3:45 pm

#99011

A new topic.

I am developing themes for the PTA to sponsor throughout next year. The first one deals with Reading/Writing. To this end, I am trying to locate authors of children's books (or, at least books that are read by kids in elementary school) who would be willing to speak at my son's school (or event if I can build this up). My idea is for this to occur next school year so I have time to set it all in motion and line up the venue et al. I doubt there would be any payment for the gig except some coffee/soda/cupcakes and an audience of potential readers/writers.

While I orginially hoped to snag a "name" (and I wouldn't turn one down), it occurred to me that if I could line up a series speakers throughout the year to expose the students to a variety of writers(newspapers, social media, print, mag, etc) and styles (fiction/non-fiction, poetry, etc) and themes (mystery, comedy, drama, science fiction, fantasy, etc), the better and more rounded the program.

If this idea pans out, I think I will expand the theme to cover theater, dance, music, etc.

Has anyone seen this done at their kid's schools? Any insights on how to make it happen? Any pointers would be appreciated.

June 28, 2010 at 3:22 pm

#99009

Erica;

You might try the local Barnes & Noble or Borders and ask for their speaker schedules. Then, ask if you can contact any appropriate speakers they are using to see if they are willing to make a side-trip to your school in conjunction with their scheduled speech. Indicate your inability to pay and stress the opportunity your attempting to create for the kids. You might snag a few that way. Your local librarian and coffee shops with speakers might be alternate resources. Also, contact your other elementary/middle schools in your area to pool resources and ideas, you may be able to afford a speaker and share a meeting for a special occasion. Our middle school pooled resources with a few others and hosted a "what to expect in High School" talk with several HS principals who had a larger audience and could reach more parents/kids at one time – we did this for 3 years and rotated the location to the partner middle schools each year.

OH, and also, as you're planning ahead, you might be able to write a grant to get some money to pay for speakers. An art teacher did this one year for Opera and ended up getting into a great program with the Kennedy Center.

July 7, 2010 at 10:46 am

#99007

Thanks for the insight, Faye. Our group is in full swing now. I sent out a parent letter the other day introducing the new board and our plans/ideas for the future. Made a big deal of the "we need to help in order the help the kids and the school" appeal. Haven't check into our google mail yet to see if there has been any response beyond – "take me off the DL".

On another note, we are revamping our website and am looking for any insights. We don't have an real experience and I did make an appeal in my parent letter for someone with design capabilities. Fingers-crossed there. However, there is a little contention as to the best Host service and best software. Right now, we have a host site that I can get for 3 years for ~$300. They want $1500 to design the website. Some in our group think that WordPress is the way to go but we're not sure if we can put a donation button (like a PayPal?). We know what we want on the site and we want to have access to update on a minutes notice. We also want to be able to link to Twitter and Facebook. My ignorance is extreme on this topic but I'm being asked to sign the Host contract ASAP and looking for any insights. Thanks.

Author

Posts
You must be logged in to reply to this topic.