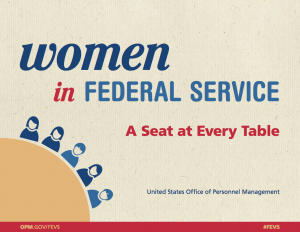 We're making progress, but there's more to be done. That's the main takeaway from the Office of Personnel Management's (OPM) recent report, Women in Federal Service: A Seat at Every Table, which used workforce data and Federal Employee Viewpoint Survey (FEVS) results to analyze that status of women in government.
What I appreciate most about this report (aside from OPM doing it in the first place, which is awesome) is that it provides a number of data points from the commercial sector to offer a frame of reference for their government results. In some places, those contrasting data points show how government is leading the way in creating an equal work environment for women. Unfortunately, other results show that federal employment is falling behind.
Before we get to those shortfalls, let's highlight the top three wins for female feds:
1. Many women in federal positions are leaders. In 2014, women comprised 34 percent of the Senior Executive Service (SES). No, that's still not half, but it's far better than the measly 14.6 percent of executive positions held by women in the private sector. What's more, results show that women entering the federal workforce are increasingly likely to pursue a management track.
2. STEM is less of a boys' club in government. It's still wide, but the gap between men and women in federal science jobs is closing from 47 percent in 2005 to 33.4 percent in 2014.
3. There's more money in government. I know, that's a phrase you've probably never heard, but in this case it's true. In 2012, a woman made 87 cents for every dollar a man made in the private sector. In government, there was far greater parity with women earning 99.2 cents on the dollar within the SES.
Nevertheless, there is one striking data point that shows government has more work to do. Namely, there are fewer women in government than there should be. According to the report, women comprise 46 percent of the total civilian workforce, but only 43.3 percent of the federal workforce. And of the veterans in federal jobs, only 18.7 percent are women.
Thankfully, OPM recognizes the need to attract more women to the workforce. In the report, several initiatives to increase female recruitment and retention are mentioned. For instance, the DHS Women Veterans Initiative has created specific goals to increase the employment of female veterans and released a more detailed report on employment trends this year.
Additionally, OPM is working with agencies, as well as officials from colleges and universities, to identify and remove barriers to recruiting women. Under the agency's Recruitment, Engagement, Diversity, and Inclusion (REDI) Roadmap, OPM also established several mentoring and coaching networks across federal agencies, with one pilot specifically targeted to women.
Finally, the White House is trying to encourage better retention programs. In January 2015, the President pushed for agencies to maximize the use of existing programs that offer flexible schedules for working families. Moreover, his office and OPM are supporting initiatives like the Lilly Ledbetter Fair Pay Act to completely eliminate pay disparities.
These programs recognize that government still has a way to go towards achieving the goal of "a Federal workforce that is engaged, inclusive, and drawn from all segments of society." Hopefully, next year's OPM report will offer an even brighter picture of women's employement in the federal government.