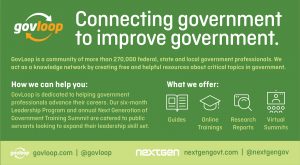 GovLoop's mission is simple: connect government to improve government. We aim to inspire public sector professionals to better service by acting as the knowledge network for government.
GovLoop serves a community of more than 300,000 government leaders by helping them to foster collaboration, learn from each other, solve problems and advance in their government careers.
Contact Us:
If you'd like to get in touch with a member of the GovLoop team, please send your inquiries to the following people:
Topic
Contact Name
Contact Info
General or Sponsorships
Doug Mashkuri, VP and General Manager

[email protected]

Content
John Monroe, Director of Content

[email protected]

Speaking Inquiries or Opportunities
Emily Jarvis, Senior Online and Events Editor

[email protected]

Marketing, Media or Partnerships
Leah Anderson, Senior Digital Marketing Manager

[email protected]

| (203) 623-6837
Who We Are:
The GovLoop community currently has over 300,000 federal, state and local government employees as well as active and veteran military service people. The community is made up of government employees from all over the country with diverse backgrounds, experience and roles. We welcome all public servants, from novices to seasoned government employees.
Check out this short animated infographic to learn more about the GovLoop community:
What We Offer:
Our core mission is to help government employees to do their jobs better. We strive to meet our mission by providing free resources, blogs, online trainings, in-person trainings and online courses on topics relevant to anyone working in public service.
You can find our on-demand online courses on the GovLoop Academy website.
We also co-host an annual professional development training event with Young Government Leaders called the Next Generation of Government Training Summit. The Summit occurs each summer in Washington, D.C. and focuses on career training to help government employees impact positive change at their agencies and advance their career.
Who We Work With:
In order to provide these free resources, GovLoop partners with a number of different associations and private sector companies. If you would like to receive more information about how GovLoop works with its partners, please email Doug Mashkuri and we will get in touch shortly.
Historical Articles:
Here's a sampling of a few articles about GovLoop in the news:
Connect with Us on Social Media:
Company Logos:
If you have any questions about how to use our company logos or need another file format, please email our Lead Designer, Kaitlyn Baker at [email protected].
| | |
| --- | --- |
| Full Logo Green & Yellow (default) | |
| Full Logo White | |
| Full Logo Black | |
| Icon Logo Green & Yellow | |
| Icon Logo White | |