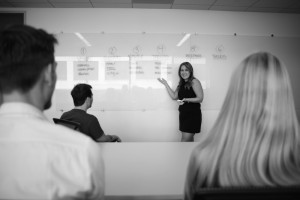 The NextGen Leadership Program is a groundbreaking, government-wide training program to develop the absolute best next generation of government employees.
Program participants will be matched with a mentor based on executive core qualifications. Over the six-month program, they will engage in a series of online and in-person training workshops focused on leadership, program management, and career advancement. The program includes at the two-day Next Generation of Government Training Summit, co-hosted by GovLoop and Young Government Leaders.
The Program Includes:
Mentor Matching and Bi-Monthly Meetings
VIP Experience at the NextGen Training Summit
Strengthsfinder Assessment and Training
Personal Resiliency Assessment and Training
Access to NextGen Online Training Sessions
Networking Opportunities
Virtual Career Chats
**16 continuing professional education (CPE) credits can be earned.
Program Timeline: May to October 2018
Early Bird Price (ends December 31, 2017) = $2,700
Regular Price (ends March 15, 2018) = $3,100
Group Price (for 5 people or more) = $2,700
Only 100 seats are available. There are only 100 seats available in the 2018 cohort check out the Leadership Program page for more information or register here now. 
Have any other questions about the program or need help registering? Contact [email protected]!