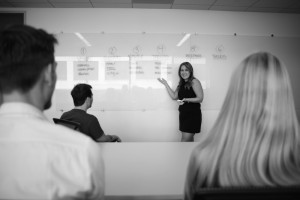 The NextGen Leadership Program is a groundbreaking, government-wide training program to develop the absolute best next generation of government employees.
Program participants will be matched with a mentor based on executive core qualifications. Over the six-month program, they will engage in a series of online and in-person training workshops focused on leadership, program management, and career advancement. The program includes at the two-day Next Generation of Government Training Summit, co-hosted by GovLoop and Young Government Leaders.
The Program Includes:
Mentor Matching and Bi-Monthly Meetings
VIP Experience at the NextGen Training Summit (July 27-28, 2017)
Strengthsfinder Assessment and Training
Thomas Kilmann Conflict Inventory Assessment and Training
Access to NextGen Online Training Sessions
Networking Opportunities
Virtual Career Chats
**16 continuing professional education (CPE) credits can be earned.
Program Timeline: April to October 2017
Early Bird Price (ends December 31, 2016) = $2,700
Regular Price (ends March 15, 2017) = $3,100
Group Price (for 5 people or more) = $2,700
Only 100 seats are available. Fill out the form below for more information.