Agencies across the board want to be able to take advantage of next-generation technologies and capabilities to improve the responsiveness, efficiency and effectiveness of government. They want to be able to use analytics to predict problems and anticipate trends, increase the use of virtualization, expand the use of modern technologies such as the Internet of Things, and move toward a "citizen first" model. Most significantly, our survey found that 58% believe a modern network would help improve agency cybersecurity (See Figure 2).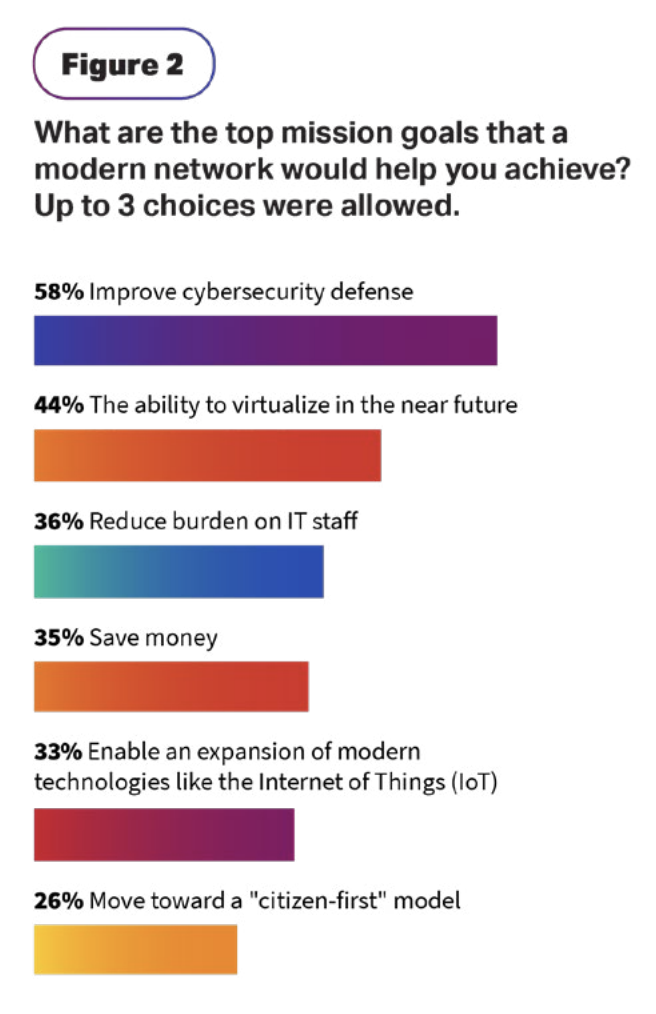 In many cases, however, existing networks hold agencies back. According to our survey, the biggest issue affecting agencies' ability to modernize their networks is budget (42%), followed by too many other IT priorities (28%); the limitations of legacy systems, models and protocols (27%); and multiple manual processes (18%) (See Figure 3).
Many legacy networks lack the capacity or speed to handle advanced processing and modern capabilities, often because they still run older protocols. Even if they have moved to Ethernet or Time-Division Multiplexing (TDM), they may still be using slower, less powerful services (See Figure 4).
For many agencies, the first step in enabling these next-generation capabilities is transitioning to the cloud. Although the move often makes sense, it also can highlight some of the weaknesses of older networks. Getting good performance to and from the cloud requires high performance, and older network infrastructure often doesn't allow for that.
Older networks also still use many manual processes. Though fine for smaller, relatively static networks, manual processes can become a big problem as networks scale.
"When you start getting into the cloud and adding more modern applications, your bandwidth demands increase and the variety and locations of the traffic go up," explained Jim Westdorp, Chief Technologist at Ciena Government Solutions. "The only solution is automation."
Automating networks improves performance and efficiency and can reduce costs. Although it costs money up front to address process issues and add automation, the result is a network with drastically reduced operational expenditures.
Pick and Choose
Many agencies know that they must modernize their networks, but they struggle to decide where to start. It's not necessary to replace the entire network all at once, which is too expensive and impractical anyway. Instead, pick and choose what to upgrade and in what order.
Before diving in, have an honest discussion with all stakeholders about what types of applications will run, what bandwidth different locations need, and what type of reliability and performance users and applications require. The results of those discussions will make clear what parts of the network to upgrade first. If your IT department has enough knowledge and expertise, it can perform this analysis itself. Some external providers can also perform a thorough network assessment and make informed recommendations. "You have to choose where you spend your money, and it makes sense to spend it modernizing the parts of the network that give you the most value: capacity, process and automation," Westdorp said. "It's about finding a way to live with existing legacy systems while growing with some of the new protocols."
It's important to choose an architecture and set of equipment with backward-compatibility with your legacy systems. There are two basic ways to approach this: You can either wrap your legacy analog protocols into a more modern TDM protocol such as OTN or convert it to Ethernet. The key is creating an adaptation layer at the edge of the network that lets you carry legacy protocols over to a new network while allowing for growth on newer protocols.
In many cases, agencies start by upgrading elements toward the edge of the network first and then upgrading the core. "That makes a lot of sense, because much of the intelligence and capabilities that provide dynamic services are provided by edge equipment," Westdorp added. And don't underestimate the importance of network edge devices. As new applications develop and user needs change, it will become even more important to have flexible, programmable edge devices that can adapt to changing requirements.
This article is an excerpt from GovLoop's recent report, "Network Modernization: The Promise of the Adaptive Network." Download the full report here.