GovLoop's recent online training was aimed at helping government organizations navigate through the challenges and benefits of incorporating cloud computing into an overall IT strategy. It's becoming more and more clear that cloud computing is the future and GovLoop's panel of industry experts helped us navigate through the different options and challenges.
The panelists included:
Eric Simmon, Systems Expert, Cyber Infrastructure Group, NIST
Mark A. Johnson, Director, Government Cloud and Big Data Programs, Oracle Public Sector
Tom Kireilis, Deputy Director of the Cloud Computing Services, Program Management Office, GSA's Federal Acquisition Service
The training, A Roadmap to the Cloud: Beyond Infrastructure, touched upon the imminent need for government agencies to utilize cloud services, as well as the different options available based on the needs of any government organization.
What is cloud computing and how can I identify it?
In a nutshell, cloud computing is a way to enable access to networks on an on-demand basis to a share pooled computing resources. This is a convenient method for government agencies to collaborate across a network and utilize shared resources. These resources include shared networks, servers, storage, applications and more, that can all be accessed and used in a way that requires minimal management effort.
Eric Simmons and the experts at NIST have identified five essential characteristics to determine the definition of a true cloud computing system. If a system meets each of these requirements, then it is a cloud:
On demand self-service. Are the computing capabilities automated?
Broad network access. Is the service available and accessible over a network?
Resource pooling. Can two or more people share resources with one another?
Rapid elasticity. Can you adjust and scale the capabilities based on demand?
Measured service. Do you see the impact of service?
Cloud Economics: Determining the best cloud strategy for your team
Creating a cloud computing strategy, in a way, is a lot like deciding to buy or rent a home. Oracle's Director of Government Cloud and Big Data Programs, Mark Johnson, used this reasoning to help outline the best options for choosing a cloud strategy that works for you and your workplace.
Deciding between a public cloud and a private cloud can actually be fairly easy. Outlining the differences between the two options, Johnson said that investing in a private cloud computing system is a smart decision for long-term usage, while short-term projects or initiatives can be very well-served through a public cloud. With shrinking federal budgets, it's critical to think about the best strategy financially for cloud investment.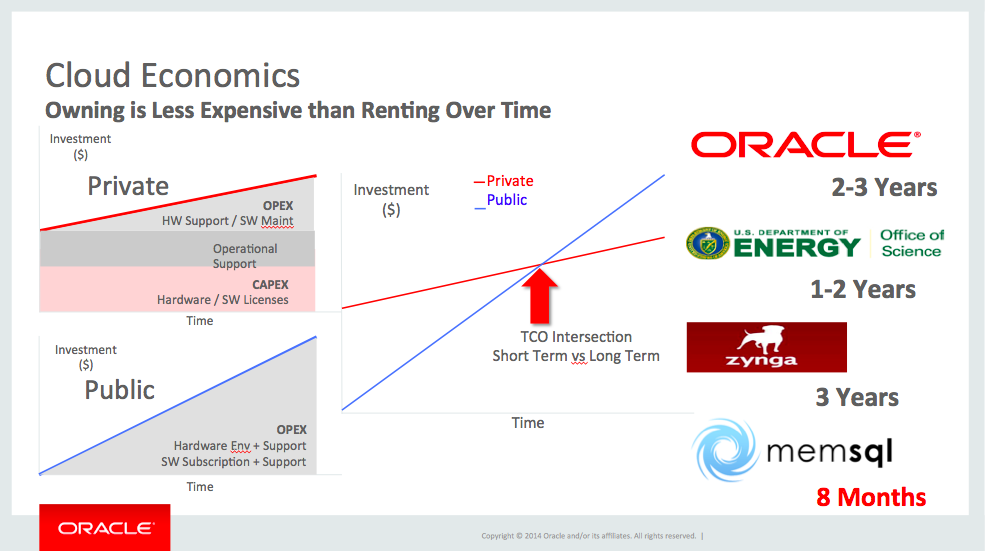 As you implement a cloud system into your overall IT strategy, choosing a hybrid strategy can be a beneficial options when weighing long-term collaboration with short-term project goals. While considering the best options, check out Oracle's case study on the benefits of cloud implementation for modern government. What makes the most sense for you and your organization?
Not "IF" But "WHEN"
It's not a question of whether implementing the cloud is something to consider, but a necessary move to incorporate in your overall IT strategy. Prominent government organizations like NASA, the defense and intelligence communities, and more have shown skeptics that successful implementation is possible for government. Tom Kireilis of the GSA's Federal Acquisition Service outlined some of the many benefits for a government entity to make the shift to cloud computing.
Among the benefits of increased employee collaboration potential is the ability for a customer to scale the system to meet the needs of any demand size. The cloud also enables agencies to condense systems and data centers, while streamlining processes that slow down progress. This flexibility makes cloud computing a smart investment in terms of goal efficiency and budget awareness.
Tips for a smooth transition
When implementing cloud into an IT strategy and workplace culture, Tom Kireilis discussed the GSA's tips and best practices to overcome any challenges that could come up during the shift in company culture. Here are few of my favorite tips from the online training that can help smooth over any challenges in the transition.
Use the cloud strategy to compliment the agency's mission through incorporating it fully into the IT culture of your workplace.
Hire and train staff to be cloud savvy.
Bring all stakeholders to the table to ensure communication and easy transition.
Want to know more? View the entire online training on-demand! For more information, download GovLoop's Complete Cloud Bundle to find the right cloud solution for you.