Welcome to Anycity, USA; a bustling city with a financial district and home to some of the nation's largest banks. There are many suburban communities, each with their own autonomous governments. Some surrounding towns or counties provide local Ride-On routes, but just amongst their principal streets. The average highway commute time into downtown ranges from 45 minutes up to 2 hours on the major freeway/highway arteries into/out of the city based on distance, route choice, and recurring congestion factors.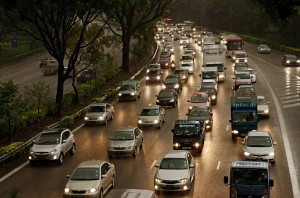 Inside the financial district, there is a grid of arterial streets surrounding high-rise office buildings employing most of the population and multi-unit housing for those who live in the city. Each building has an underground parking garage. There is also street parking with metering, and a few private parking lots but space is limited. The result? Morning commuters search endlessly for an appropriate place to leave their cars for the day.
Peak hour demand for parking and volume causes heavy traffic on arterial and local streets and ultimately, leads to back ups on the freeway due to exit ramp congestion. Unfortunately, this area is now prone to a higher number of traffic accidents, which, along with background congestion, creates frequent bottlenecks on the freeways between neighboring towns.
There is a downtown public bus system available but it is not widely used, as it is deemed unreliable. There is no mass-transit, such as heavy or light rail, available but there is talk of building this type of infrastructure.
Your analysis and recommendations are needed to help address these issues. Based on the information provided, answer the following questions. Be prepared to present your findings and discuss the approach in the live discussion on 9/25.
1. What other potential contributors to traffic issues exist?
2. What are the transportation or ITS needs for this area?
3. What strategies could we use to help resolve these problems?
4. Who are the stakeholders/agencies you should engage, and when should you reach out to them?
5. How would you deploy your proposed strategies?
6. What performance measures could be used to evaluate the impact of these solutions?