This article is an excerpt from GovLoop's recent guide, "Solving the Cloud Conundrum: Security, Procurement, Workforce." Download the full guide here.
Agencies want the best of both worlds when it comes to IT. Sometimes cloud is the answer, such as when governments need to accommodate increased web traffic for election night. At other times, legacy IT is too costly or critical to operations for agencies to replace.
Fortunately, hybrid clouds bridge the gap between legacy and modern IT systems by combining data from both. For instance, agencies can use information from their on-premise systems for public-facing apps in the cloud. The services that these apps deliver – such as digital registration forms for driver's licenses – function the same for users regardless of the IT involved.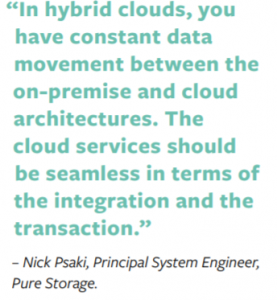 To understand how agencies can measure their apps' performance with data in hybrid clouds, GovLoop spoke with Nick Psaki, Federal CTO at Pure Storage. Pure Storage is a data storage hardware and software provider that offers cloud solutions. Data ownership is a frequent obstacle to cloud adoption as many agencies are reluctant to give control over their IT systems to vendors. "You don't own the infrastructure anymore," Psaki said of cloud. "The truth of the matter is that it's someone else's data center, but all the other rules of enterprise architecture, such as security, still apply. Our job at Pure Storage is to make sure cloud adoption goes as easily and smoothly as possible."
Data security is one of the reasons that hybrid clouds are increasingly attractive to agencies. For example, intelligence agencies handle classified information and must meet stringent security requirements to protect sensitive data. Although cloud can benefit these organizations, agency leaders may want ownership of on-premise IT systems containing sensitive data. "Security requirements are not optional for government – they're statutory," Psaki said. "The stringent security requirements for their IT systems remains in effect whether they are in the cloud or not."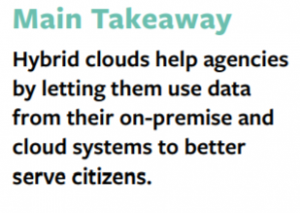 Scalability is another data concern that hybrid clouds resolve. Traditionally, scaling legacy IT so it meets increased user demands for data is costly and time-consuming. In contrast, hybrid clouds can flex to meet agencies' needs whether data is on-premise or in cloud. "This is all the art of the cloud architecture," Psaki said. "In hybrid clouds, you have constant data movement between the on-premise and cloud architectures."
Pure Storage helps agencies create the hybrid cloud that's best for their unique mix of legacy and modern IT. The data stored in both on-premise and cloud environments operates with the same reliability for agencies and citizens. "What people have discovered is that one architecture does not fit all," Psaki said. "Whether you have data on-premise, in cloud, or both at the same time, Pure Storage's systems are inherently built to provide the type of architecture that agencies' applications need."