There's a favorite cartoon of mine that illustrates a management consultant speaking to a King on his throne. The caption is, "Even a small kingdom, Your Highness, can make effective use of modern management techniques." The wisdom within the pictured scene is that there are tools that can be adapted to a variety of settings and sectors that can make planning, implementation, and evaluation more effective.
Imagine you are sitting in front of the Chief Performance Officer, the OMB budget examiner, a staffer from the legislature, citizens, or your Mom and you are asked, "What is your program trying to accomplish?" Or, "Why are you investing those resources into those activities?" Or, "How are you going to achieve those outcomes?"
Now, you could try to dazzle your audience with a lot of assumptions and big data.  You could write tomes of reports that will gather more dust than accolades. But what if you could present a visualization of your program on one page that clearly communicated the causal relationships between your daily activities, your outputs (or deliverables), your intended service audience, and the chain of outcomes that lead to your public value? Would that be useful? I know this sounds like a "too good to be true" TV offer, but in fact, such a tool exists. *In my humble, but accurate, opinion, it is the greatest management tool ever. It is a logic model.
A logic model, or log frame, or conceptual framework, is a graphic representation that depicts how an organization's or program's goals are related to its inputs, activities, outputs, and outcomes. It clearly shows how an organization's work leads to its intended (and unintended) results and how those results contribute to a larger societal impact. A logic model frames the mission intent of an organization using an IF-THEN logic sequence to explain the value of the activities and for additional performance measurement, evaluation and research. For example, IF we have the resources we requested, THEN we will conduct our processes at a given level. IF we perform the processes/activities, THEN we will produce X or serve Y. IF we produce/serve, THEN we expect short-term outcome to happen, and so on until you show contribution to the large goal. I and many colleagues have found that by going through the logic model development process, organizations are more easily able to come to consensus on their mission-level and component level functions, and to use the model as the basis for developing performance measures and metrics. In fact, under the George W. Bush Administration, the Office of Management and Budget (OMB) recommended that every program in government have a logic model to describe the program's theory of change.
So what does a logic model look like and why is it so great?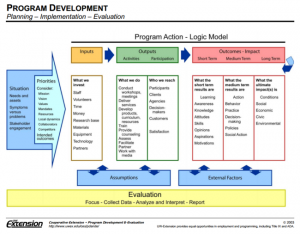 Above is an example of a template that I particularly like, from the University of Wisconsin Extension Service.  It contains the major components that affect program design, implementation, measurement and evaluation.  But this is just one example.
Logic models are the greatest management tool for three major reasons:
First, they can be used for all management activities. They can be used for planning, management oversight, communication, consensus building, budget/scenario planning, and measurement and evaluation.  By using logic models, I have opened the eyes of budget examiners and stakeholders about why an organization conducts particular activities, have been able to communicate how a program contributes to a large societal impact, can pinpoint when external factors or variable affect outcomes, and have developed performance frameworks that create buy-in. A colleague of mine at the county level of government required grant recipients to submit logic models in their proposals for homelessness interventions. She told me that it made it much easier to select recipients and hold them accountable for the results because the grant reviewers could identify which programs were well-thought out. She stated the use of logic models helped that county get the biggest bang for the buck on the $1.5 Million they granted.
I've also found that because the logic model provides a framework for discussion, it can eliminate opposing opinions by testing them to the IF-THEN logic.  It also provides an easy to grasp understanding of the program.  And with the IF-THEN logic, it is much easier to explain the implications of budget decreases or increases. The logic model communicates the story of your program or organization so that multiple audiences easily understand why you do what you do. A well-designed model can provide the context, challenge, action and results you intend.  It's almost like an ECQ for your program.
Second, logic models are adaptable. A logic model can be done at Department level, Agency level, Bureau level, Division level and so on down to an individual person's job role. The cascading approach can help people see the linkage between what they do to the ultimate mission. Logic models can be made simple (for communication to stakeholders), or complex (for internal management oversight).  They also don't need to be linear. I've seen logic models that were circular, designed as houses, trees, workflow charts, and tables.  They can be adapted to a particular cultural context.  It is a tool that easily fits with other framework tools, like the Balanced Scorecard, or decision-making matrices.
Third, a logic model forms the foundation of your strategic thinking. The framework and discipline of using a logic model helps people think more strategically about how what they do each day contributes to the progress and achievement of greater goals. During an inclusive logic model development initiative, I've seen employee engagement rise significantly, not only because of the involvement, but because the logic model opens their eyes to where they fit in the organization and it emphasizes what is important in their jobs.
There is too much evidence of why logic models are the greatest tool that I can provide in a blog, so I encourage any of you interested in learning more to message me, or gather more information from other sources such as, University of Wisconsin, or W.K. Kellogg Logic Model Guide. You will improve your management by using the tool, I guarantee!
Ted Kniker is part of the GovLoop Featured Blogger program, where we feature blog posts by government voices from all across the country (and world!). To see more Featured Blogger posts, click here.