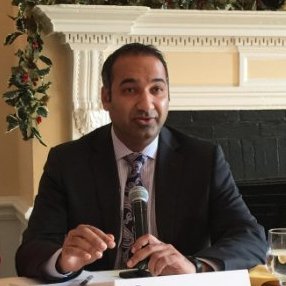 This week, in honor of Public Service Recognition Week, we asked some of our community to reflect on their public service stories. To read more of their stories click here.  If you know an excellent public servant send them an e-card or invite them to happy hour on GovLoop!
If you are lucky, you know someone whose words and actions enlighten you, who can transform even the most mundane experience into a revelation. For me, that inspiration comes from Rizwan Shah, who is the Organizational Culture Advisor at Department of Energy. In honor of Public Service Recognition week, I wanted to share Riz's story so you too can benefit from knowing him.
Early Awareness of Culture
Riz Shah's family moved from Pakistan to Fairfax, Virginia when he was 8 years old. They left behind their servants and gated home to face the challenges of being the first middle eastern immigrants in their neighborhood—all to get specialized care for Riz's sister who has Down's Syndrome. Riz began first grade working to decipher a new language and the unwritten rules of a new culture. He learned to see those unseen forces that govern group behavior. And that awareness is exactly what Riz applies as Organizational Culture Advisor.
Creating the Organizational Culture Advisor Role
Organizational Culture Advisor is a unique role for a Federal agency. It came to the Department of Energy via Dr. Patrick Sweeney from the Department of Behavioral Sciences and Leadership at West Point. At a conference, Dr. Sweeney met DOE Senior Advisor for Safety Culture and High Reliability, Earl Carnes, who was working on a departmental goal to "systematically integrate safety into management and work practices at all levels, so that missions are accomplished efficiently while protecting the workers, the public, and the environment." Dr. Sweeney convinced Mr. Carnes that to achieve his goal he needed an enterprise-wide approach to culture, with someone at the top who could harness the forces of culture across all the silos. And Dr. Sweeney knew just the person for that job—someone he'd worked with at West Point. Someone he knew would question everything and push past the status quo—Riz Shah, who was just retiring from the Army. Dr. Sweeney knew that Riz had the knowledge to do the job from his Masters in Social-Organizational Psychology from Columbia University. He knew that Riz had the leadership experience from his success in building high-performing teams in the US Army. And he knew that Riz had the right questioning attitude that takes nothing at face value.
Adding Value to the Organization
So, in 2012, DOE, championed by the Director of Health, Safety, and Security, Glenn Podonsky, brought onboard its first Organizational Culture Advisor, and Riz Shah began observing, questioning, and learning about DOE's culture. He set up meetings with office directors to learn about current agency issues. And he took every opportunity to help the organization. For example, after attending a panel on enterprise risk management, he sent his detailed notes to the agency's risk management officer and helped him to advocate for an enterprise-wide risk management strategy. He also worked with the Human Capital group to create a manager's desk reference filled with practical tips and tools for improving employee engagement. He's conducted numerous organizational culture assessments and shared those results with leaders to help drive change. He participates in and champions many employee-led efforts to improve the department, such as the Veterans Energy Resource Group and Organizational Culture Group.
Riz believes that Federal agencies can grow and evolve only by investing in their people. So, he has worked with Human Capital and has begun an Employee Engagement Community of Practice. He is also working to develop training and certification for a Human Performance Improvement program.
In his advisory role, Riz gets things done through others. So, he has empowered champions throughout the organization to spearhead and sustain the necessary shifts in culture that will make the agency both safer and more effective. In addition, he ensures that his advice has impact by requiring those with whom he works to agree to three commitments:
Say, "Everything in my organization is my responsibility."
Do the agreed-upon work to implement needed changes.
Share their lessons learned with other organizations.
Though the term "culture" can sound fluffy, Riz's work addresses real organizational issues—improving organizational performance, reducing budget overruns, addressing safety challenges, and building resilience. His peers have noticed. All of his work now comes word of mouth. And at a recent director's meeting, he was at the top of the list of those adding value to the organization.
Going Above and Beyond
Riz's commitment to continuous improvement extends beyond DOE into active volunteerism. In 2016 he was awarded the Maryland Certificate for Volunteerism by Governor Hogan for his work with the homeless community. Now he focuses his efforts with MVLE, an organization that creates futures for people with disabilities through employment and support services.
Whether for DOE, his family, or his community, Riz is committed to the people he serves. He lives his personal mission statement: "Let me not fail them."*
*From the book, Once an Eagle by Anton Myrer