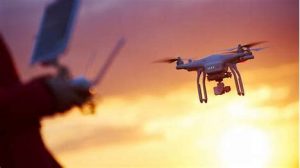 You mean there's rules?
Up. Down. Over a hundred metres. Zip over there. Hover over the crowd and take some images.
Yes Officer? Land it? Umm Okay.
What do you mean this is a no-fly zone? It's a public area, I have the right…
I do not have the right to fly it here? How much of a fine? Umm yes, I will pack it up right away.
There's these things called rules…
When aerial drones became readily available to the public it was inevitable. People would buy them if they did not build their own. They were flown in many places. Including places they should never been allowed to.
In Canada, Transport Canada (http://www.tc.gc.ca/en/transport-canada.html) is responsible for legislation for drones.
I'm considered a pilot?
Drones are aircraft—which makes you a pilot. When you fly your drone, you're sharing the skies with other drones and aircraft. Before you fly, understand the rules you must follow and review our safety tips.

https://www.tc.gc.ca/en/services/aviation/drone-safety/flying-drone-safely-legally.html

No Fly Zone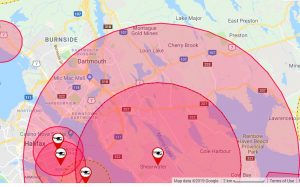 As you can see in this graphic from the drone site selection tool (https://nrc.canada.ca/en/drone-tool/). Red is bad. So if you have aspirations of flying in your backyard, check first.
It could save you a whopping big fine and possibly more.
One of the reasons is that Halifax is a Canadian Naval Fleet base so it could be considered military air space. Hence, no fly.
Throw in helicopter landing pads and Shearwater Air Base, the red adds up really quickly.
But now you know where you can fly.
No photos please!
Now we get into privacy issues. Most people tend to value their privacy. Perhaps you like to sunbathe in the buff? I am sure someone hovering a drone overhead taking video is not something you want on the web!
These are the current privacy regulations: https://www.tc.gc.ca/en/services/aviation/drone-safety/privacy-guidelines-drone-users.html
Privacy laws may not mention drones by name but these laws do apply to pictures, videos or other information collected by a drone. It's important for you to be aware of privacy rules when flying.

Some violations of a person's privacy may go beyond privacy laws and may be offences that result in charges. This includes using drones in a way that could be:
voyeurism
mischief
creating a nuisance
violations of provincial or municipal lawsYou're responsible for knowing all the laws that may apply to your drone use.
New Rules
As of 1 June 2019, new regulations came into effect. https://www.todocanada.ca/canadas-new-drone-safety-regulations/
However, it was without much fanfare. Please review them if you care not about getting arrested or fined.
Into the sunset
Well, this is my last official blog. But not my last.
Hope you enjoyed reading these and initiated any number of conversations in your office or home.
Please feel free to contact me at the following:
Ken Lee, GIS Officer, Department of Service NS and Internal Services; [email protected]; telephone: 902-424-2421
Cheers!
Ken