Editor's Note: To preserve the writer's voice and authenticity, we used "Hawai'i" rather than traditional AP style, "Hawaii," throughout the piece.
On Saturday, January 13, the State of Hawai'i had a false-alarm scare. We woke up to text messages saying that there was a ballistic missile inbound. Worse, the last sentence read "this is not a drill." In the minutes until we were alerted that it was a false alarm, a lot of things — rational, irrational and ridiculous —went through my mind, such as:
I thought South Korea and North Korea having talks meant that the regime of Kim Jong Un was less hostile. Granted, the talks were not inclusive of the U.S., but they did add a dash of hope that the isolated nation would open up and be more friendly to the West.
If the missile misses us but lands in the ocean, we will then have the threat of a tsunami.
I do not know the best place to shelter, besides staying indoors. Also, we do not have much time to prepare — fifteen minutes at the most is what we have been told in recent months.
Surely Pacific Command will shoot the missile down or counter it somehow. Right? Do we not have those capabilities?
The perpetrators will aim for the U.S. Fleet which is about 20 miles away from my home. If not, they will aim for our Capitol, Financial District — Honolulu which is about 12 miles away. If they overshoot their target, the missile will likely hit our area which is just east of Honolulu.
If they have fired a missile, perhaps more than one, they must have ships on the way here to invade our shores after the devastation.
You may have seen the videos of people running through a parking lot or heard about the PGA players, here for the Sony Open freaking out. There was real fear in our islands. My cousin dropped his son off at practice at his school's campus. Though he sped right back towards the campus when he got the text, he was not able to get to him until after the false alarm message was sent out. He had to endure his son texting him that he was scared. Can you imagine? My other cousin's children and wife were at a hotel breakfast. The hotel evacuated them outside! The protocol is to seek shelter inside — something hotels should know, especially being that they are responsible for hundreds of lives should something like this happen in reality. Thankfully, less than an hour later, we received the text informing that the previous text was a false alarm.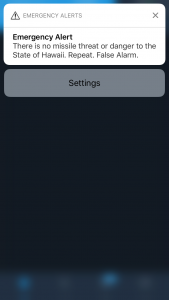 I do not write this post to berate any businesses or government agencies. On the contrary, it is a practice in being informed and prepared. Yes, this was a false alarm. But the next one may not be. At some point, it is likely that we will face disaster, whether natural or manmade. I will tell you that before yesterday, I did not have the recommended rations nor did I know the protocol in the event of a destructive or life-threatening event. I consider myself to be an informed and active citizen, yet I had not taken the necessary precautions for the events that Hawai'i is likely to face. After this overwhelmingly unnerving incident, I have already made some purchases towards building a kit.
I think I can rightfully speak for most in the State of Hawai'i when I say that I am grateful that it was a false alarm. There is much more that I want to do and many more ways I would like to make an impact. I was not prepared to face a ballistic missile. Be thankful for all that you have because you truly do not know if you have tomorrow, or even more than 15 minutes.
To find out more about emergency preparedness visit Ready.gov, the Red Cross as well as your state's Emergency Management Agency for emergency information specific to your region and/or state. Be prepared. Stay safe.
Nicole Napuunoa is part of the GovLoop Featured Blogger program, where we feature blog posts by government voices from all across the country (and world!). To see more Featured Blogger posts, click here.