Heading back to school? On one hand, the idea of being back on campus with friends is exciting. On the other, thoughts about college costs can be a downer. Though it may not be the exact pick-me-up students are looking for, the latest analysis from the Data Lab – Federal Investment in Higher Education – enables students, professors, or any member of the public to delve into how and where the government spends money in the higher ed space.
The U.S. Department of the Treasury's Bureau of the Fiscal Service launched an analysis on federal investment in higher education on the Data Lab website, using interactive data visualizations in a narrative format. The analysis provides the public with an overview of the more than $145 billion that the federal government invested in higher education in FY 2018, including over $98 billion dollars invested in federal student aid.
"In FY 2018, more than 3,000 schools and 17 million students received funds from the federal government," said Justin Marsico, Deputy Assistant Commissioner for Data Transparency. "The Data Lab analysis is divided into three categories of federal spending for higher education, and helps the public understand how the money was spent, and which institutions received funding."
The analysis displays data from three categories of federal investments: student aid, grants, and contracts. As is standard on the Data Lab, this analysis utilizes interactive data visualizations and linear storytelling to help users make sense of the information.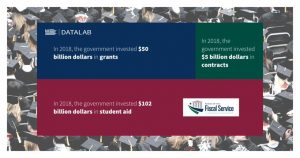 Users are able to compare the flow of federal dollars from federal agencies to colleges and universities across the country, and toggle between data from grants, research grants and contracts. Users can also drill down into an interactive map view to explore higher education institutions in a region or state of their choice. The site currently provides fiscal year 2018 (October 1, 2017 to September 30, 2018) data, but more data will be added in the future.
While we can't lower the cost of textbooks or help you ace your exam, we can provide some financial data transparency to the higher education space. Check out the analysis and explore federal investment in your alma mater today!
Don't forget to follow us on Twitter @USAspending!
Matt Garlipp is a Program Analyst with the Bureau of the Fiscal Service, U.S. Department of the Treasury, and was formerly a content fellow with GovLoop.