Feeling a Tax Day stress hangover? Did you get a refund? Did you owe money? Did you forget to file?! Hurry, go do that!
For those of us who are not CPAs, tax season is generally not our favorite time of year. However, tax season can be a great time to refresh your memory on why we, as a country, have taxes and what they're used for. To help out with that, the Data Transparency Office within the Bureau of the Fiscal Service, U.S. Department of the Treasury, has released Your Guide to America's Finances. The purpose of the digital guide, is to present a comprehensive overview of the trillions of dollars processed by the federal government each year, in a user-friendly format.
Your Guide to America's Finances is a re-invention of the Citizen's Guide to the Financial Report of the U.S. Government. This site was created in response to the public's desire to learn more about the financial picture of the United States.
The ins and outs
Where does the money come from? Where does it go? What are the trends over time, and how does the U.S. compare to other countries? This guide was created to make federal financial information open and accessible to all – reflecting the very principles that our founding fathers set forth when the United States was formed.
In a letter to Albert Gallatin in 1802, Thomas Jefferson wrote:
We might hope to see the finances of the Union as clear and intelligible as a merchant's books, so that every member of Congress, and every person of any mind in the Union should be able to comprehend them, to investigate abuses, and consequently to control them.
Still thinking about those taxes? Well, do as Jefferson suggests and investigate!
Go ahead – dive in!
The guide is split up in four sections: revenue, spending, deficit, and debt. By navigating to the revenue section of the Guide, you can see different categories of revenue including individual income taxes, Social Security and Medicare taxes, corporate income taxes, and more. Want to learn more about individual income taxes? A deep-dive is just clicks away.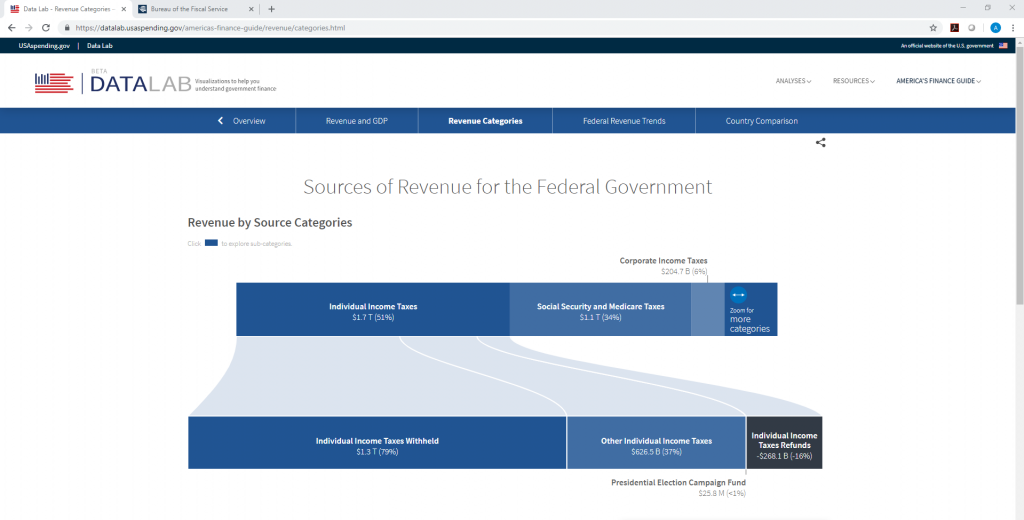 Users can navigate multiple pages related to revenue, spending, the deficit, and the debt. Here, users can view an interactive drill-down of U.S. federal revenue sources.
In addition to revenue, you can navigate to detailed, interactive pages that relate to how the federal government spends money, the gap between revenue and spending – known as the deficit, and the compilation of deficits – known as the national debt. We also have a handy glossary to help you vanquish any scary government finance terms, as well as tool-tips with helpful context directly on the pages.
We understand that a root canal may still be more enjoyable than tax day for some, but at least now you have a useful, easily digestible resource to help you better understand America's finances.
Your Guide to America's Finances can be found on the Data Lab, the sister site to USAspending.gov.
Matthew Garlipp is a Presidential Management Fellow with the Bureau of the Fiscal Service, U.S. Department of the Treasury.