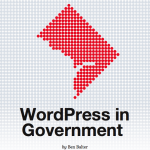 Over the past several years WordPress's market share has enjoyed explosive growth across virtually every industry. Today, it powers nearly a quarter of new sites, and is the CMS of choice for more than two thirds of the top-million sites on the web making it the world's most popular publishing platform by a long shot. Yet one group of seemingly ideal users has been slow to take the former blogging platform seriously: .Govs.
Drupal powers twice as many federal .Govs as every other CMS combined. That's more than six Drupal sites for every one WordPress .Gov alone, not to mention the Joomlas, MovableTypes, and SharePoints of the world. The build-it-yourself software powers the White House, the House of Representatives, half a dozen agencies, and countless data-driven microsites like Recovery.gov and the IT Spending Dashboard, and its public sector use is equally if not more impressive abroad.
A Problem of Perception
Typical Enterprise Misconceptions
WordPress is a blogging platform
WordPress doesn't scale well
Most plugins are written by hobbyists, not professionals
WordPress is less secure
WordPress can't handle complex data types or user roles
There's no enterprise support
There aren't many WordPress developers
No "serious" people use WordPress
The WordPress codebase is immature
WordPress's disproportionately low government adoption is arguably the result of a handful of factors. For one, custom post types, the feature that formally graduated WordPress from a mere blogging platform into a full-fledged content management system has only been around since June of last year. Yet, even among new sites, the ratio remains somewhat stagnant, if not shrinking, leaving one to believe that the technology has lapped its own already stellar perception.
When you stack the two side by side (or against any other CMS for that matter), WordPress is objectively the prudent choice. On paper, you'd be hard-pressed to make the case for anything else. But, it's not a technical problem. It's a human one. It seems that WordPress's greatest asset – ease of use that has resulted in widespread adoption by a largely non-technical user base – is threatening to become its greatest liability.
Among those empowered to make purchasing decisions, there seems to be a sense that WordPress is what you use on the weekends to post pictures of your lunch while Drupal is what you use for "serious" business, and with good reason. For better or for worse, Drupal has positioned itself as not just a CMS, but rather the enterprise solution — an inseparable fifth layer of the increasingly ubiquitous enterprise LAMPD stack.
Continue reading WordPress for Government – A Problem of Perception by Benjamin J. Balter →
Related posts: