Limitations of legacy infrastructure can lead to problems when advanced technology is introduced into a network or when workloads increase. Indeed, agencies seeking to connect remote offices to a global wide area network (WAN) sometimes run into challenges. Asked about problems they have encountered most frequently, 50% of people who took the GovLoop, Swish and Riverbed survey identified unpredictable performance of the internet or software as a service (SaaS) application. The second biggest headache, cited by 46% of respondents, focused on complaints about poor or slow application performance. Complexity of network management came in third, reported by almost 36% of survey takers.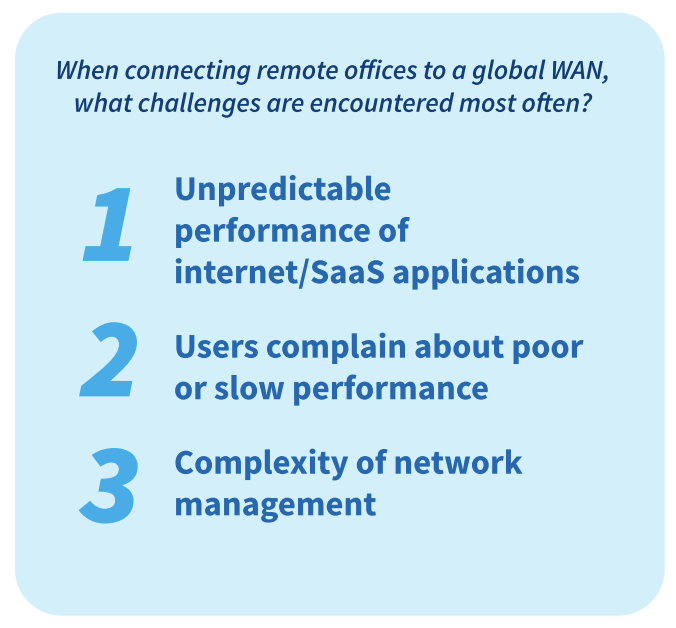 To a large degree, those challenges stem from underlying legacy infrastructure and protocols that require all network traffic to route through a Trusted Internet Connection (TIC) before reaching applications. Those circuitous routes add distance between remote users and their work tools.
A good software defined wide area network (SD-WAN) solution, aligned with TIC 3.0, overcomes those challenges by routing traffic more directly or by providing geographically dispersed points of entry. SD-WAN also supports deduplication, improved path selection, central management and robust security at the edge. "Agencies are still trying to do all of these new great things, but they're trying to do it with legacy networks and legacy architecture," said Sean Applegate, Chief Technology Officer for Swish.
So just how hard is it to extend IT support to workers and offices operating beyond the perimeter of the traditional agency headquarters? The majority of survey respondents (60%) were somewhat sanguine about attaining those goals, saying they had a plan to overcome inevitable bumps in the road. One group of respondents (12%) indicated that the transition would be smooth and effortless. Another 12% cohort said they were overwhelmed and hopelessly lost.

Beware the path that appears easy. Transitions may appear effortless at the outset, deceptively so, IT experts say. Inevitably, success and failure emerge from an accretion of details, coming into view only after connecting many dots. A project that starts with high hopes can succumb to "death by a thousand paper cuts on the web," said Marlin McFate, Public Sector Chief Technology Officer for Riverbed, "particularly when legacy infrastructure is part of the equation. We need to start off with a different foundation."
This article is an excerpt from GovLoop's recent report, "To Extend the Enterprise, Fix the Foundation." Download the full report here.