It always seems like the next inevitable step in your career is to become a manager. But what if you've invested blood, sweat and tears at work, have successfully climbed the professional ladder, only to wake up and realize you actually hate the very idea of managing people?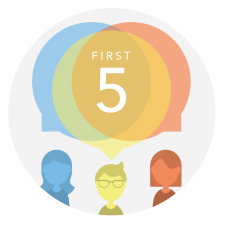 Sure you loved that the more successful you became, the higher up the ranks of management you went. But now, instead of the hands-on work that you loved, you find yourself buried in managerial tasks like budgeting and supervising people. While many aspire to be in a leadership role within their organization and management seems to be the pinnacle of achievement, the truth is management is not for everyone.
So what do you do if you're a millennial or higher up in your career and decide that management really isn't for you? First 5 has compiled these tips to help you navigate:
Take a look at your own personal style. Consider taking a Myers-Briggs personality test to pinpoint if you're a Thinker, basing your behavior on facts and logic, or Feeler, leading from the gut with a more empathetic approach to others. Most people have a mixture of both traits, but understanding where you stand on the continuum can help you better understand your strengths and whether they fit in a management role or not.
Accept who you are and use it to your advantage. If you are not the perfect, cookie-cutter manager type, you are not alone. Many people who are promoted in management roles don't like what they're doing and aren't cut out for it. Consider yourself lucky that you get to find a way to do what you're best at and what you actually enjoy doing. For example, if you work best when working alone, there are still many ways for you to rise into leadership positions, even if you aren't necessarily working around people all the time.
Forge a new path. You don't necessarily have to leave your organization just because you don't want to be a manager. Talk to your supervisors about your issues and partner with them to create a different track for yourself. For example, if you're an analyst and the next step up from your position is "manager," talk to your bosses about creating a new title for yourself that shows you're more specialized and advanced in the work you do, like "Senior Analyst."
Identify organizations that share your values. There are many organizations out there, even in government, that are trying to do away with traditional corporate and professional structures. Look for organizations that are more flexible in how they define positions or ones that have flat hierarchies. For example, the military is known to have a traditional hierarchical structure that may not fit your desired career path.
Have a clear idea of what success means to you. Your ideal career path may look like working as a freelancer or contractor potentially making less but doing what you love, or becoming the in-house expert at your current organization. Whatever it may be, don't use others' definitions of success to pressure you into taking the management career path if it's not right for you.
Don't count yourself out if you find that you aren't "management material." Even if you're in government, there are many other ways for you to expand your career. Whether it's becoming a subject matter expert in your agency, being awarded progressively larger projects with bigger budgets or working on new problems or service lines for your organization, life is not over for those who don't want to pursue the traditional management track.
Feel like managing wasn't right for you?  How did you navigate that? Share your insights in the comments below!
This post is part of GovLoop's millennial blog series, First 5.
This blog was originally posted in April, 2017.