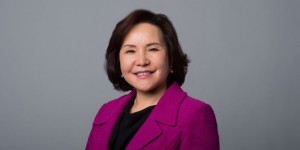 Do you know how many chickens this country eats yearly? Eight billion – yes, eight billion chickens are consumed by hungry Americans every 365 days. Raising those 8 billion chickens and making sure they are healthy enough to eat is no easy job. You may think it is a simple process for a chicken to make its way from the farm to our table, but it's not.
Hyun Soon Lillehoj, Senior Research Molecular Biologist at the Agricultural Research Service, sat down with Christopher Dorobek on the DorobekINSIDER to discuss her work with animal immunology and genomics….and chickens!
Lillehoj is a finalist in the Career Achievement category for the Partnership for Public Service's Service to America Medals, the Sammies. Originally from South Korea, Lillehoj came to the United States in 1969 with $200 in her pocket and with hopes to work in medicine.
Now more than four decades later her work is "documented in 10 U.S. and international patents, more than 390 peer-reviewed scientific papers, 14 book chapters and 230 worldwide collaborations with academia, foreign governments and private industry," according to the Partnership.
As an immunologist, Lillehoj studies the immune system of animals specifically chickens. Lillehoj shared that because the U.S. has to raise 9.5 billion birds to feed the population, it seemed only logical to utilize something that is considered a large portion of the U.S.' diet for research purposes. Additionally, the Partnership pointed out that work in this field will "benefit both consumers and the nation's $45 billion poultry industry."
She specifically focuses her studies on antibiotics, "antibiotics are a miracle cure for a lot of infectious disease and for the last 70 years have really played an important role in medicine." Antibiotics are important to understand as they play a role in agriculture to treat infectious diseases that animals can get, as well as to help promote growth in animals. Lillehoj shared that roughly 70% of antibiotics are used purely as animal growth promoters .
Ultimately, she is trying to find alternatives to antibiotics. There are several reasons why this is important. Due to the quantity of chickens needed to feed the U.S., they are put in an intensive environment and chances are they will become exposed to low level antibiotic growth promoting drugs. Unfortunately, over time chickens have shown to develop these multidrug resistant bacteria from such previous living conditions known as superbugs. As such, there is a necessity for improving the immune system and fighting common parasitic diseases and bacterial infections.
This month the Centers for Disease Control and Prevention (CDC) "estimated 37,000 people could die in the next five years from antibiotic-resistant "superbugs" if healthcare centers don't work together to prevent infections." According to Lillehoj, President Obama initiated last year the responsible use of antibiotics not just for agricultural people, but for pharmaceutical industry and the medical field overall. As of right now the European Union is ahead of the U.S. in this new surge as it stopped using antibiotics growth promoters in 2014.
Finding alternatives have gradually become a top priority for government to become more pro-active in this field. Lillehoj argued that the federal government is where the focus should remain since private industry's focus is not primarily in doing fundamental research. She declared that she desired to work in the government because the government has the ability to do long-term research. In an interest to be more health conscious, the research she conducts also helps the economy. She shared the "strategy to reduce the use of antibiotics and make the agriculture industry more sustainable [requires] a lot of fundamental research that has to be done that is costly and long-term. It is a job that government and scientists have to do."
So consider this the next time you purchase your chicken at your local grocery store: you have a lot of people to thank, even your government!
*Image courtesy of the Partnership for Public Service