Every year, millions of people are diagnosed with cancer. While current treatments cure about half of the people who develop cancer, many are not so fortunate: last year, 580,000 people died of cancer in America alone.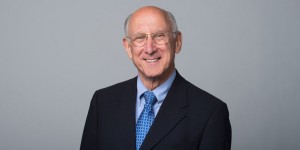 In his over 40 years spent as Chief of the Surgery Branch at the National Cancer Institute, Dr. Steve Rosenberg has worked to find new treatments for this epidemic. Taking lessons from the human body's natural reactivity to disease, Rosenberg developed what are referred to as "immunotherapy" treatments that use the body's immune system and genetically engineered antitumor cells to fight cancer.
For dedicating his life to saving others' around the world, the Partnership for Public Service has nominated Rosenberg for a 2015 Service to America Medal, or SAMMIE, in the Career Achievement category.
In an interview with Chris Dorobek on the DorobekINSIDER program, Dr. Rosenberg discussed how immunotherapy is revolutionizing the way cancer is studied and treated in the field.
When he first became chief of surgery over 40 years ago, Rosenberg recalled that there was a lot of research but little actually known about cancer. "When we got started, there was no knowledge about any immune reactivities against cancer. No one knew of any immune treatments," he said.
Despite having little information at the time, Rosenberg saw the potential for change. He found the National Institutes of Health to be the ideal place to take the "broad panoply of scientific information and try to use it to do good," as he explained.
"We've had surgery for over 3,000 years, radiation therapy since the discovery of X-rays in 1895," and chemotherapy since the advent of chemical warfare in the Second World War, Rosenberg said. "Those treatments can cure about half of the people who develop cancer," but the other half can't be cured with these methods. "We desperately needed new approaches," he concluded.
In 1985, he found that a hormone known as Interleukin 2 caused widely metastatic cancers to dramatically regress, sometimes eliminating them from the body altogether. This, according to Rosenberg, was a huge breakthrough. "We go the first example of the ability of the immune system to actually destroy growing cancers," he said.
Inspired by this discovery, Rosenberg set out to find other immune responses that could mitigate cancer's threat to those afflicted by this disease. The immune system naturally recognizes viruses, bacteria and other foreign bodies and has evolved responses to destroy them. However, while "the body recognizes a growing cancer as a foreign invader," Rosenberg explained, it does not have a strong enough natural response to eliminate it.
Rather than using traditional external treatments like radiation, chemotherapy and surgery that try to minimize or physically remove the cancer, Rosenberg saw an opportunity to treat cancer in a less harmful, but more impactful way. His immunotherapy treatment takes advantage of the body's natural immune response and enhances that reactivity so that the body can actually eliminate that cancer.
"We use the body's own wisdom," he said. With this approach, Rosenberg has extended treatments for a number of different types of cancer. The value of immunotherapy has only grown over time, and so have efforts to develop new ways of using it. "Good progress has been made, but there is a long way to go for the treatment of diseases now that we can't adequately treat," Rosenberg said.
The people who come through NIH hospitals are those who have undergone traditional treatments that haven't worked. These patients, desperate for results, willing to participate in clinical trials and experimental treatments motivate Rosenberg every day to search for a cure. "Seeing people who we have not been able to help continually reminds us about how much more needs to be done," he said.
With over 2,000 PhDs devoted to conducting research, treating patients and discovering new approaches to cancer treatment at the NIH Bethesda campus alone, people like Rosenberg have helped advance our understanding of cancer drastically over the decades. "That represents a jewel of the American government," he said.
Despite these advancements, "While I lie awake at night, I think of the people we have not helped rather than the people that we have," Rosenberg admitted. It's enough to overburden any person. However, Rosenberg said, "You have to be passionate about what you're doing," and each person reminds him just how important his work is for millions of people.
According to Rosenberg, mandate of the NIH "is not to practice the medicine of today, but to create the medicine of tomorrow." By advancing cancer research and treatment through immunotherapy, he hopes to live up to that mandate. Despite dedicating the past forty years to this mission, he said, "I feel like I'm just getting started."
For his amazing work advancing the field of medicine, we congratulate Dr. Rosenberg on his 2015 SAMMIES nomination.
*Photo credit to the Partnership for Public Service