This blog post is an excerpt from GovLoop's recent pocket guide, How Cloud Powers Better Constituent Services With Data
Regardless of their mission, all state and local agencies want the public to be satisfied with the services they provide. But it is an increasingly difficult goal. The private sector can often deliver daily services faster or potentially better and people now expect this quality customer experience (CX) from businesses, making them frustrated when their agencies cannot keep up.
Thankfully, the cloud can help state and local agencies innovate and evolve more quickly. This is because every government stores unique data, and cloud helps government agencies to leverage their information to deliver valuable insights.
GovLoop spoke with John Stephenson, Senior Manager for Public Policy at AWS, a leader in providing public sector cloud platforms, to learn more about the cloud's role in improving services and specifically, how AWS helps governments.
Stephenson said the cloud can help agencies harness data to make their CX dreams a reality. Agencies must often overcome two obstacles, however, before the cloud can transform their CX. The first is their reliance on legacy IT to analyze and handle data.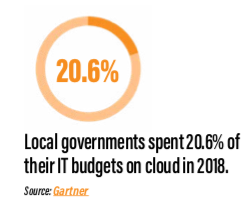 The second obstacle, meanwhile, is data policies that have not been updated for the cloud. Stephenson said that many agencies have data strategies that came before the cloud changed CX.
"Many data handling policies were written prior to the cloud-ready world," he said. "We didn't think that data was meant to be shared. We have laws, policies and governance that don't reflect the potential we could get from data that we mesh with others."
An example of this trend is the evolution from data warehouses to data lakes. Data warehouses are databases that are defined and structured in advance to analyze relational information from transactional systems and business applications. Although useful, these data repositories are increasingly outdated for the needs of modern agencies.
In contrast, data lakes are centralized hubs that store all an organization's structured and unstructured data at any scale. Data lakes save agencies time by letting them store their information as-is rather than structuring it. Subsequently, data lakes are immediately ready for analytical methods such as machine learning, real-time analysis and information visualization.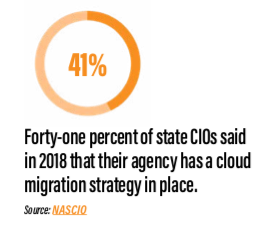 "State and local governments have lots of data, but it's traditionally been locked up," Stephenson said. "Data lakes can take what you've always had and derive value from it."
Cloud-based data lakes are now helping state and local governments tackle multiple issues, Stephenson said. These organizations' clouds are generating insights for reducing such problems as homelessness, opioid addiction and traffic congestion. Cloud's adaptability makes imagination the only limit to the services that agencies provide. This flexibility saves governments money while letting them experiment with better ways of achieving their missions.
"The big thing that governments tell us is that cost is a major issue," Stephenson said. "With AWS's cloud, you can have the economy of scale. We've seen customers from Arizona to Texas that have saved huge sums of money using our cloud."
Stephenson concluded that the AWS cloud constantly adds new tools and solutions for agencies to serve the public. For example, AWS launched 1,957 services in 2018 and remains on pace to add more in 2019.
"You can take advantage of the breadth of functionality in AWS," he said. "There's no need to deploy, migrate to or upgrade to new services in conjunction with our cloud; it's just there."
Download the full guide here.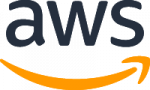 Photo by Stephen Dawson on Unsplash