Thank you for your submissions. This application is now closed.
It's a new year, and at GovLoop we're excited to announce some exciting new changes.
First, we'd like to announce that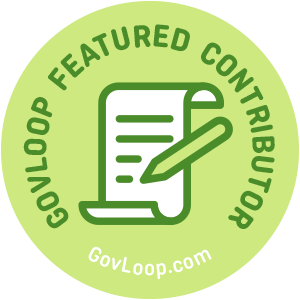 applications for our 15th round of GovLoop's Featured Contributor Program are now open!
If you've been dreaming of an opportunity to share your voice on a large, online platform – as in over 270,000 govies –  look no further! We've already had 14 very successful runs of this program, with over 200 amazing GovLoop Featured Contributors (whose posts you can read here).
We're looking to keep the momentum going with new voices who can write about everything from the best way to hold a meeting in government to being the most effective leader.
Wait, wasn't it called "Featured Bloggers?"
Glad you asked! With a new year, we're also excited to announce that GovLoop is revamping this writing series with a new name. Starting today, we're now calling it "GovLoop's Featured Contributor Program."
Why the change? We want you to get the most out of this program. In addition to a wide audience and social media love, we wanted to make sure you attain the professional accolades that you deserve. Add it to your resume, put it on your LinkedIn and make sure to share with your organization. After all, you're committing to 12 weeks of writing; you deserve to boast about it on your CV!
And let's be real, doesn't it sound so much fancier?
What can I expect from the revamp? With a new name comes a fresh new look. We've given the featured banner a new makeover, made some new and fun GovLoop stickers as part of the awesome swag bundle, and created professional certificates that you receive at the end of the program.
Note: If you're feeling nostalgic for the name "Featured Bloggers," you can always access former articles under that name here.
Great! How do I apply?
The details: We're looking for 15 (or more!) great GovLoop voices to write an editorial once a week for the GovLoop community, starting in February throughout the spring until May 2018. We want you to write about subjects you think are important for the government community — from experiences at your agency, to the way big data is impacting your job, to tips on how to increase fed engagement — really, anything that inspires you. If it's important to you, it's important to us, and we want it on GovLoop.
What's in it for you? In addition to having your articles read by our community, you'll get:
A featured homepage slot on GovLoop every time you post
Promotion of your posts to our social network communities (including your Twitter handles)
Recognition of your efforts and status via a special GovLoop Featured Contributor badge (see above)
A package of free GovLoop swag (T-shirts, stickers and more)
Published articles and a great line on your resume
A free, half-hour career counseling session with members of our GovLoop content team
Feedback, writing tips and editorial guidance with bi-weekly metrics reports for top-trending articles
If you want to be a part of this prestigious program, it's easy. All you have to do is email [email protected] with three blog post ideas, a writing sample and your resume. Please use the subject line "GovLoop Featured Contributor."
Any questions? Leave a comment on this post or tweet @GovLoop. We look forward to your ideas, contributions and content.
We'll be accepting applications until Friday, Jan. 26. Those selected to be featured contributors will be notified the week of Jan. 29. Featured contributors will need to start writing once a week beginning the week of Feb. 12 and will finish their stint in early May.