Football players may bear the brunt of the work on the field, but in the weeks, months, and even years leading up to the Super Bowl, dozens of government agencies go on the offensive.
While it's no shock that local city, county, and state agencies have a front-and-center role in the NFL game, many federal agencies pitch in for each successful Super Bowl.
Here are just some of the federal agencies that are prominent playmakers during the Super Bowl.
1–7. Department of Homeland Security (DHS), SWAT, Air Force, National Guard, FBI, TSA, Bureau of Alcohol, Tobacco, Firearms and Explosives (ATF), and others
Safety is such a critical component of the Super Bowl that the government categorizes it as a Level 1 national security event, a designation for events likely to be targeted by terrorists. This means that just about every security agency will have teams on the field or toiling behind the scenes to safeguard the players, stadium employees, and tens of thousands of football fans.
Happening so soon after the Boston Marathon bombings and with its close proximity to New York City, the 2014 Super Bowl in New Jersey involved a staggering 100 agencies. A bit further away in time and space from security hotspots, other games take the cooperation of more than 50 local, state, and federal agencies.
8–12. FAA, North American Aerospace Defense Command (NORAD), Department of Defense (DOD), U.S. Customs and Border Protection (CBP), and Air National Guard
To keep the friendly skies, well, friendly, the FAA sets a temporary flight restriction in the area and a no fly zone over the Super Bowl. This helps keep flight delays to a minimum when a rush would otherwise make air traffic a mess.
This year, as in previous years, NORAD, the DOD, CBP, and the Air National Guard are ready to enforce the no fly zone and scramble a response to any airspace violations.
13. Federal Communications Commission (FCC)
Even before Janet Jackson's infamous wardrobe malfunction, the FCC kept close watch over the Super Bowl to make sure that the Halftime Show wouldn't violate any indecency rules.
Super Bowl Halftime Shows often feature pop icons, including some known for imaginative staging and costumes. Though the FCC's handling of previous Super Bowl indecency complaints has been contentious, there's no doubt the agency will be watching closely.
14–17. Immigration and Customs Enforcement Homeland Security Investigations (ICE HSI), CBP, U.S. Postal Inspection Service (USPIS), and DHS
Super Bowl merchandise is big business as fans everywhere are eager to collect mementos of their team's triumph. Fat wallets always kick counterfeiters into high gear, leading to fake memorabilia flooding the market.
That's why ICE HSI, CBP, and USPIS have long run stings to nab people who hawk fakes both online and off. In 2014 alone agencies seized $21.6 million in counterfeit goods. It's not just jerseys—ICE also stops fake tickets from hitting the market. In advance of previous Super Bowls, DHS and local law enforcement agencies arrested people for selling counterfeit merchandise.
18. Centers for Disease Control (CDC)
The Super Bowl falls right when flu season peaks and a flood of out-of-state visitors will bring the bug to the host city along with their big foam fingers.
With the flu now in full swing, the CDC and local health departments root for local residents to get flu shots so that their game day goes off without a hitch.
19–25. FBI, ICE, DHS, State Department, Department of Justice (DOJ), the Defense Advanced Research Projects Agency (DARPA), and National Center for Missing and Exploited Children
There's a callous dark side to events as large and extravagant as the Super Bowl: human sex trafficking. The topic is so connected to the big game that the 2015 Super Bowl host, Arizona, human trafficking in its website Frequently Asked Questions alongside tips on tailgating and home rentals.
Both law enforcement and public awareness can help prevent sex trafficking at the Super Bowl. In 2014, the FBI worked with the DOJ, the National Center for Missing and Exploited Children, and other partners to rescue minors being taken to the Super Bowl for prostitution. For 2015, DHS and ICE have implemented a campaign to help people recognize and report human trafficking, the State Department has been coordinating with regional officials, and DARPA has built technology that is helping organizations search online content for indicators of human trafficking.
26. NASA
The space agency hasn't designed any new technologies for this year's Super Bowl (at least, not that they're admitting to), but NASA has significantly advanced the game's hardware and software.
From shock-absorbing foam in helmets to the wireless headsets that connect the coaches to the quarterback, and from algorithms that stabilize the broadcast we watch at home to high-tech fabric used in uniforms, NASA's inventiveness has helped shape modern football.
Now if only NASA could do something about all these deflated footballs—that would be a marvel.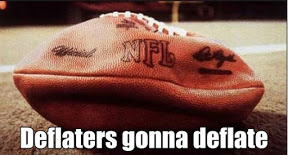 Lauren Girardin is a marketing and communications consultant, writer, and trainer. Find her on Twitter at @girardinl.