There's so much stress. Looming deadlines. Irritating bosses. Difficult coworkers. Being kidnapped by a doomsday cult leader—
If you're The Unbreakable Kimmy Schmidt, you have more than the normal amount of stress. In the hit Netflix comedy, Kimmy Schmidt, played by Ellie Kemper, is making a new life for herself after spending 15 years trapped in an underground bunker.
Despite the emotional burden of her past, Kimmy is incredibly capable at dealing with stress. It's more than her bubbly, positive attitude. Kimmy evolved sophisticated coping mechanisms that helped her survive captivity—and now give her power to cope with the stress of her new life.
Stress is something you need to confront and manage, or it can amplify problems at work and at home. Here are six ways you can deal with stress like the unbreakable, inspiring Kimmy Schmidt.
1. Help others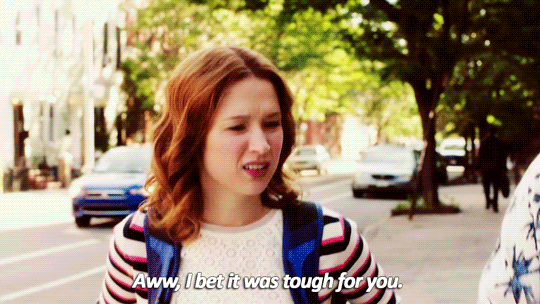 Despite her own troubles, Kimmy Schmidt goes above and beyond to help friends and strangers alike. There's a special benefit to all that good karma she acquires. Her selfless generosity is an important technique for dealing with the lows dealt by life. By helping others you can reduce your stress and respond more positively when new things try to stress you out. Try a small gesture of kindness like buying coffee for the next person in line or a more grand one like volunteering your skills to a local nonprofit.
2. Get through it, bit by bit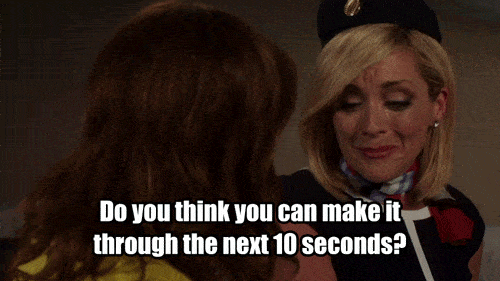 Kimmy Schmit is a survivor. But, she didn't succeed by constantly worrying about the long years she would spend in the bunker. That would have been too emotionally intense. Kimmy's secret was to divide the time into 10-second increments, and get through it little bit by little bit. This is a smart technique for dealing with whatever is overwhelming you. Whether you choose to face your challenges in short bursts of effort or by breaking big to-dos into small pieces, it's a trick that makes the stress more manageable.
3. Enjoy the outdoors—and get some exercise while you're there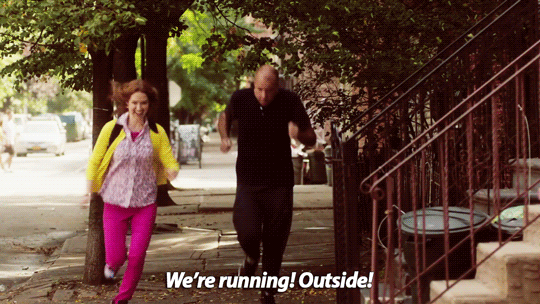 You don't need to have spent most of your life in an grubby underground bunker to appreciate the outdoors. Spending time in nature reduces stress and makes you more resilient when new pressures emerge. There are many ways to add a little greenery and fresh air to your day. Ditch the desk for a quick stroll through a local park, cultivate a tiny desk bonsai, go for a jog along the waterfront, pitch in at a park or beach cleanup day, or join a group nature walk. As an added bonus, the exercise boost your body gets during outdoor activities will also ease your mind.
4. Fix yourself
As Kimmy Schmidt adjusts to her new freedom, she first tries to cope by changing where she lives and who she knows, and by keeping her past hidden. As time goes on, she discovers that no matter the life she leads, she still carries her trauma, stress, and pain inside. While its easier to blame stress on what's going on at work, chances are, the problem could be in you. Make caring for your emotional well-being a priority. Get enough sleep, find time to relax, practice gratitude, and cultivate friendships.
5. Be boldly confident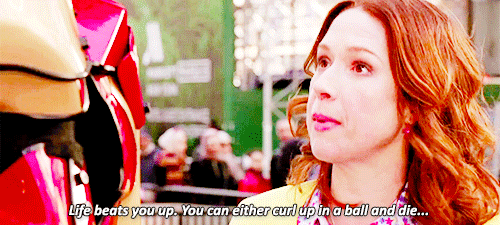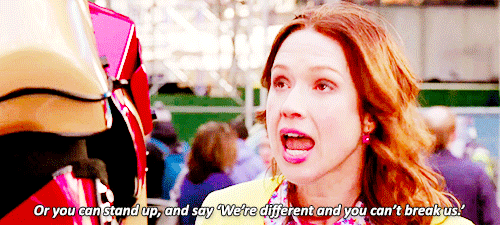 Despite all the trauma she experienced, Kimmy Schmidt's confidence is striking. Her personality is as bold as the colors in her outfits. When she gets beaten down by life, Kimmy chooses to fight back. Confidence and stress are deeply interconnected. Being confident may protect you from the negative effects of stress. Even faking confidence through body language can make a difference—strike a "power pose" and your stress level can drop.
6. Treat yo'self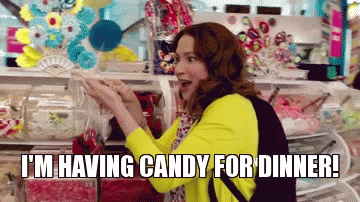 Kimmy hadn't been out of the bunker very long when she discovered one of the pleasures of adulthood: hedonism. Sometimes the best way to quickly squash stress is to indulge in something that brings you joy. If you don't have a sweet tooth like Kimmy's, find another way to pop pleasure into your day. Buy yourself flowers. Visit a museum. Cook your favorite meal. Read a book. Curl up with an anti-stress adult coloring book. Or watch a show about an unbreakable woman while sipping a glass of pinot noir.
How do you squash stress? Share your coping mechanisms in the comments!
Lauren Girardin is a marketing and communications consultant, writer, and speaker based in San Francisco. She helps organizations engage their communities and tell their stories. Her website is laurengirardin.com and you can connect with her on Twitter at @girardinl.