Part I, Part II, Part III, and Part IV – A Passion for Public Service with Rafael Baptista
Stay Connected with Rafael: Email, LinkedIn, and Twitter
Now that Rafael has decided to take his talents to Chapel Hill, it is time to focus on the fun details of moving from Oregon to North Carolina. Before Rafael escapes the rainy, overcast Oregon weather for the scorching North Carolina humidity, we caught up with him to discuss the upcoming transition and to inform him that our back hurts and we are unable to help with the move. We also asked him the question that has been on everyone's mind, "will you be live tweeting your classes?"
If you have questions or advice for Rafael about his graduate school transition or want to reach out to him when he arrives in Chapel Hill, please use the comment box following the article.
Let's talk logistics – when are you moving, where will you be living, have you heard about the wonderful place called Bojangles?
I will be driving out to Chapel Hill in early August. I will be living in a single person apartment in Carrboro about 10 minutes from campus. I have not heard about the wonderful place called Bojangles, I will make sure to discover and embrace it once I arrive.
First semester courses:
PUBA 709: Public Administration Institutions and Values, Carl Stenberg, Tues./Thurs., 9:30 – 10:45 am.
PUBA 719: Introductory Policy Evaluation Methods, Andrew George, Tues./Thurs., 11:00 – 12:15 pm.
PUBA 721: Professional Communications, Kelley O'Brien, Tues., 1:00 – 3:50 pm.
PUBA 760: Law for Public Administration, Chuck Szypszak, Thurs., 1:00-3:50 pm.
Express your loyalty for UNC by articulating your feelings about Duke.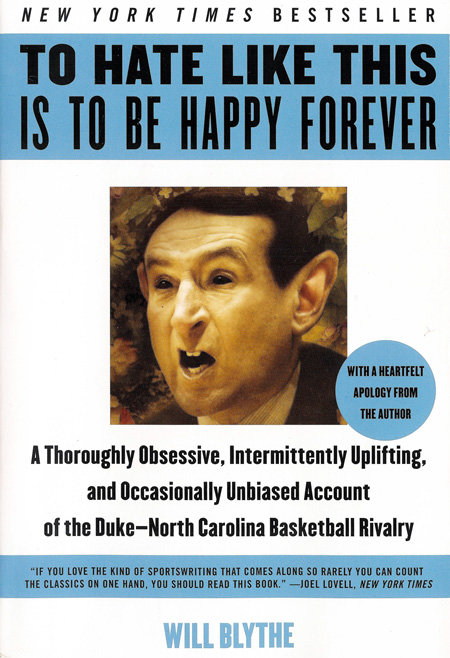 Uhh…Since their mascot is the Blue Devil, I assume Duke people aren't that nice and I like nice people.
(Editor's Note: Here's a must read: To Hate Like This Is to Be Happy Forever: A Thoroughly Obsessive, Intermittently Uplifting, and Occasionally Unbiased Account of the Duke-North Carolina Basketball Rivalry)
Obviously preparing for classes is important but how are you preparing yourself for the humidity. Do you think you'll melt?
I am actually really worried about the humidity, and of course hurricanes. Hurricanes really scare me. I figure if I spend all my time in the library, I won't melt!
For those who are considering graduate school, give them three tips for finding the right school.
Figure out what you are interested in doing with your life and talk to people who are doing it. That's how I discovered MPA programs and decided to apply to them.
Another tip would be to ask to have informational interviews with each school. I was able to arrange one with each school that I was considering and it was tremendously helpful in deciding if I applied to their program and if I did apply, it helped guide my application.
Lastly have some fun! It's a fun way to meet people and learn more about yourself.
Social media has changed everything about networking, have you met many of your future classmates via LinkedIn, Facebook, etc?
Not yet, but the program did tell me that they will send us all each other's contact information shortly.
Write a headline for your past year.
"That wasn't the plan" says local man before adding, "the new plan is better"
What's on your reading list as you prepare for graduate school?
The Atlantic
ELGL
and public policy books as I discover them.
Anyone have any suggestions?
Now that you are traveling all the way across the country, give us your honest assessment of ELGL. Positives? Negatives? Improvements?
Without ELGL, I can't imagine being at the place I am right now. The networking and education it has provided me have been truly remarkable.
One improvement I would love to see is the creation of video of all the events so folks who can't make them can still watch them. I loved going to the luncheons when I was in Portland but since moving to McMinnville I haven't been able to make any.
Your column, "A Passion for Public Service" is one of the most clicked on features in ELGL long two-year history. Tell us about any feedback or comments you have received from your entries.
Several people contacted me urging me to consider their alma mater, which I really appreciated. Other than that, I didn't get a large amount of feedback but that was expected.
Will you be working while in graduate school?
I will be working 15-20 hours a week as a Research Assistant for the UNC School of Government and occasionally refereeing soccer games. I am also hoping to volunteer with the UNC chapter of my fraternity.
Finally, while we won't ask you to live tweet from your classes, would you be willing to provide periodic blog updates for ELGL?
I would be happy to!
Supplemental Reading
Guest Buzzer February 12th: Rafael Baptista
New ELGL Member Rafael Baptista Helps Others Assert Political Rights
On Campus with the Carolina MPA Program
Willamette, Shanghai and Minzu win in Beijing