Given my own personal background in Project Management, Federal Contracting, and Business Systems Analysis in the tech sector prior to becoming a Federal employee – when I recently attended a "boots on the ground" information session from our IT folks talking about how they were rolling out some systems being developed for our much-outdated legacy programs, then you can imagine my ears perked up and I was pulled into the concept and world of Agile Development.
One of the critical factors for any federal agency to work on systems development is the problems related to a lack of Commercial Off The Shelf (COTS) programs, defining the parameters of what the system should be capable of, then there is the dreaded scope creep, reporting requirements, mounds of somewhat useless documentations, synchronicity with customer vendor products and the list goes on. The biggest looming factor of course resides with funding, time, and usually the lack thereof for both. Thus, therein lies one of the other problems related to federal systems being slowly upgraded is that they are literally the elephant in the room, most are not only legacy, they are archaic with no room to provide traditional upgrades in the modern 21st Century.
In walks Agile – If you are thinking that Agile is just another project management methodology then think again. This takes work development into a much more palatable work process and before you know it there is a working functional product without the "here it is at a major project milestone" moment without knowing exactly what was going to be behind Door #1. Agile is more like here is the door, we want the service behind Door #1 to have a particular functionality and in a couple of weeks you have a measurable product and Agile continues to deliver from there.
Agile is not your typical project management/IT development answer for the Federal world…. or well any type of agency or company for that matter. After some research and training provided by Jason Ford of the Agile team working here at the Department of Housing and Urban Development (HUD).
One would think Agile is much more suited to the Federal world without the draining resources and cumbersome contract management aspect though it is a relative newcomer to the Project Management world.
So what is Agile Development?
Agile embraces continual change, stakeholder feedback, and incremental work stages. Agile is a Development methodology though it is something akin to a refreshing look at actual project management with controlled short-term attainable goals and an adequate amount of documentation without that being the key focal point. Think of Agile more like preparing a meal – you know that you want to serve a meal, you have key ingredients, have an idea that it should taste a certain way and with different seasonings but understand that not all dishes of the meal start at the same time or exactly how it will look in the end except that you know you are going to eat with the likelihood of eating certain dishes of the meal as you complete the full meal.  In other words, if you think that Agile leads your agency down the path of a Big Bang deliverable at the end then guess again. Agile delivers along the path of development.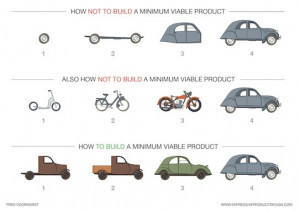 I recently had the opportunity to interview 2 such Agile Development Managers with the Department of Housing and Urban Development (HUD), Kevin Portanova, IT Manager/Deputy for the Real Estate Assessment Center (REAC), and Jason Ford, Agile Coach for the SoftWare Application and Technologies (SWAT) Team, who are working on some significant changes with several of the programs under the vision of REAC IT Director, Patrick Evans.  It was Patrick's vision to create the SWAT Team by hiring Federal staff and spearheading a whole new IT change culture which has the possibilities of changing not only how IT systems are developed but as a means of managing other projects in other industries as well.
The typical snail mail approach to development yields a final "Go Live" without owner input, cumbersome and often delayed timeframe of a typical system development over several years with little to no functionality for the agency until the product has been completed at a much higher cost. Kevin and Jason have grown their team from the 2 of them plus 4 Developers to now including 15 more developers who will focus on writing the codes and working towards standing the programs up in a shorter amount of time of say about 2 years with working program iterations throughout the whole time.
The plusses for Agile lies in a few simple aspects of development:
Agile is flexible – thus the name Agile – In other words Agile is not a fixed beginning to end path.

Agile allows the owner to make changes as agency priorities change
Agile reduces inconsistencies and redundancies
Agile reduces Administrative and contractual burdens
Agile increases turnaround for work products and reporting that can be used while add on portions of the system are developed at either incremental or iterative levels
Agile increases working capacity between the development group and the project owners – communication is key
When interviewed, Patrick and Kevin agreed that the progress and feedback within HUD has been positive giving proof as on the horizon the list grows of additional system upgrades to the point that there are at least 25 more projects on the waiting list with Program Mangers anxious to get their new systems up and running as soon as the team has available manpower.
Agile just may have found a new stake in the Federal world with progressive results and more timely deliverables. Sounds pretty win-win to me!
Reference: http://agilemethodology.org/