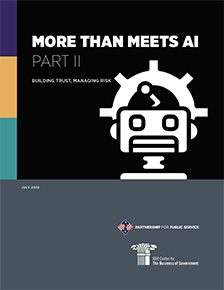 by Daniel Chenok, Executive Director, IBM Center for The Business of Government
Contributors: Claude Yusti, Tatiana Sokolova with IBM, and Katie Malague and Peter Kamocsai with the Partnership for Public Service
Few technological innovations offer the many potential benefits of artificial intelligence. AI tools range from entertaining to productivity-improving to life-saving, from playing poker or creating paintings in Vincent van Gogh's style to transcribing audio to diagnosing diseases or predicting financial fraud.
A new report released today – More Than Meets AI Part II:  Building Trust, Managing Risk by the IBM Center for The Business of Government and the Partnership for Public Service – discusses how artificial intelligence has similar potential to improve how the federal government works. AI can increase operational efficiency and effectiveness, free employees of repetitive tasks, uncover new data insights, and enhance service delivery to customers. While taking advantage of these benefits, agencies must also manage real and perceived risks associated with AI to build trust in the technology.
Federal, state and local governments are embracing AI, for mission-critical services that include identifying insider threats, supporting military deployment planning and scheduling, and answering routine questions about services. Agencies are considering additional uses that range from checking compliance with tax laws and regulations to assessing the accessibility of government products and websites.
At the same time, questions about effects AI technologies may have include concerns about data privacy, security, and safety.  Similar risk factors have affected public perceptions when other technologies were introduced; and similarly, today's leaders need to address these concerns to foster trust as agencies rely more on AI to carry out missions.
The federal government is leading a comprehensive initiative to maximize AI's benefits while laying the groundwork for agencies to address risks responsibly. To increase the trust the public and federal employees have in government's use of AI tools, the government's strategy deals with transparency, security, technological know-how, procurement, budgeting and risk management.
As the U.S. government aims to assess and mitigate AI risks, agencies can look to international models. For example, the Canadian government has taken steps to ensure its departments and agencies have tools for simplified by of credible AI products, rules to assess risks of AI by agencies, and people trained to use AI responsibly. As our government adopts AI, it should enable agencies to buy tested and trusted AI products, create effective ways to identify and manage potential risks, and equip enough of the workforce—especially those working with AI directly—with knowledge and skills to use the technology well.
The new report being released discusses further steps agencies can take to manage risks, building on an initial paper — More Than Meets AI:  Assessing the Impact of Artificial Intelligence on the Work of Government – that discussed how AI is transforming the nature of work in the public sector.  Both reports are based on roundtable discussions and interviews conducted by the Partnership and the IBM Center.
Roundtable participants were optimistic about their agency's ability to implement the technology. Many described a path to success that would start by using AI in smaller, attainable projects, enabling their agencies to develop expertise and experience. It is important for federal organizations to move forward with implementing AI technologies as they address AI's risks. Their approach to lessening AI risks also must evolve rapidly if they hope to use AI to address government's most pressing challenges. Top challenges include bias, security, transparency, employee knowledge about AI technology, and federal budget and procurement. Each of these challenges is discussed in the report, along with recommendations for how agencies could address potential concerns and develop strategies to mitigate them.
The Partnership for Public Service and the IBM Center for The Business of Government hope these reports will help government move into the future in a way that capitalizes on the full potential of AI to make government more efficient and effective.