Our friends at the Jefferson Center, an NCDD organizational member, recently shared an exciting piece about the first use of the Citizen's Initiative Review process at the county level. Conducted in collaboration with Healthy Democracy, another NCDD organizational member, the project seems to have been a success and bodes well for the expanded use of CIR processes across the country. You can read more in the article below or find the original piece here.
---
We recently partnered with Healthy Democracy – a civic engagement organization that uses its Citizens' Initiative Review (CIR) process to facilitate citizen evaluation of ballot measures and provide Oregon voters with unbiased information – in the first ever county-level Citizens' Initiative Review.
The Jackson County CIR convened twenty randomly-selected voters from across the county to form a demographically-balanced microcosm of the community and evaluate Measure 15-119, a local ballot initiative seeking to ban the cultivation of genetically modified crops within the county. Measure 15-119 has received significant attention across the state and country, drawing millions in outside contributions.
Over the course of three-and-a-half days, the twenty CIR panelists parsed arguments from both the PRO and CON campaigns, listened to presentations from technical experts, and deliberated among one another to produce a Citizens' Statement outlining their conclusions about the ballot measure. CIR panelists reported ten key findings, or factual arguments that the panelists thought every voter should know in order to make an informed decision when voting on the measure. The Citizens' Statement also included the five best arguments in favor of and in opposition to the proposed ballot initiative.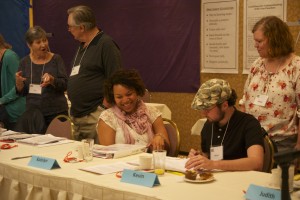 The CIR is being evaluated by researchers from Colorado State University. Questionnaires given to the panelists by CSU researchers provided initial insight into citizen perceptions of the CIR process and community deliberation. Eighteen of the twenty panelists felt high or very high satisfaction with the CIR. Significant majorities also felt they had sufficient opportunity to express their views and were consistently willing to consider the views of other panelists and experts who held opinions different from their own.
In their closing statements, panelists expressed great enthusiasm for the opportunity to have participated in the CIR and, more importantly, to have helped their neighbors understand complex arguments related to the Measure.
The Citizens' Initiative Review is an adaptation of our Citizens Jury process, and we're proud to see it succeed in new contexts. We're also humbled to see the support of voters who participated in the process. Check out some of their comments in the news stories below:
KDRV TV (ABC)
KOBI TV (NBC)