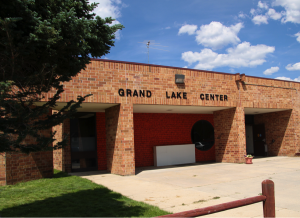 Grand Lake, Colorado Town Manager Jim White first met management consultant and author Bill Capodagli one evening at dinner after a workshop based upon the best-selling business book, The Disney Way: Harnessing the Management Secrets of Disney in Your Company.  Jim had just returned from purchasing the abandoned Grand Lake Elementary School from the school district and was in a quandary as to what to do with the building.
Planting the Seeds of a Movement
The events of the birth of The Grand Lake Center as reported in the 3rd edition of The Disney Way (McGraw-Hill, 2016):
"Henry David Thoreau said, 'I know of no more encouraging fact than the unquestionable ability of man to elevate his life by conscious endeavor.' Thoreau's words need not only apply to a single individual. In fact, one entire community—Grand Lake, Colorado—has proven that they, as a team, have an 'unquestionable ability' to 'elevate' the lives of so many through a team-based 'conscious endeavor.'" Most significantly, the results are far beyond what any of the members could have done on their own.
At the western edge of Rocky Mountain National Park, Grand Lake is a dream-like place that has been dubbed the "Soul of the Rockies" and the "Snowmobile Capital of Colorado," equally captivating in its summer splendor, or in its seasonal changes. The sheer beauty, tranquility, and therapeutic aura of the entire region would seem to dwarf the worries of everyone fortunate enough to call it home. But when its citizens were unable to save their beloved community school, the ensuing void and pain that resulted were anything but small.
For the Town of Grand Lake, the school had always been a central gathering place, not only for parents and children but for the entire community as well. The flurry of activity that defined the school had produced a unified spirit of belonging. Unfortunately though, with declining enrollment, the school district's 2011 decision to relocate the children left the building without a purpose. In the spring of 2015, Bill Capodagli traveled to Grand Lake and presented The Disney Way principles to the community. The keynote and workshop event enticed 160 people to come to their local repertory theater to learn what it takes to embrace a brand new culture. Ed Moyer, Assistant County Manager and Director of Community Development stated, "The Disney Way keynote was where we learned how to become customer centric, and the storyboarding workshop started the groundswell and the grassroots efforts going."
What was about to happen was totally unexpected. After The Disney Way events, a team of community leaders (including Jim White and DiAnn Butler, Grand County's Economic Development Coordinator) met to strategize how they could repurpose the old school building. They decided that Grand Lake would be an ideal location to teach people from all over the country how to implement The Disney Way "Dream, Believe, Dare, Do" principles in their own regions.
Soon the reinvented school building became the Grand Lake Center, home of The Disney Way. The three-day signature Disney Way workshop called "Dream" was launched in the fall of 2015, and annual sessions are being planned for years to come. DiAnn Butler proclaimed, "I am excited for Grand County because this means one of the experts on the success formula of Walt Disney, a consultant to world leaders in industry and entertainment, will be in our county. Here, he will help hopefully thousands of people provide some of the most magical and amazing guest experiences in the world."
The Grand Lake Center has become the symbol of the revitalization of an entire region. However, Grand Lake Town Manager, Jim White, cautions, "To provide the best experience to guests in Grand Lake and throughout the county, we need to promote being customer centric in-house, in our own towns and county first and foremost. We can't have people coming here to learn The Disney Way, then go down the street and have a bad experience."
The Movement Gains Momentum:
Early Results
Too many customer service training programs focus on helping frontline workers be "nicer" – more "smiles", "pleases" and "thank-yous." This approach sends the message to frontline workers that they are the problem – if only you were nicer, our service would improve. The Disney Way Workshop focuses on creating a culture that permeates the organization and is based upon principles and values that drive results.
Several of the initial workshop participants have become true ambassadors of The Disney Way, and they commented on the relevance of small town businesses developing a customer-centric culture:
Jean-Claude Cavalera, French chef and owner of the Stillwater Grill, learned that a vision or story should set the stage for the mood organizations are trying to create for their guests or customers. After the workshop, he returned to his restaurant and encouraged his staff to "go to every table" and "tell our story".
Tracy Woolverton, General Manager of the Western Riviera (a hotel and event business), was enlightened by techniques she and others on her team learned. She commented that her workshop experience led her to adopt "a more upbeat, fun attitude and enabled all staff members to be a part of the changing dynamics, offering different perspectives on changes that could be made to improve customer service."
Lisa Jenkins, General Manager of the Gateway Inn, is another role model for The Disney Way values, as the following story reveals: After one of the workshops, Disney Way workshop leader Bill Capodagli was having coffee in the lobby of the Gateway Inn. He noticed that the front desk clerk was barefooted. Looking a little embarrassed, she explained her shoeless situation. Her family had checked out earlier that morning; they hadpacked the car and were going for an early morning drive. Her husband had planned to meet his wife at a local restaurant in about one hour. To his wife's dismay, she realized that her shoes had been packed and she couldn't reach her family because of poor cell phone reception. When she explained her situation to the front desk clerk, the clerk took off her shoes and gave them to her guest so she could meether family for breakfast. She said to Bill, "I remembered something you said in the workshop, 'Treat your customer like a guest in your own home!' and I did." Lisa said, "This is just one of many examples of truly embracing a customer-centric culture."
Jackie Tompkins of Western Riviera proudly remarked,
"You can check out the impact the training has had on our staff by seeing what our guests say about our customer service on Trip Advisor (increased from 4 to 4.5 stars) and Booking.com (increased from 8.2 to 8.6 rating). We have made changes that are significantly improving the way we work together on a day-to-day basis among ourselves, our guests and our community." 
Mayor Jim Peterson added, "We have a fortuitous location, yet our guest experience must be optimal. We take pride in the fact that we can be the home of The Disney Way. We proudly display that on our town marquee."
Reasons to Begin a Movement
The impact that service can have on an organization is overwhelming. Walt Disney World had an attendance of over 54 MILLION in 2015. That figure is amazing in itself, but over 70% of their guests are repeat visitors. Unfortunately, most companies believe that they provide superior service. Recently, the consulting firm of Bain & Company studied 362 organizations and asked interviewees if they felt they provided superior customer service. 80% responded "yes" – they truly believed they provided superior service. Bain had also "secretly" interviewed over 3000 of these organizations' customers and asked the same question; only 8% reported that their service was superior! I assume that most of those 362 companies did not have a guest return rate of over 70%.

Leading the Movement
The goal of The Disney Way Workshop is to help organizations "experience" the principles needed to adopt a customer-centric culture.
For the past several years, teams from all over Colorado have identified elements of their stories, their customer centric values and their codes of conduct in The Disney Way Workshop. Participants also identified barriers that would impede their implementation efforts, and began to recommend solutions for removing them.   Two of the most powerful tools that participants experience are Storyboarding and the Myers-Briggs Type Indicator (MBTI). Storyboarding is a visual technique used to assist a team to generate scores of ideas in a short period of time. The MBTI is an introspective self-report personality questionnaire that can be helpful in both leadership and team development.
Traci Woolverton, General Manager of Western Riviera stated, "Storyboarding helps open up others to share their ideas, making all voices equally important in the process. Its collective gathering methodology is fast paced and freewheeling, yet in the end the viewpoint of the entire team is consolidated in a way that represents common goals."
Scott Trainor, Town Manager of Fountain, Colorado commented about the Myers-Briggs experience: "Understanding how different personalities interpret information, learn new information, and interact with others all contribute to a better understanding of how teams can function more deliberately and successfully."
Throughout the workshop experience, participants are clustered in teams and they experience the importance of producing their own "show." They learn how to hire, orientate, and provide regular feedback to their employees. Lastly, participants learn meaningful ways of measuring great service. 
Reflections of a Movement
In Leadership Lessons from a Dancing Guy, Derek Sivers states that a movement begins with the leader having the guts to stand-alone and look ridiculous. Many times during Walt Disney's career, he stood alone and appeared to look ridiculous: Snow White was referred to as Disney's Folly; in 1938, who would sit through a 90-minute cartoon? In 1955, no one gave Walt a chance to make his amusement park, Disneyland, a success! Sivers explains that a leader needs a "first follower" to create a movement: "If the leader is the flint, the first follower is the spark to make the fire."
The real work begins when the participants return to their organizations after The Disney Way Workshop. They need to excite the "first followers" in the idea of creating a new customer-centric culture. Only then can a movement begin.
Mike Tompkins, owner of Western Riviera Lakeside Lodging and Events, noted that The Disney Way has created a positive, tourist-oriented atmosphere throughout the town, including the local government.  He said, "The entire town is embracing the customer-centric culture, and I hope visitors will discover that Grand Lake is as friendly and happy as Walt Disney World."
For over 60 years, The Walt Disney Company has sustained a legendary customer-centric movement at Walt Disney World with 54 Million Guests and over 70,000 Cast Members. But is it possible for any other organization, town or county to create this type of exemplary long-lasting culture? The answer is "yes." Begin your movement by asking "What if?" and "Why not us?" Walt once said, "It's fun to do the impossible."